FETISHES (10)
By: Katrina Brown Hunt
April 29, 2019
The seventh PROJECT:OBJECT volume is a 25-part series of true stories about fetishes. That is to say: objects with which we are obsessed, to which we are devoted, and from the influence of which we cannot escape.
*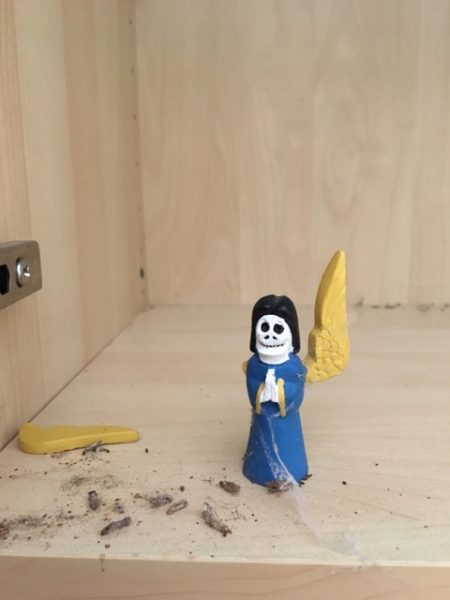 My late husband Rodney loved all things Mexico: the towns, the art, the food, and the people. That love, alas, largely went unrequited. He'd go into taquerias and enthusiastically give his name as "Rodrigo," trying to endear himself to the guys behind the counter, who gave confused or withering looks in return. Once, while we were in a gift shop in New Hope, Rodney bought a handful of those little Day of the Dead figurines, fetish-like embodiments of departed ancestors. I found them creepy, and so they were always relegated to one of his bookcases, both when we lived in Pennsylvania and after we moved to California.
About 12 years into our marriage, Rodney's tendency to drink vodka intersected badly with a midlife crisis. He hunkered down in our San Diego house, binge-drinking and unemployed, for more than two years after I had had enough and moved out with our two daughters. He refused to go back to rehab, or even to stay put during multiple hospital stays, preferring to hole up in the increasingly crammed and filthy house, with its pungent smells and beach towels hung over the French door windows. He died there alone; his heart gave out while he was detoxing, throwing up blood on the bedroom floor.
It took more than a year to get the house cleaned, emptied and ready for sale. Friends came to help as I sorted, tossed or gave away piles of clothing, tools, books, as-seen-on-TV gadgets, old junk mail and, yes, those Day of the Dead figurines.
Every time I'd walked into the house alone over those 15 months, I always said hello, with a question mark. At any time I felt he might step around a corner, or that I'd hear him at the fridge getting ice. I kept waiting for that moment to be spooked, see a shadow, hear a voice. But it was quiet. As the clutter finally cleared, fresh paint got on the walls, and windows were washed, the house seemed to exhale, and sunlight found its way back in. I started remembering that I had once loved this place. But I also felt like Rodney was still there, digging in his heels.
The day the sale closed, I dragged one last bookcase to the curb. Taking another look inside, something nudged at me to open the barware cabinet in our Mexican-tiled kitchen. I heard myself gasp: It was empty except for one Day of the Dead angel sitting on the bottom shelf — with a broken wing and covered with cobwebs, along with a few dead termites.
Rodney used to take forever to finish anything: It would take him 45 minutes just to make a sandwich, and he never once paid a bill early. But he always came in under the wire, and the same was true for haunting me. In that last minute, as I was struggling to say goodbye, he liberated me. I snatched up the angel and its wing, walked out without looking back, and took him home to find some glue.
*
FETISHES: INTRODUCTION | Josh Foer on DEATH MASK | Beth Lisick on MURDERED-OUT KFC BUCKET | Ramona Lyons on RABBIT BOX | Friederike Paetzold on OLD HANDS | Katya Apekina on MISSISSIPPI WATER | Matthew Daniel on PIPE CLEANER FIGURE | Christina Couch on LEECH ACTION FIGURE | Kenneth Goldsmith on THEWLIS SOCK | Matthew Sharpe on GLASSES | Katrina Brown Hunt on DAY OF THE DEAD FIGURINE | Niela Orr on IVERSON SNEAKERS | Toni Schlesinger on CLOUD ERASE BOARD | Carlo Rotella on TONE BAR | Hilary Greenbaum on FAMILY PHOTO | Mimi Lipson on CLAWFOOT TUB | Wayne Chambliss on MATRYOSHKA CHEST | Chelsea Barabas on SWITCHBLADE | Ciara O'Rourke on MOLLY McINTIRE DOLL | Kelli Anderson on MIURA-ORI FOLD | Shawn Wolfe on BOX OF AYDS | Alyssa Giacobbe on LOVE NOTE | Marc Weidenbaum on DUMMY JACK | Abby Rapoport on MAGNATILES | Bryn Smith on DUCK UMBRELLA | Kerry Lauerman on WALL ORGANIZER.
FOSSILS: INTRODUCTION | Allegra Huston on SKATAWAY JACKET | Kevin Obsatz on HOMEMADE NUNCHUKS | Ian Bogost on DESKTOP TELEPHONE | Jeff Lewonczyk on CHA-CHA JACKET SCRAP | Kelly Horan on VOLVO KEY | & 20 MORE.
FLAIR: INTRODUCTION | Cliff Kuang on ROLEX DATEJUST | Ethan Zuckerman on LAPTOP STICKERS | Ann Shoket on LEATHER JACKET | Kembrew McLeod on KEMBREW MERCH | Paola Antonelli on MERMAID TEARS | & 20 MORE.
LOST OBJECTS (vol. 1): INTRODUCTION | Kate Bernheimer on MULLET WIG (ill. Amy Evans) | Dan Piepenbring on COLOGNE (ill. Josh Neufeld) | Doug Dorst on STRATOCASTER (ill. John Holbo) | Paul Lukas on VANILLA BEAN (ill. Allison Bamcat) | Mimi Lipson on DODGE DART (ill. Mister Reusch) | & 20 MORE.
ILLICIT OBJECTS: INTRODUCTION | Kio Stark on PEEPSHOW TOKEN | Sari Wilson on TOMBSTONE PARTS | Annalee Newitz on CAR-BOMB REMNANT | Tito Bottitta on MOONINITE DEVICE | Eric Bennett on DIRTY MAGAZINE | & 20 MORE.
TALISMANIC OBJECTS: INTRODUCTION | Veda Hille on CROCHET SHEEP | Gary Panter on DINOSAUR BONES | Jami Attenberg on SELENITE CRYSTAL | Annie Nocenti on MINIATURE DICE | Wayne Curtis on CLOCK WINDING KEY | & 20 MORE.
POLITICAL OBJECTS: INTRODUCTION | Luc Sante on CAMPAIGN PAMPHLETS | Lydia Millet on PVC POLAR BEAR | Ben Greenman on MATCHBOX CAR | Rob Baedeker on PRESIDENTS PLACEMAT | L.A. Kauffman on WHEATPASTE POSTER | & 20 MORE.
SIGNIFICANT OBJECTS at HILOBROW: PROJECT:OBJECT homepage | PROJECT:OBJECT newsletter | PROJECT:OBJECT objects (Threadless shop — all profits donated to the ACLU) | POLITICAL OBJECTS series (1Q2017) | TALISMANIC OBJECTS series (2Q2017) | ILLICIT OBJECTS series (3Q2017) | LOST OBJECTS vol. 1 series (4Q2017) | FLAIR series (2Q2018) | FOSSIL series (4Q2018) | FETISHES series (2Q2019) | LOST OBJECTS vol. 2 series (4Q2019) | MOVIE OBJECTS series (2Q2020). ALSO SEE: SIGNIFICANT OBJECTS website | SIGNIFICANT OBJECTS collection, ed. Rob Walker and Josh Glenn (Fantagraphics, 2012) | TAKING THINGS SERIOUSLY, ed. Josh Glenn (Princeton Architectural Press, 2007) | TAKING THINGS SERIOUSLY excerpts.