OUTBOUND TO MONTEVIDEO (10)
By: Mimi Lipson
October 2, 2018
Part ten of a series of posts adapted from a travel journal originally posted on apexart.org.
*
PART 10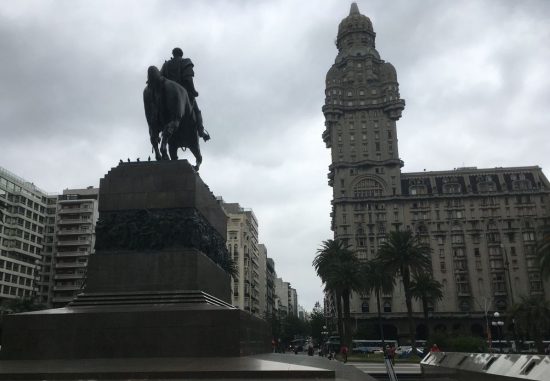 I walk through Plaza Independencia practically every day. I've memorized the square, more or less: equestrian Artigas, multi-vintage assortment of government buildings (including the brutalist International Organization for Standardization), pleasingly shoddy arcade shops, palm trees, Venezuelan tent camp, and opposite the fragment of the Ciudad Vieja gate, the Palacio Salvo. It is, roughly, Montevideo's Empire State Building. It's on every postcard. After a month in the city it has become wallpaper to me, so when I saw "Tour of Palacio Salvo" on my final day's schedule, I was caught off guard by the realization that I had never stepped inside.
It's a mullet of a building: Second Empire on the bottom, moorish fantasy on top. Built in 1922 to be a hotel, it never served that purpose but has instead always been a mixture of offices and apartments. "While wandering around the building," reads Javier's description on my printout, "you can supposedly bump into a three-million-dollar music studio, a radio station, and ladies of the night briskly doing business." This put me in mind of "The Jollity Building," A. J. Liebling's essay about the Times Square landmark I first knew as the Brill Building. Javier goes on to say, with characteristic philosophical nuance, that it was "once thought to be the tallest building in Latin America." Wikipedia confirms that it was, briefly, and adds that it's "a place renowned for being where Gerardo Matos Rodríguez wrote his tango La Cumparsita in 1917."
A sign on the lobby door directed all parties interested in building tours to the office next door. When I got there, a man behind a desk told me it was too late in the day. But it's only 1 p.m., I protested. Too bad, he said. The building closed to visitors early on Wednesdays. Come back tomorrow. I explained that it was my last day in Montevideo… probably ever… but he was unmoved.
Dejected, I went outside and took pictures of the lobby through the glass doors, until it finally occurred to me to just walk in and press an elevator button. The 'up' button for the elevator to floors eleven through eighteen had been disabled, so I had to settle for the tenth floor.
When the doors opened, I found myself in a wide, elegant hallway. The terrazzo floor was decorated with an ornate cursive "PS" for Palacio Salvo. Through an open window I saw lines of laundry strung across an airshaft. It could have been my building in West Harlem. How far, I wondered, would my Yankee dollar go in Palacio Salvo?
I descended the grand staircase opposite the elevators through several floors of apartments, until I came to a landing bathed in the blood-red light of a sign for a billiards parlor.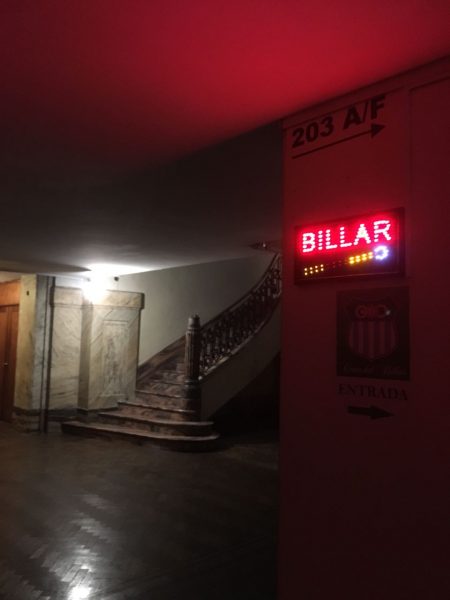 Below were more floors of what might have been commerce, though I saw no one — not a record producer or a disc jockey, not so much as one lady of the night.
Then I came to what looked like a software company or an advertising agency. Anyhow, I had a full view of Uruguayan yuppies hobnobbing in glass conference rooms.
The stairway let out into the tour office, where the man who had turned me away earlier sat behind his desk. I walked briskly past him, out onto Plaza Independencia.
*
I'd been on the Plaza one afternoon a few weeks earlier with time to kill between appointments, and I'd remembered that I'd never gone and looked at the subterranean Artigas mausoleum. It had been on my Day Two itinerary, but I'd skipped it, as I was still recovering from the redeye flight.
I found a stairway in the middle of the square. It looked like a subway entry. I went down a shallow flight of steps, turned a corner, and found myself in an onyx-dark bunker.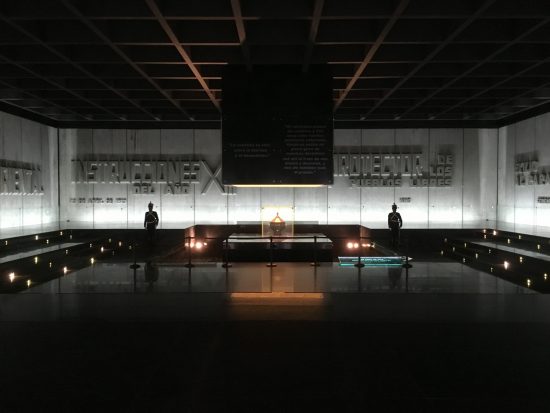 Two ceremonial guards stood watch over an urn containing the remains of the father of modern Uruguay. All around me, inscribed on the walls in giant hewn stone letters, were dates of national significance. The guards and I were the only three people in the hall. They stared into the middle distance while I circled them, reading the inscriptions.
NACIMIENTO DEL GENERAL JOSE ARTIGAS – 19 DE JUNIO DE 1764 …
EXODO DEL PUEBLO ORIENTAL – OCTUBRE, 1811 …
INSTRUCCIONES DEL AÑO XIII – 19 DE ABRIL DE 1813 …
EXILIO AL PARAGUAY – SETIEMBRE DE 1820 …
Finally:
MUERTE DEL GENERAL JOSE ARTIGAS – 23 DE SET DE 1850; REPATRIACION DE SUS RESTOS – 19 DE SETIEMBRE DE 1855.
I had a sense of having stumbled into the vestibule of some geopolitical hell. Then I recalled that there'd been a dictatorship here in 1977, when the mausoleum was built — one that people my age remember as well as I remember Ronald Reagan.
I don't know a thing about this place, really, but I don't want to let it go. These last few days I've been overcome by a sense of aching poignancy. Everything I see now, I think: will I ever see this again?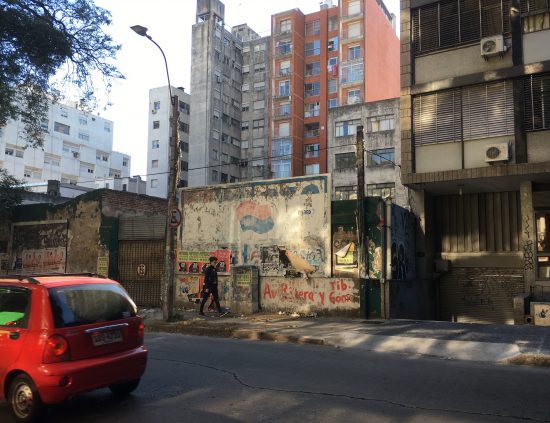 ***
One in a series of ten posts contributed by HILOBROW friend Mimi Lipson.
MORE MIMI LIPSON: Tube Your Enthusiasm: THE BEVERLY HILLBILLIES | Wowee Zowee: THANK YOU | #Squadgoals: THE RUNAWAYS | Lost Objects: DODGE DART | Klute Your Enthusiasm: MEAN STREETS | Quirk Your Enthusiasm: HOW COME YOU'RE SUCH A HIT WITH THE BOYS, JANE? | Grok My Enthusiasm: 1973 SEARS ROEBUCK CATALOG and TRASH PICKING | Hermenautic Tarot: EUPHORIA | Significant Objects: HALSTON MUG | PLUS: HILO HERO items on Joey Ramone, Divine, Redd Foxx, Russ Meyer, Shelley Winters, Noam Chomsky, and many others.
CURATED SERIES at HILOBROW: UNBORED CANON by Josh Glenn | CARPE PHALLUM by Patrick Cates | MS. K by Heather Kasunick | HERE BE MONSTERS by Mister Reusch | DOWNTOWNE by Bradley Peterson | #FX by Michael Lewy | PINNED PANELS by Zack Smith | TANK UP by Tony Leone | OUTBOUND TO MONTEVIDEO by Mimi Lipson | TAKING LIBERTIES by Douglas Wolk | STERANKOISMS by Douglas Wolk | MARVEL vs. MUSEUM by Douglas Wolk | NEVER BEGIN TO SING by Damon Krukowski | WTC WTF by Douglas Wolk | COOLING OFF THE COMMOTION by Chenjerai Kumanyika | THAT'S GREAT MARVEL by Douglas Wolk | LAWS OF THE UNIVERSE by Chris Spurgeon | IMAGINARY FRIENDS by Alexandra Molotkow | UNFLOWN by Jacob Covey | ADEQUATED by Franklin Bruno | QUALITY JOE by Joe Alterio | CHICKEN LIT by Lisa Jane Persky | PINAKOTHEK by Luc Sante | ALL MY STARS by Joanne McNeil | BIGFOOT ISLAND by Michael Lewy | NOT OF THIS EARTH by Michael Lewy | ANIMAL MAGNETISM by Colin Dickey | KEEPERS by Steph Burt | AMERICA OBSCURA by Andrew Hultkrans | HEATHCLIFF, FOR WHY? by Brandi Brown | DAILY DRUMPF by Rick Pinchera | BEDROOM AIRPORT by "Parson Edwards" | INTO THE VOID by Charlie Jane Anders | WE REABSORB & ENLIVEN by Matthew Battles | BRAINIAC by Joshua Glenn | COMICALLY VINTAGE by Comically Vintage | BLDGBLOG by Geoff Manaugh | WINDS OF MAGIC by James Parker | MUSEUM OF FEMORIBILIA by Lynn Peril | ROBOTS + MONSTERS by Joe Alterio | MONSTOBER by Rick Pinchera | POP WITH A SHOTGUN by Devin McKinney | FEEDBACK by Joshua Glenn | 4CP FTW by John Hilgart | ANNOTATED GIF by Kerry Callen | FANCHILD by Adam McGovern | BOOKFUTURISM by James Bridle | NOMADBROW by Erik Davis | SCREEN TIME by Jacob Mikanowski | FALSE MACHINE by Patrick Stuart | 12 DAYS OF SIGNIFICANCE | 12 MORE DAYS OF SIGNIFICANCE | 12 DAYS OF SIGNIFICANCE (AGAIN) | ANOTHER 12 DAYS OF SIGNIFICANCE | UNBORED MANIFESTO by Joshua Glenn and Elizabeth Foy Larsen | H IS FOR HOBO by Joshua Glenn | 4CP FRIDAY by guest curators