P IS FOR PIKLIZ
By: Tom Nealon
October 13, 2023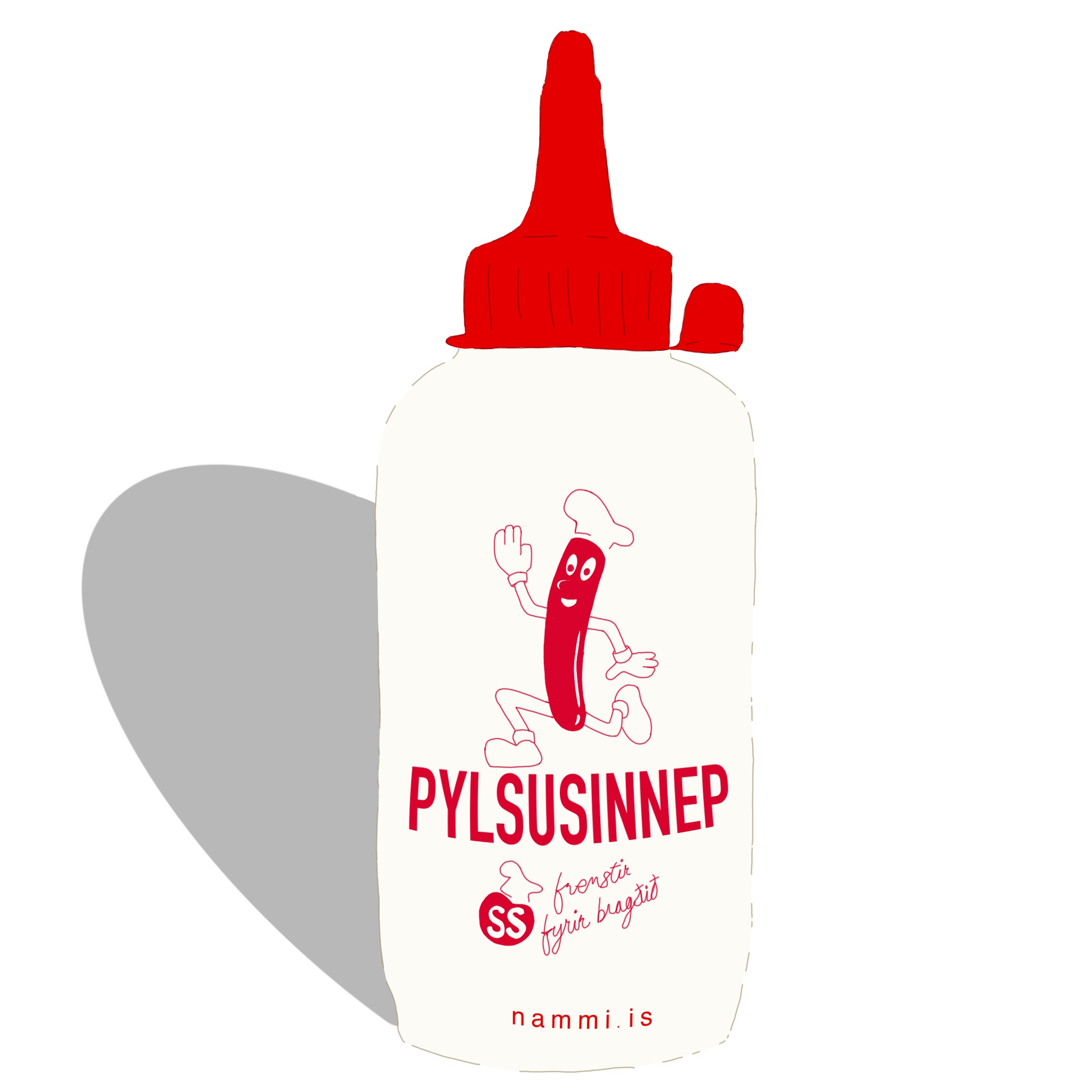 An installment in CONDIMENT ABECEDARIUM, an apophenic food-history series from HILOBROW friend Tom Nealon, author of the seminal book Food Fights and Culture Wars: A Secret History of Taste (2016 UK; 2017 US); and also — here at HILOBROW — the popular series STUFFED (2014–2020) and DE CONDIMENTIS (2010–2012).
CONDIMENT ABECEDARIUM: SERIES INTRODUCTION | AIOLI / ANCHOVIES | BANANA KETCHUP / BALSAMIC VINEGAR | CHIMICHURRI / CAMELINE SAUCE | DELAL / DIP | ENCURTIDO / EXTRACT OF MEAT | FURIKAKE / FINA'DENNE' | GREEN CHILE / GARUM | HOT HONEY / HORSERADISH | INAMONA / ICE | JALAPEÑO / JIMMIES | KECAP MANIS / KIMCHI | LJUTENICA / LEMON | MONKEY GLAND SAUCE / MURRI | NƯỚC CHẤM / NUTELLA | OLIVE OIL / OXYGALA | PIKLIZ / PYLSUSINNEP SAUCE | QIZHA / QUESO | & more to come.
---
P is for PIKLIZ
---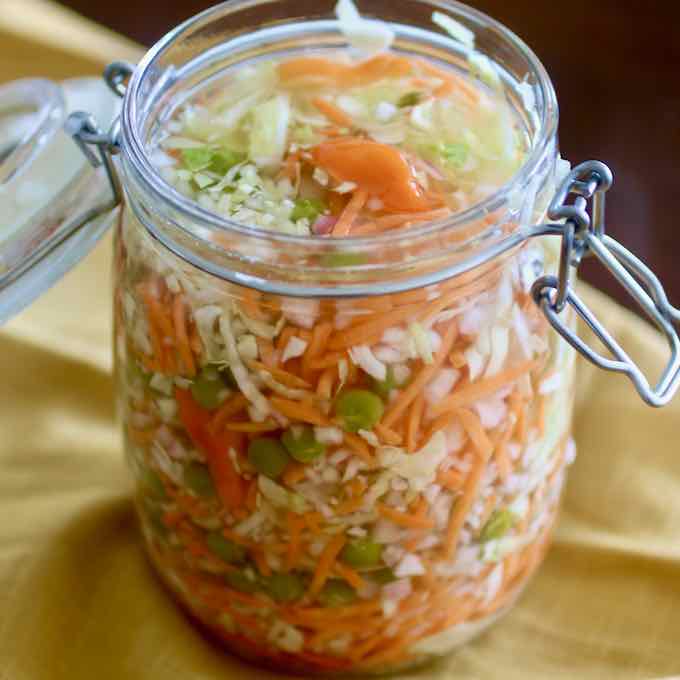 P is for pickles, of course, but most of all pikliz.
One of the simplest and finest of all the quick pickled condiments, and my personal favorite, is the Haitian hot relish pikliz. Made with sliced (or coarsely grated) carrot, sliced green cabbage, sometimes onion, garlic, bell pepper (can't recommend) and, always, scotch bonnet pepper and vinegar.
Just cut it all up, stuff it in a jar, fill with vinegar and let sit for a day and, pow! You can, without exaggeration, put it on any savory dish and improve it. And you should.
What is great about pikliz, beyond the fact that it is delicious, is that you can really keep it around almost indefinitely just like a bottled condiment. Because it is half (or more) vinegar, it keeps for ages, doesn't have to ferment and can just sit in the fridge and improve over time. All of the ingredients are incredibly cheap and easy to source
If by some unlucky break you can't find scotch bonnets (née habanero) you can use fresh jalapeño, or serrano, birds eye, or another available chile. Though it's better with scotch bonnet.
---
P was for PYLSUSINNEP SAUCE
---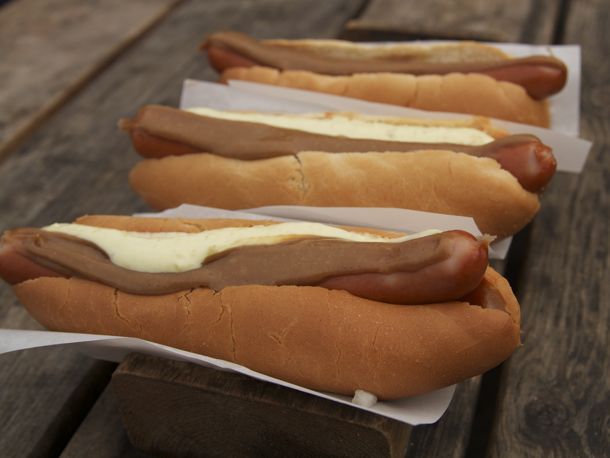 The hot dog is the canvas upon which we paint our condiment dreams. In Iceland, home of pylsusinnep sauce (etymology: pylsa, hot dog, sinnep, mustard), a slightly sweet, mild, brown mustard made for putting on Icelandic hot dogs, those dreams are painted in crispy onion bits, remoulade, pylsusinnep, and ketchup on a part-mutton part-pork dog. Delicious, as it happens, but even if it wasn't, it would still be great.
We express our desires through condiments and there is no food that aches to be condimented more than a hot dog. Icelanders yearn for something tasty and different in their volcanic, alien, uninhabitable habitation. The hot dog is, conveniently, just as much different as you want to make it.
Hot dogs are a member of an ancient category of sausages called "forcemeats." Forcemeat, as one might suspect, is made by moving the meat with enough force to emulsify it with the fat and other components until it is more or less uniform. All the way back in antiquity, the Roman cookbook known as Apicius describes a number of forcemeats (including a delightful sounding forcemeat brain sausage called Isicia de Cerebellis). Because of their generally uniform flavor and texture, forcemeats — which include things other than hot dogs and brain sausage, from bologna to terrines and pâtés to canned Vienna sausage — really scream for the addition of other flavors and textures. Thus the panoply of hot dog combinations and sophistications.
Which is terrific — the variety of ways to paint a hot dog is a benediction upon us all. The list of viable and delicious toppings for a frankfurter is practically a list of all known condiments. And then some. For is it not the hot dog itself that turned chile into a condiment? And french fries (salchipapas)?
But in the last few years, I've seen a few too many lists and menus filled with regional hot dogs presented as completed dishes: the Chicago dog, the Michigan style Coney Island dog, the NYC (original or papaya style), the NY System (from Providence, RI), Philly style, Seattle franks, West Virginia wieners, the NJ deep fried "ripper" etc. All great, or not so great, or weird; all underrated or overrated, many with chili or some sort of meat sauce, some with ketchup, a few with cole slaw. A nice various list, taken on its own, but when repeated over and over, as the internet tends to do, it gradually becomes a prescription.
Now you'll see these different hot dogs on hipster food truck menus, tap room chalkboards, and pop-up purveyors of the newly minted $9 hot dog. We have taken, like we did with the taco, one of the cheapest, most various street foods on earth and turned it into a not-inexpensive, and, worse, static dish. Sure you can have six different hot dogs, but it used to be you could have one hot dog six different ways. Theoretically, of course, you could talk some of these folks into mixing and matching condiments, maybe, but I'm not begging for my condiments back, throwing myself on the mercy of the very condiment thieves themselves and hoping they will sell me a $9 hot with onion bits, sauerkraut, mustard, relish, sriracha and french fries. Not this guy.
I don't mean to take it out on restaurants. There is always a push and pull between eating out and eating in, a zero sum game played out between what people think they can cook themselves and what requires the mysterious magic of "out." But lately we are losing. Badly. As more and more of what we eat out becomes either "street" food or "comfort" food, the condiments attached to these foods are being dragged slowly, inexorably, away from us.
Don't let it happen! Make some pikliz, put it on your pylsa, pass it on.
***
TOM NEALON at HILOBROW: CONDIMENT ABECEDARIUM series | STUFFED series | DE CONDIMENTIS series | SALSA MAHONESA AND THE SEVEN YEARS WAR | & much more. You can find Tom's book Food Fights & Culture Wars here.