George Ade
By: Lucy Sante
February 9, 2011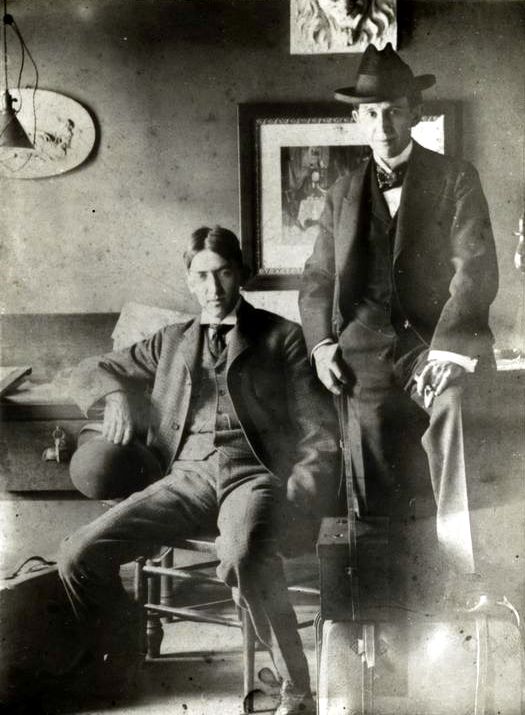 GEORGE ADE (1866-1944) was an American humorist who wrote literature for daily newspapers, back when such a thing could be imagined. He wrote vividly about the middle of the country when it was up-and-coming, expectedly dowdy and unexpectedly modern — he stands right between Booth Tarkington and Ring Lardner. And Ade did more for capitalization than anybody since Swift. "Once upon a Time there was a slim Girl with a Forehead which was Shiny and Protuberant, like a Bartlett Pear." Of his more than forty books the most famous were Fables in Slang and More Fables in Slang. The stories are fables in that smart-aleck morals are tacked on at the end; they are not in slang, exactly, but in the demotic of a century ago, when the American language began to dress for dinner. "Once there was a Bluff whose Long Suit was Glittering Generalities… When some one asked him if he was cutting up any Easy Money or would it be safe for a Man with a Watch to go to Sleep in the same Room with him, he would take a Drink of Water and begin to plead for Cuba." He was poet laureate of the live ones, and a distant ancestor of Rocky and Bullwinkle.
***
HUMORISTS at HILOBROW: Michael O'Donoghue | Jemaine Clement | Andy Kaufman | Danny Kaye | George Ade | Jimmy Durante | Jack Benny | Aziz Ansari | Don Rickles | Godfrey Cambridge | Eric Idle | David Cross | Stewart Lee | Samuel Beckett | Jerry Lewis | Joanna Lumley | Jerome K. Jerome | Phil Silvers | Edward Lear | Tony Hancock | George Carlin | Stephen Colbert | Tina Fey | Keith Allen | Russell Brand | Michael Cera | Stan Laurel | Ricky Gervais | Gilda Radner | Larry David | Chris Pontius | Dave Chappelle | Jimmy Finlayson | Paul Reubens | Peter Sellers | Buster Keaton | Flann O'Brien | Lenny Bruce | Sacha Baron Cohen | Steve Coogan | PG Wodehouse | A.J. Liebling | Curly Howard | Fran Lebowitz | Charlie Kaufman | Stephen Merchant | Richard Pryor | James Thurber | Bill Hicks | ALSO: Comedy and the Death of God
On his or her birthday, HiLobrow irregularly pays tribute to one of our high-, low-, no-, or hilobrow heroes. Also born this date: Alban Berg and Ernest Tubb.
HILO HERO ITEMS by LUC SANTE: Dashiell Hammett | Pancho Villa | James M. Cain | Georges Bataille | Félix Fénéon | Émile Henry | A.J. Liebling | Jim Thompson | Joe Hill | Nestor Makhno | Hans Magnus Enzensberger | Captain Beefheart | William Burroughs | Ring Lardner | Lee "Scratch" Perry | Serge Gainsbourg | Kathy Acker | Arthur Cravan | Weegee | Alexander Trocchi | Ronnie Biggs | George Ade | Georges Darien | Zo d'Axa | Petrus Borel | Blaise Cendrars | Alexandre Jacob | Constance Rourke | Damia | J-P Manchette | Jean-Paul Clebert | Pierre Mac Orlan | Comte De Lautreamont | André Breton | Robert Desnos | Arthur Rimbaud |
READ MORE about members of the Anarcho-Symbolist generation (1864-73).