Andy Kaufman
By: Mark Kingwell
January 17, 2014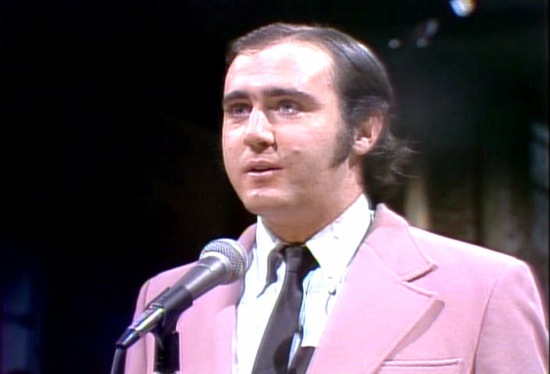 The comic genius of American actor and performer ANDY KAUFMAN (1949–84) was instantly confirmed for those of us who happened to catch the October 11, 1975, broadcast of Saturday Night Live. He appeared as what he then called Foreign Man, a shy refugee from the fictional country of Caspiar, who stood awkwardly on the stage while the goofy theme from Mighty Mouse played, only to burst into a sudden, loose-limbed lip-sync to the "Here I come to save the day!" chorus. In a later appearance, he debuted Foreign Man's unexpectedly pitch-perfect Elvis Presley imitation. I still can't explain why these gags seemed so funny, or why it made us all sit up straight from our rec-room lounging, there in the half-finished basement of my suburban Winnipeg house, and recognize a unique television presence. Kaufman would tweak Foreign Man into the character Latka Gravas on the 1970s sit-com Taxi, where he quickly acquired a cult status for his non sequiturs and abrupt impersonations (the conceit was that he suffered from multiple personality disorder). The benign appearance of Foreign Man and Latka belied the edginess of Kaufman's stage performances, which featured disguises, faked killings, a strange tangle with the world of professional wrestling, and one celebrated violent exchange with Michael Richards, later to be famous as Seinfeld's Cosmo Kramer. He collaborated with Laurie Anderson, flirted with hypnotism, and practised Transcendental Mediation. Rumours that Kaufman had faked his own death, which came of lung and brain cancer when he was just 35, have persisted in part because of this penchant for evasion in his work. But he is, alas, gone and we have, instead, Borat — the vulgar man's Foreign Man.
***
HUMORISTS at HILOBROW: Michael O'Donoghue | Jemaine Clement | Andy Kaufman | Danny Kaye | George Ade | Jimmy Durante | Jack Benny | Aziz Ansari | Don Rickles | Godfrey Cambridge | Eric Idle | David Cross | Stewart Lee | Samuel Beckett | Jerry Lewis | Joanna Lumley | Jerome K. Jerome | Phil Silvers | Edward Lear | Tony Hancock | George Carlin | Stephen Colbert | Tina Fey | Keith Allen | Russell Brand | Michael Cera | Stan Laurel | Ricky Gervais | Gilda Radner | Larry David | Chris Pontius | Dave Chappelle | Jimmy Finlayson | Paul Reubens | Peter Sellers | Buster Keaton | Flann O'Brien | Lenny Bruce | Sacha Baron Cohen | Steve Coogan | PG Wodehouse | A.J. Liebling | Curly Howard | Fran Lebowitz | Charlie Kaufman | Stephen Merchant | Richard Pryor | James Thurber | Bill Hicks | ALSO: Comedy and the Death of God
On his or her birthday, HiLobrow irregularly pays tribute to one of our high-, low-, no-, or hilobrow heroes. Also born this date: Eartha Kitt, Annie Nocenti, Ari Up.
READ MORE about members of the Blank Generation (1944-53).