Curly Howard
By: David Smay
October 22, 2010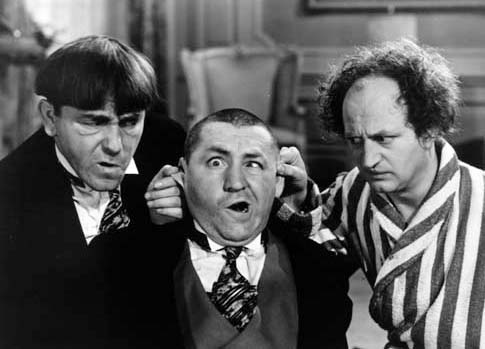 Pipe down, you chuckleheads. I could give you the nyuk-nyuk analysis of CURLY HOWARD (Jerome Lester Horwitz, 1903-52)'s comic genius, but instead I find myself reaching for my Anna Kisselgoff phrase-making app. We're talking about the greatest lowbrow physical comic of the 20th century, and there's no handy critical language to describe the girlish delicacy of his finger-waggles, or the straight plane of his back as he swivels and counter-balances each quick-step with his well-packed gut. While the other Stooges played out a well-worn repertoire of Vaudeville schtick, Curly generated fields of pure unexpected looniness. Consider the distinction between a Moe eye-poke (belligerent) and a Curly eye-poke (petulant), and how they fit as perfect little gears in each two-reel mechanism: bully, sad-sack and manchild all whirling into fits of incompetence and abuse. (The rare Larry eye-poke, though, is a half-hearted, reflexive thing. Filled with self-defeat. Truly the eye-poke of a schlemiel.) The youngest of the Horwitz brothers, Curly had to shave off his luxuriant auburn waves to get the gig, a sacrifice which troubled him.
ALSO SEE: The Original Stooge
***
HUMORISTS at HILOBROW: Michael O'Donoghue | Jemaine Clement | Andy Kaufman | Danny Kaye | George Ade | Jimmy Durante | Jack Benny | Aziz Ansari | Don Rickles | Godfrey Cambridge | Eric Idle | David Cross | Stewart Lee | Samuel Beckett | Jerry Lewis | Joanna Lumley | Jerome K. Jerome | Phil Silvers | Edward Lear | Tony Hancock | George Carlin | Stephen Colbert | Tina Fey | Keith Allen | Russell Brand | Michael Cera | Stan Laurel | Ricky Gervais | Gilda Radner | Larry David | Chris Pontius | Dave Chappelle | Jimmy Finlayson | Paul Reubens | Peter Sellers | Buster Keaton | Flann O'Brien | Lenny Bruce | Sacha Baron Cohen | Steve Coogan | PG Wodehouse | A.J. Liebling | Curly Howard | Fran Lebowitz | Charlie Kaufman | Stephen Merchant | Richard Pryor | James Thurber | Bill Hicks | ALSO: Comedy and the Death of God
On his or her birthday, HiLobrow irregularly pays tribute to one of our high-, low-, no-, or hilobrow heroes. Also born this date: Stiv Bators.
READ MORE about men and women born on the cusp between the Hardboiled (1894-1903) and Partisan (1904-13) generations.