Lee "Scratch" Perry
By: Lucy Sante
March 20, 2010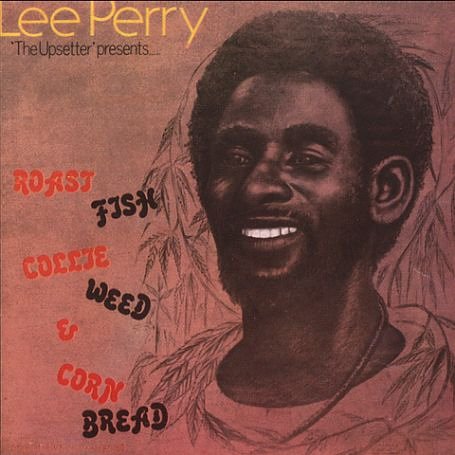 LEE "SCRATCH" PERRY (Rainford Hugh Perry, born 1936) is as responsible as anyone for two crucial developments in Jamaican music, circa 1968: slowing rock steady down to the two-and-four freight-train rhythm of reggae, and dropping out beats and instruments and introducing samples, creating dub. You can always identify a Perry production by the layers of murk he likes to wrap his sound in — so that the beats can cut through them like knives — not to mention his catalog of pet sound effects: a crying baby, a roaring lion, a creaking hinge, a hissing steam pipe, a fast pant like Daffy Duck running wind sprints. In his early years as The Upsetter, Perry was particularly fond of the spaghetti-Western conceit, taking off on the soundtracks of Ennio Morricone and imitators (see Jimmy Cliff watching Django at the Kingston Rialto in The Harder They Come for the objective correlative); he also laid down the critical tracks that moved the Wailers from local to global. His peak was the sublime Roast Fish, Collie Weed & Corn Bread (1978), on which he also sings. Soon after, he apparently burned down his Black Ark studio, then moved to Europe and dealt out frequent releases best described as erratic.
***
Each day, HILOBROW pays tribute to one of our favorite high-, low-, no-, or hilobrow heroes on that person's birthday. Click here for more HiLo Hero shout-outs. To get HiLo Heroes updates via Facebook, click here.
HILO HERO ITEMS by Luc Sante: Dashiell Hammett | Pancho Villa | James M. Cain | Georges Bataille | Félix Fénéon | Émile Henry | A.J. Liebling | Jim Thompson | Joe Hill | Nestor Makhno | Hans Magnus Enzensberger | Captain Beefheart | William Burroughs | Ring Lardner | Lee "Scratch" Perry | Serge Gainsbourg | Kathy Acker | Arthur Cravan | Weegee | Alexander Trocchi | Ronnie Biggs | George Ade | Georges Darien | Zo d'Axa | Petrus Borel | Blaise Cendrars | Alexandre Jacob | Constance Rourke | Damia | J-P Manchette | Jean-Paul Clebert | Pierre Mac Orlan | Comte De Lautreamont | André Breton | Robert Desnos | Arthur Rimbaud |
READ MORE about the Anti-Anti-Utopian Generation.