Phil Silvers
By: Greg Rowland
May 11, 2009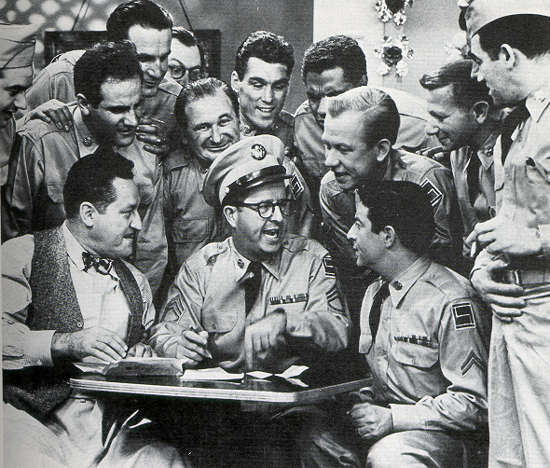 Both PHIL SILVERS (1911-1985) and his best-known character, Sergeant Bilko, were driven by a manic energy that sought to control, disrupt, and ultimately collapse all forces of linear, mathematical, or hierarchical order — reflecting the devout wish of the obsessive gambler. Silvers had a Royal Flush-level comedic virtuosity, while Bilko's monomaniacal obsession with material self-advancement elegantly disemboweled the American Dream. So Silvers is an unacknowledged hero of '50s counterculture: smart enough to slip his subversion into prime time, thus guiding his audience towards an increasingly skeptical view of authority while still enabling laughter at the hysterically heroic limits of rampant individualism.
***
HUMORISTS at HILOBROW: Michael O'Donoghue | Jemaine Clement | Andy Kaufman | Danny Kaye | George Ade | Jimmy Durante | Jack Benny | Aziz Ansari | Don Rickles | Godfrey Cambridge | Eric Idle | David Cross | Stewart Lee | Samuel Beckett | Jerry Lewis | Joanna Lumley | Jerome K. Jerome | Phil Silvers | Edward Lear | Tony Hancock | George Carlin | Stephen Colbert | Tina Fey | Keith Allen | Russell Brand | Michael Cera | Stan Laurel | Ricky Gervais | Gilda Radner | Larry David | Chris Pontius | Dave Chappelle | Jimmy Finlayson | Paul Reubens | Peter Sellers | Buster Keaton | Flann O'Brien | Lenny Bruce | Sacha Baron Cohen | Steve Coogan | PG Wodehouse | A.J. Liebling | Curly Howard | Fran Lebowitz | Charlie Kaufman | Stephen Merchant | Richard Pryor | James Thurber | Bill Hicks | ALSO: Comedy and the Death of God
On his or her birthday, HiLobrow irregularly pays tribute to one of our high-, low-, no-, or hilobrow heroes. Also born this date: Rosa Auslander, Martha Graham, Phil Silvers, Richard Feynman, Denver Pyle.
READ MORE about members of the Partisan Generation (1904-13).