Chris Pontius
By: Joshua Glenn
July 16, 2010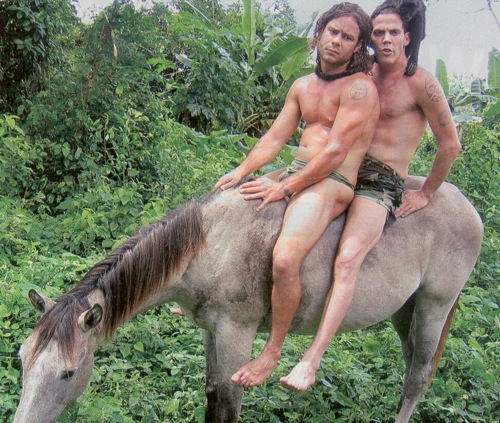 Before the brilliant/jejune MTV show Jackass, there was the nearly as brilliant and every bit as jejune skateboarder/humor magazine Big Brother, for which prankster CHRIS PONTIUS (born 1974) and other future Jackass producers and cast members/guest stars (Jeff Tremaine, Johnny Knoxville, Spike Jonze) worked and wrote. On Jackass, Pontius was often nude, and always — hilariously, IMHO — a cherubic idler asshole. His early manifesto, "18 Ways to be an Asshole," isn't ideological, unless [Moorcockian] Chaos is a belief system: "1) After sex throw 5 bucks on your date and leave. 2) The next day ask for it back. 3) After sex beat your date up. 4) Get the giggles at church. 5) Start a fight or riot, then call the cops and even testify as a witness," etc. To Pontius, whom one might, at the risk of mockery from one's peers, compare to a Lakota Heyoka — i.e., a sacred clown who violates norms and taboos, rules and regulations, thereby preventing us from taking the dominant discourse for granted — belongs the distinction of having been fired from Big Brother. Even that shambolic gig, it seems, was too restrictive for him to tolerate.
***
HUMORISTS at HILOBROW: Michael O'Donoghue | Jemaine Clement | Andy Kaufman | Danny Kaye | George Ade | Jimmy Durante | Jack Benny | Aziz Ansari | Don Rickles | Godfrey Cambridge | Eric Idle | David Cross | Stewart Lee | Samuel Beckett | Jerry Lewis | Joanna Lumley | Jerome K. Jerome | Phil Silvers | Edward Lear | Tony Hancock | George Carlin | Stephen Colbert | Tina Fey | Keith Allen | Russell Brand | Michael Cera | Stan Laurel | Ricky Gervais | Gilda Radner | Larry David | Chris Pontius | Dave Chappelle | Jimmy Finlayson | Paul Reubens | Peter Sellers | Buster Keaton | Flann O'Brien | Lenny Bruce | Sacha Baron Cohen | Steve Coogan | PG Wodehouse | A.J. Liebling | Curly Howard | Fran Lebowitz | Charlie Kaufman | Stephen Merchant | Richard Pryor | James Thurber | Bill Hicks | ALSO: Comedy and the Death of God
READ MORE about men and women born on the cusp between the Reconstructionist (1964-73) and Revivalist (1974-83) generations.