Paul Reubens
By: Sarah Weinman
August 27, 2010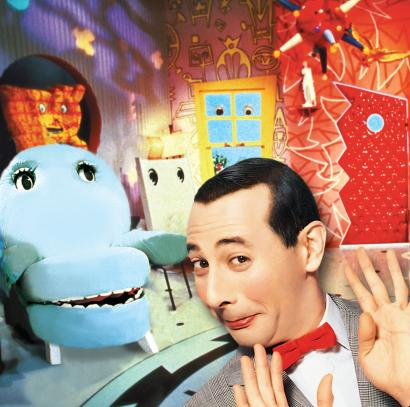 Nothing illustrates the sweet triumph of a comeback story more than the return of Pee-wee Herman, the red-bowtied alter ego of PAUL REUBENS (Paul Rubenfeld, born 1952), who is selling out shows from coast to coast almost two decades after he was consigned to the celebrity graveyard for making love with his own hand. Reubens' fall and comeback were fated: skip back past the children's TV show Pee-wee's Playhouse (with whimsical sets created by Gary Panter) and you'll find the original, theatrical version that rocked the Roxy in the early 1980s. That Pee-wee was a little more man than child, erred on the side of naughty (e.g., by convincing a woman to take off her dress on the pretext that no one can see her do it) and tweaked sexual and gender boundaries with his fearless, unapologetic love of everything that a six-year-old heart might desire. The character's film debut in Pee-wee's Big Adventure (which introduced Tim Burton 25 years ago) further juxtaposed Pee-wee's insouciance with an increasingly conservative American public whose discomfort only exposed them to Reubens' mockery. Middlebrows may attempt to nullify Reubens' art by claiming that it "shows what it's like to be a child" — but the truth is that Pee-wee's childlike behavior reveals the fault lines and unexpressed terrors of adult life.
***
HUMORISTS at HILOBROW: Michael O'Donoghue | Jemaine Clement | Andy Kaufman | Danny Kaye | George Ade | Jimmy Durante | Jack Benny | Aziz Ansari | Don Rickles | Godfrey Cambridge | Eric Idle | David Cross | Stewart Lee | Samuel Beckett | Jerry Lewis | Joanna Lumley | Jerome K. Jerome | Phil Silvers | Edward Lear | Tony Hancock | George Carlin | Stephen Colbert | Tina Fey | Keith Allen | Russell Brand | Michael Cera | Stan Laurel | Ricky Gervais | Gilda Radner | Larry David | Chris Pontius | Dave Chappelle | Jimmy Finlayson | Paul Reubens | Peter Sellers | Buster Keaton | Flann O'Brien | Lenny Bruce | Sacha Baron Cohen | Steve Coogan | PG Wodehouse | A.J. Liebling | Curly Howard | Fran Lebowitz | Charlie Kaufman | Stephen Merchant | Richard Pryor | James Thurber | Bill Hicks | ALSO: Comedy and the Death of God
On his or her birthday, HiLobrow irregularly pays tribute to one of our high-, low-, no-, or hilobrow heroes. Also born this date: Jimmy Finlayson.
READ MORE about members of the Blank Generation (1944-53).