Damia
By: Lucy Sante
December 5, 2011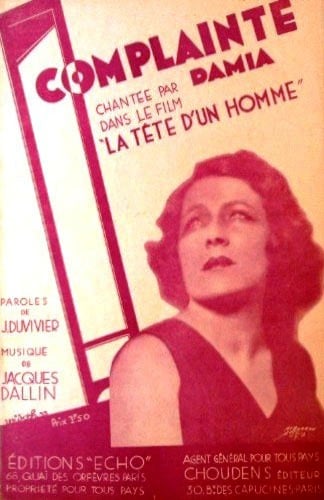 DAMIA (Marie-Louise Damien, 1889-1978) was a singer in the French chanson réaliste tradition, which is to say that she sang about dark, earthbound, working-class subjects. The stars of that style, which had its beginnings before the first World War and lasted until after the second, were nearly all women, including Édith Piaf, the rough-and-tumble Fréhel, the ravaged Nitta-Jo, the disillusioned Lucienne Delyle, the flirtatious Mistinguett, the stentorian Suzy Solidor. Damia was called la tragédienne, and she embodied the role with her unflinching demeanor, her upward gaze, her invariable black sheath (an article of clothing she bequeathed to subsequent generations of torch singers), and her remarkable voice. The nasality inherent in French was turned by Damia into a principle of style, a kind of mournful continuo she would accentuate with slides and slurs not unlike Billie Holiday in her darkest register. She sang about prostitution and shipwrecks and murderers and drowned sailors and the guillotine. What made her special, though, was the way she could make a rising inflection transcend all the bitterness and sorrow and squalor, as if she could see over the horizon into some better world. Her small but select filmography includes her incarnation of the Marseillaise in Abel Gance's Napoléon (1927) and her last public appearance, as a beggar in the 1956 version of Notre-Dame de Paris.
In a brief clip from Julien Duvivier's La Tête d'un homme (1933) she is singing, somewhat incongruously, in the middle of a boisterous party:
A TV appearance apparently from the 1950s (the "1934" is surely wrong) shows her singing (or lip-synching?) one of her greatest hits, "Les Naufragés":
Finally, an excerpt from Juliet Berto's 1989 documentary about her features another '50s TV appearance, this one considerably more animated:
***
On his or her birthday, HiLobrow irregularly pays tribute to one of our high-, low-, no-, or hilobrow heroes. Also born this date: Fritz Lang and Little Richard.
HILO HERO ITEMS by LUC SANTE: Dashiell Hammett | Pancho Villa | James M. Cain | Georges Bataille | Félix Fénéon | Émile Henry | A.J. Liebling | Jim Thompson | Joe Hill | Nestor Makhno | Hans Magnus Enzensberger | Captain Beefheart | William Burroughs | Ring Lardner | Lee "Scratch" Perry | Serge Gainsbourg | Kathy Acker | Arthur Cravan | Weegee | Alexander Trocchi | Ronnie Biggs | George Ade | Georges Darien | Zo d'Axa | Petrus Borel | Blaise Cendrars | Alexandre Jacob | Constance Rourke | Damia | J-P Manchette | Jean-Paul Clebert | Pierre Mac Orlan | Comte De Lautreamont | André Breton | Robert Desnos | Arthur Rimbaud |
READ MORE about members of the Modernist generation (1884-93).