Arthur Rimbaud
By: Lucy Sante
October 20, 2013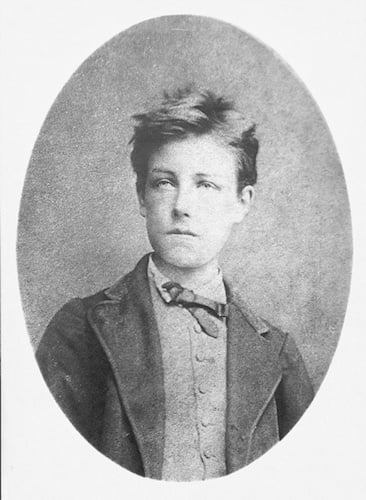 ARTHUR RIMBAUD (1854–91) was a teenage runaway who happened to be possessed of genius. Before the end of his adolescence he had permanently altered poetry. He accomplished this feat in typical guttersnipe fashion, first by ridiculing and improving upon the work of his elders, thus clearing the decks, and then by peremptorily setting out his own program: a poetry composed of prose, song, invective, prophecy, hallucination, and trash. He was by all accounts an affliction to those who knew him: those he insulted, those whose larders he raided, and of course the unstable lyric poet Paul Verlaine, whose lover and tormenter he became. Drunken rages, gunfire, prison, and exile were the issue of their union rather than any mutual influence; their ideas on poetry were irreconcilable. Then Rimbaud abandoned poetry and took to the road, which he followed to Aden and Ethiopia, where he worked as an import-export trader, which job included running guns (despite the long-running canard, he never dealt in slaves). He died at 36 in a Marseilles hospital, dreaming only of returning to the Red Sea. His sister and her husband tried to annex his life and work for the Catholic Church; they were followed by a long line of poachers from all districts: Surrealists, academics, occultists, poetry pimps, gay-rights activists, the French government. His hard shell has continued to resist all efforts.
HILO HERO ITEMS by LUC SANTE: Dashiell Hammett | Pancho Villa | James M. Cain | Georges Bataille | Félix Fénéon | Émile Henry | A.J. Liebling | Jim Thompson | Joe Hill | Nestor Makhno | Hans Magnus Enzensberger | Captain Beefheart | William Burroughs | Ring Lardner | Lee "Scratch" Perry | Serge Gainsbourg | Kathy Acker | Arthur Cravan | Weegee | Alexander Trocchi | Ronnie Biggs | George Ade | Georges Darien | Zo d'Axa | Petrus Borel | Blaise Cendrars | Alexandre Jacob | Constance Rourke | Damia | J-P Manchette | Jean-Paul Clebert | Pierre Mac Orlan | Comte De Lautreamont | André Breton | Robert Desnos | Arthur Rimbaud |
***
On his or her birthday, HiLobrow irregularly pays tribute to one of our high-, low-, no-, or hilobrow heroes. Also born this date: Wanda Jackson, Peter Lamborn Wilson.
READ MORE about men and women born on the cusp between the New Promethean (1844–53) and Plutonian (1854-63) Generations.