Ricky Gervais
By: Patrick Cates
June 25, 2010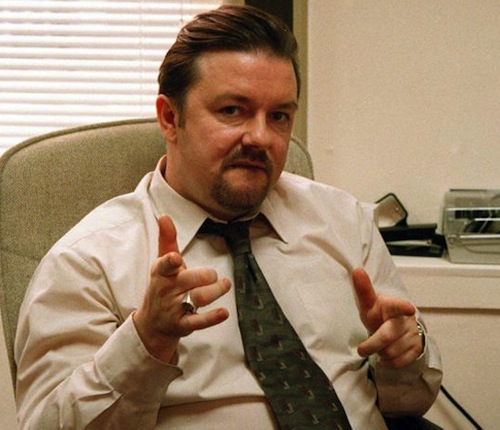 Long before RICKY GERVAIS (born 1961) sold paper in Slough in the guise of David Brent, Steve Coogan was taking those elements of his own personality that irritated him the most and magnifying them into high-definition, cringe-filled wankerhood. It is Alan Partridge, the deluded never-was, not David Brent, who first featured in a love-to-hate-him pseudo-reality monograph. But Brent is Partridge 2.0. As a character he is much richer and as a critique of middle Britain he is much harsher. Why? Ricky Gervais lived the life of a deluded day-job day-dreamer until his mid 30s and you can tell. Every time David Brent wiggles his tie knot, forces a smile and fires a volley of supercilious clichés at the person behind the camera, you feel you are learning about Gervais and the tit he used to be (and, for many, still is). Extras; the podcast he records with Stephen Merchant and Karl Pilkington; his stand-up show: all of these mark Gervais out as a highly competent comedy craftsman (let's ignore his various forays into Hollywood). But when he reveals, through his characterizations in The Office, the traumatic effects of spending half a lifetime buried alive along with your aspirations in the drab concrete of an English megaburb, we realize that we are watching the prophet of the service industry age.
***
HUMORISTS at HILOBROW: Michael O'Donoghue | Jemaine Clement | Andy Kaufman | Danny Kaye | George Ade | Jimmy Durante | Jack Benny | Aziz Ansari | Don Rickles | Godfrey Cambridge | Eric Idle | David Cross | Stewart Lee | Samuel Beckett | Jerry Lewis | Joanna Lumley | Jerome K. Jerome | Phil Silvers | Edward Lear | Tony Hancock | George Carlin | Stephen Colbert | Tina Fey | Keith Allen | Russell Brand | Michael Cera | Stan Laurel | Ricky Gervais | Gilda Radner | Larry David | Chris Pontius | Dave Chappelle | Jimmy Finlayson | Paul Reubens | Peter Sellers | Buster Keaton | Flann O'Brien | Lenny Bruce | Sacha Baron Cohen | Steve Coogan | PG Wodehouse | A.J. Liebling | Curly Howard | Fran Lebowitz | Charlie Kaufman | Stephen Merchant | Richard Pryor | James Thurber | Bill Hicks | ALSO: Comedy and the Death of God
Each day, HILOBROW pays tribute to one of our favorite high-, low-, no-, or hilobrow heroes on that person's birthday.
READ MORE about the Original Generation X (1954-63).