George Carlin
By: Tim Carmody
May 12, 2010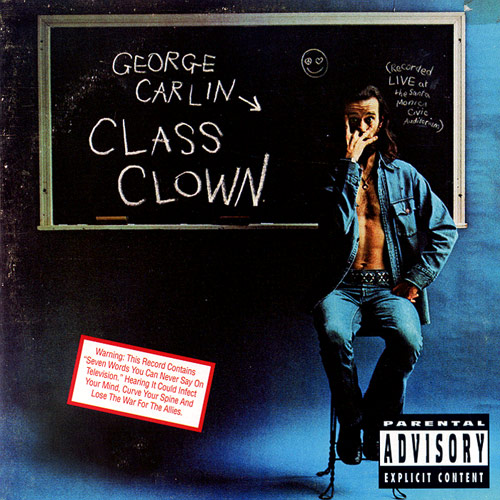 His voice would later narrate teen movies, car commercials, and children's cartoons, but GEORGE CARLIN (1937-2008) cut his teeth nailing impressions of his neighbors in Morningside Heights, voices of characters that reappeared in his stand-up 25 years later. The history of Carlin's comedy can be read as a kind of media criticism. Part of the tail end of a generation raised on radio, Carlin worked as a DJ for the Air Force and regional stations before he broke into television (on Steve Allen's The Tonight Show) with his radio and nightclub partner Jack Burns. His solo comedy albums from the 70s turned on his TV-friendly impressions, offering a more personal and infinitely more obscene counterculture persona, beginning with his "Seven Words You Can't Say On Television"; the dozens of comedy specials for cable that followed treat all forms of official and unofficial language to a melodic but merciless drubbing. The best place for a newcomer to Carlin to begin may be 1997's 40 Years of Comedy, which features a montage of hits in every one of his mode, a Jon Stewart interview with a look at Carlin's biography, and an intimate club performance at the height of his powers. "Don't forget that what we do is oratory; it's rhetoric," says Carlin, after moving seamlessly from a knockout pastiche of advertising language to warm-but-filthy jokes about the sex habits of his pets. His angry-man fireworks were easy for younger comics to imitate; the range of his instrument and intelligence eluded nearly every one who tried.
***
HUMORISTS at HILOBROW: Michael O'Donoghue | Jemaine Clement | Andy Kaufman | Danny Kaye | George Ade | Jimmy Durante | Jack Benny | Aziz Ansari | Don Rickles | Godfrey Cambridge | Eric Idle | David Cross | Stewart Lee | Samuel Beckett | Jerry Lewis | Joanna Lumley | Jerome K. Jerome | Phil Silvers | Edward Lear | Tony Hancock | George Carlin | Stephen Colbert | Tina Fey | Keith Allen | Russell Brand | Michael Cera | Stan Laurel | Ricky Gervais | Gilda Radner | Larry David | Chris Pontius | Dave Chappelle | Jimmy Finlayson | Paul Reubens | Peter Sellers | Buster Keaton | Flann O'Brien | Lenny Bruce | Sacha Baron Cohen | Steve Coogan | PG Wodehouse | A.J. Liebling | Curly Howard | Fran Lebowitz | Charlie Kaufman | Stephen Merchant | Richard Pryor | James Thurber | Bill Hicks | ALSO: Comedy and the Death of God
READ MORE about the Anti-Anti-Utopian Generation (1934-43).