William Burroughs
By: Lucy Sante
February 5, 2010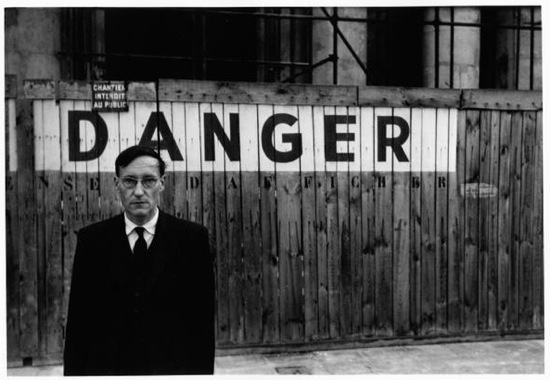 Even as a young man, WILLIAM BURROUGHS (1914-97) looked like a member of the raincoat brigade, his apparent respectability ceding to a suggestion of limitless vice if you stared long enough. He sounded like W. C. Fields' accountant nephew from Babbittville, and he had a fine way with maxims that instantly sounded like old saws: "No one owns life, but anyone who can pick up a frying pan owns death." In essence, he wrote three books. Junky (1953), which is succeeded by Queer (published 1985), is a sterling piece of pulp, artificial-paradises division. The continuous stream of Naked Lunch (1959), The Soft Machine (1961), Nova Express (1964), The Ticket That Exploded (1962), and innumerable chapbooks and broadsides, concluding with The Wild Boys (1971) is his summit, a recombinant petri dish of hallucinations and cut-ups and jokes and asides that can be read upside-down or backwards to much the same effect. The message is: You are the host of a virus; the virus is life; you are fucked. His Cities of the Red Night trilogy (1981-87) attempts to graft the pulp style of Junky etc. onto the substance of Naked Lunch etc., but it fails in the same way as a cast-of-thousands movie. And he excelled as an actor; the act was seamless and permanent.
GOLDEN-AGE SCI-FI at HILOBROW: Golden Age Sci-Fi: 75 Best Novels of 1934–1963 | Robert Heinlein | Karel Capek | William Burroughs | E.E. "Doc" Smith | Clifford D. Simak | H.P. Lovecraft | Olaf Stapledon | Philip K. Dick | Jack Williamson | George Orwell | Boris Vian | Bernard Wolfe | J.G. Ballard | Jorge Luis Borges |Poul Anderson | Walter M. Miller, Jr. | Murray Leinster | Kurt Vonnegut | Stanislaw Lem | Alfred Bester | Isaac Asimov | Ray Bradbury | Madeleine L'Engle | Arthur C. Clarke | PLUS: Jack Kirby's Golden Age and New Wave science fiction comics.
NEW WAVE SCI-FI at HILOBROW: 75 Best New Wave (1964–1983) Sci-Fi Novels | Back to Utopia: Fredric Jameson's theorizing about New Wave sci-fi | Douglas Adams | Poul Anderson | J.G. Ballard | John Brunner | William Burroughs | Octavia E. Butler | Samuel R. Delany | Philip K. Dick | Frank Herbert | Ursula K. Le Guin | Barry N. Malzberg | Moebius (Jean Giraud) | Michael Moorcock | Alan Moore | Gary Panter | Walker Percy | Thomas Pynchon | Joanna Russ | James Tiptree Jr. (Alice Sheldon) | Kurt Vonnegut | PLUS: Jack Kirby's Golden Age and New Wave science fiction comics.
***
Each day, HILOBROW pays tribute to one of our favorite high-, low-, no-, or hilobrow heroes on that person's birthday.
HILO HERO ITEMS by Luc Sante: Dashiell Hammett | Pancho Villa | James M. Cain | Georges Bataille | Félix Fénéon | Émile Henry | A.J. Liebling | Jim Thompson | Joe Hill | Nestor Makhno | Hans Magnus Enzensberger | Captain Beefheart | William Burroughs | Ring Lardner | Lee "Scratch" Perry | Serge Gainsbourg | Kathy Acker | Arthur Cravan | Weegee | Alexander Trocchi | Ronnie Biggs | George Ade | Georges Darien | Zo d'Axa | Petrus Borel | Blaise Cendrars | Alexandre Jacob | Constance Rourke | Damia | J-P Manchette | Jean-Paul Clebert | Pierre Mac Orlan | Comte De Lautreamont | André Breton | Robert Desnos | Arthur Rimbaud |
READ MORE about men and women born on the cusp between the Partisans Generation (1904-13) and the New Gods Generation (1914-23).
READ MORE HiLo Hero shout-outs.
SUBSCRIBE to HiLo Hero updates via Facebook.
SHARE this post, by clicking on the toolbar below.