Pancho Villa
By: Lucy Sante
June 5, 2009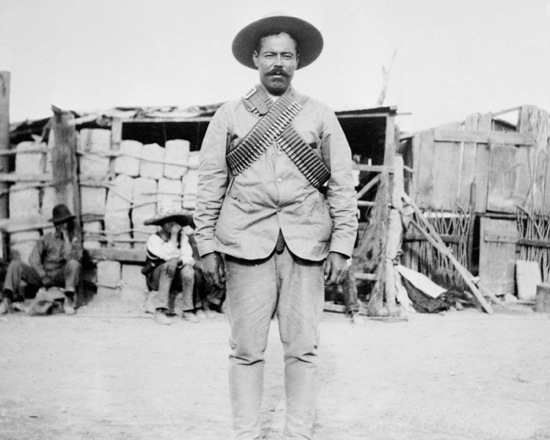 PANCHO VILLA (born Doroteo Aranga Arámbula; 1878-1923) was an outlaw with a world-class strategic intelligence who became a general during the chaotic and unending Mexican Revolution. John Reed was present in the Governor's palace in Chihuahua when Villa was honored by the elegantly turned-out officers of his artillery corps: "He was dressed in an old plain khaki uniform, with several buttons lacking. He hadn't recently shaved, wore no hat, and his hair had not been brushed." He slouched on the throne during the speeches, "his mouth hanging open, his little shrewd eyes playing around the room." When they gave him the medal, he peered at it and said, "This is a hell of a little thing to give a man for all that heroism you are talking about!" Then he spat violently on the floor. (Insurgent Mexico, 1914) Actors who have portrayed Villa include Wallace Beery, Leo Carillo, Alan Reed, Yul Brynner, Telly Savalas, and Freddy Fender.
MORE ACTIVISTS: Mother Jones | Alexander Berkman | Eugene V. Debs | Tina Modotti | Big Bill Haywood | Lucy Stone | Antônio Conselheiro | Emmeline Pankhurst | Félix Fénéon | Meridel Le Sueur | Pierre-Joseph Proudhon | Zo d'Axa | Mikhail Bakunin | Voltairine de Cleyre | Emma Goldman | Will Allen | Rosa Luxemburg | Simone de Beauvoir | Émile Henry | Pancho Villa | Joe Hill | Margaret Sanger | Aldo Leopold | Screaming Lord Sutch | Nestor Makhno | Dorothy Day | Garry Kasparov | Adriano Olivetti | Mildred Harnack | Frederick Douglass | Murray Bookchin | George Orwell | Bayard Rustin | Abbie Hoffman | Ti-Grace Atkinson | Gloria Steinem | Rudolf Rocker | Stokely Carmichael | Angela Davis
HILO HERO ITEMS by Luc Sante: Dashiell Hammett | Pancho Villa | James M. Cain | Georges Bataille | Félix Fénéon | Émile Henry | A.J. Liebling | Jim Thompson | Joe Hill | Nestor Makhno | Hans Magnus Enzensberger | Captain Beefheart | William Burroughs | Ring Lardner | Lee "Scratch" Perry | Serge Gainsbourg | Kathy Acker | Arthur Cravan | Weegee | Alexander Trocchi | Ronnie Biggs | George Ade | Georges Darien | Zo d'Axa | Petrus Borel | Blaise Cendrars | Alexandre Jacob | Constance Rourke | Damia | J-P Manchette | Jean-Paul Clebert | Pierre Mac Orlan | Comte De Lautreamont | André Breton | Robert Desnos | Arthur Rimbaud |
***
On his or her birthday, HiLobrow irregularly pays tribute to one of our high-, low-, no-, or hilobrow heroes. Also born this date: | Misha Mengelberg | Aesop Rock |
READ MORE about members of the Psychonaut Generation (1874–1883).