Émile Henry
By: Lucy Sante
September 26, 2013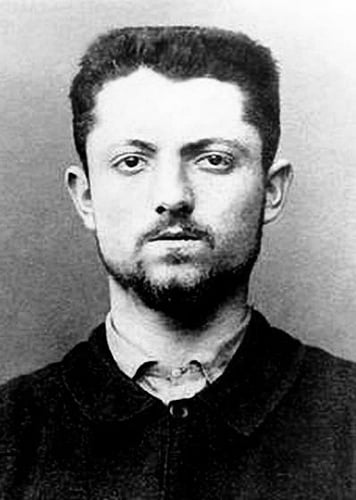 ÉMILE HENRY (1872–94) was the son of a Communard who died of lead poisoning from working in Spanish mines during his exile. Although he was admitted to the high-level École Polytechnique, Henry instead worked at increasingly sordid and ill-paid jobs, all the while involving himself in anarchist activities. He saw himself as a soldier in the war for freedom and equality. In May 1891, in response to police killings of demonstrators in the mining town of Fourmies, as well as beatings of anarchists by cops, Ravachol (François Koenigstein) set off bombs in the homes of the Advocate General and a magistrate. There were no injuries, but Ravachol was guillotined. In December 1893 Auguste Vaillant threw a feeble bomb into a session of the Chamber of Deputies. The only injuries were glancing ones, but Vaillant, too, was guillotined. Henry, meanwhile, had in November 1892 delivered a time bomb to the offices of a mining company; the police took it away and it exploded in their precinct house, killing five. Finally, in February 1894, he set off a bomb in the Café Terminus at the St.-Lazare train station, killing one and injuring twenty. Previously, anarchist bomb throwers had taken pains to avoid harming civilians, but as Henry said at his trial, "There are no innocent bourgeois." He too was guillotined.
MORE ACTIVISTS: Mother Jones | Alexander Berkman | Eugene V. Debs | Tina Modotti | Big Bill Haywood | Lucy Stone | Antônio Conselheiro | Emmeline Pankhurst | Félix Fénéon | Meridel Le Sueur | Pierre-Joseph Proudhon | Zo d'Axa | Mikhail Bakunin | Voltairine de Cleyre | Emma Goldman | Will Allen | Rosa Luxemburg | Simone de Beauvoir | Émile Henry | Pancho Villa | Joe Hill | Margaret Sanger | Aldo Leopold | Screaming Lord Sutch | Nestor Makhno | Dorothy Day | Garry Kasparov | Adriano Olivetti | Mildred Harnack | Frederick Douglass | Murray Bookchin | George Orwell | Bayard Rustin | Abbie Hoffman | Ti-Grace Atkinson | Gloria Steinem | Rudolf Rocker | Stokely Carmichael | Angela Davis
HILO HERO ITEMS by LUC SANTE: Dashiell Hammett | Pancho Villa | James M. Cain | Georges Bataille | Félix Fénéon | Émile Henry | A.J. Liebling | Jim Thompson | Joe Hill | Nestor Makhno | Hans Magnus Enzensberger | Captain Beefheart | William Burroughs | Ring Lardner | Lee "Scratch" Perry | Serge Gainsbourg | Kathy Acker | Arthur Cravan | Weegee | Alexander Trocchi | Ronnie Biggs | George Ade | Georges Darien | Zo d'Axa | Petrus Borel | Blaise Cendrars | Alexandre Jacob | Constance Rourke | Damia | J-P Manchette | Jean-Paul Clebert | Pierre Mac Orlan | Comte De Lautreamont | André Breton | Robert Desnos | Arthur Rimbaud |
***
On his or her birthday, HiLobrow irregularly pays tribute to one of our high-, low-, no-, or hilobrow heroes. Also born this date: Winsor McCay, Darby Crash.
READ MORE about members of the Anarcho-Symbolist Generation (1864–73).