Jean-Paul Clébert
By: Lucy Sante
February 23, 2012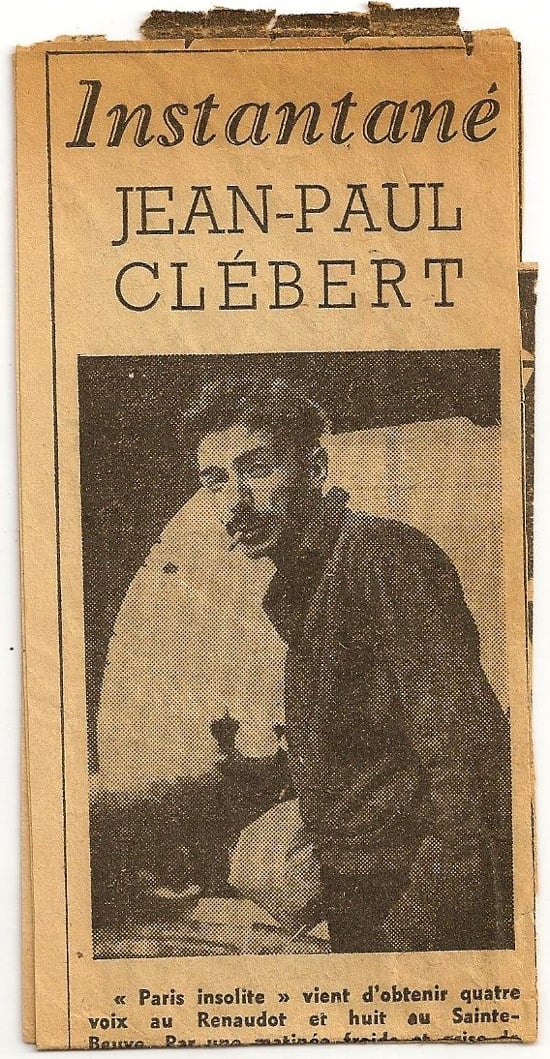 JEAN-PAUL CLÉBERT (1926-2011) dropped out of school and joined the Resistance at age sixteen. After the war and some peregrinations in Asia, he came back to Paris and entered its shadowy underside, living for three or four years as a clochard. (In argot, the cloche — literally the "bell" — is the sky, and clochards are those who sleep under it.) His account of that time, Paris insolite (1952) is a rollicking, poetically charged tale of privation and adventure, a first cousin of Kerouac's On the Road for all that it takes place entirely within the confines of the city. Clébert finds all the hidden worlds — the shacks and Gypsy wagons on the periphery, the ostensibly vacant lots, the rescuers' cabins on the Seine, the surviving corners of the medieval city, the mushroom farms and serpentariums hidden in apartments — and defines their common thread of freedom from the straight world. The book was taken up both by the remaining Surrealists and by the nascent Situationists, who based their theory of the dérive on Clébert's principles, using the book as vademecum and literal guide. Clébert went on to write 32 other books — including The Gypsies (1961; translated into English 1963), arguably the finest study of the subject, based on both archival research and personal experience — as well as many works on the history of southern France, where he moved in 1956.
***
ADVENTURERS as HILO HEROES: Katia Krafft | Freya Stark | Louise Arner Boyd | Mary Kingsley | Bruce Chatwin | Hester Lucy Stanhope | Annie Smith Peck | Richard Francis Burton | Isabella Lucy Bird | Calamity Jane | Ernest Shackleton | Osa Helen Johnson | Redmond O'Hanlon | Gertrude Bell | George Mallory | Neta Snook | Jane Digby | Patty Wagstaff | Wilfred Thesiger | Joe Carstairs | Florence "Pancho" Barnes | Erskine Childers | Jacques-Yves Cousteau | Michael Collins | Thor Heyerdahl | Jean-Paul Clébert | Tristan Jones | Neil Armstrong
On his or her birthday, HiLobrow irregularly pays tribute to one of our high-, low-, no-, or hilobrow heroes. Also born this date: Kazimir Malevich and Terence Fisher.
HILO HERO ITEMS by LUC SANTE: Dashiell Hammett | Pancho Villa | James M. Cain | Georges Bataille | Félix Fénéon | Émile Henry | A.J. Liebling | Jim Thompson | Joe Hill | Nestor Makhno | Hans Magnus Enzensberger | Captain Beefheart | William Burroughs | Ring Lardner | Lee "Scratch" Perry | Serge Gainsbourg | Kathy Acker | Arthur Cravan | Weegee | Alexander Trocchi | Ronnie Biggs | George Ade | Georges Darien | Zo d'Axa | Petrus Borel | Blaise Cendrars | Alexandre Jacob | Constance Rourke | Damia | J-P Manchette | Jean-Paul Clebert | Pierre Mac Orlan | Comte De Lautreamont | André Breton | Robert Desnos | Arthur Rimbaud |
READ MORE about members of the Postmodernist Generation (1924-33).