James Thurber
By: Ingrid Schorr
December 8, 2013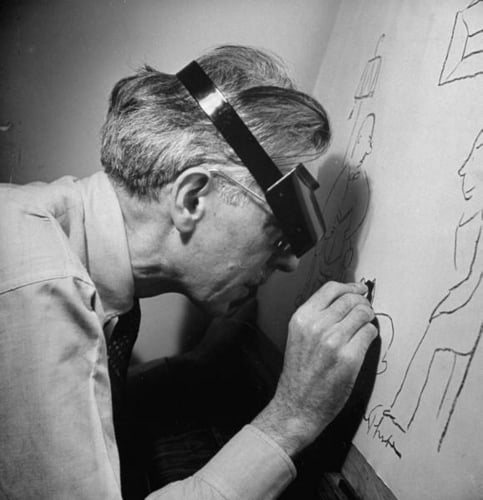 Though he is known as a humorist, it is a dreadful mistake to regard JAMES THURBER (1894–1961) as lighthearted or whimsical. He spent his life defending the pathos of humor and once defined it as "a kind of emotional chaos told about calmly and quietly in retrospect." Disorder, disaster, and distress color his work as finely as embroidery on a linen sampler. Reading him as misogynist also misses the subterfuge. Thurber's predatory, aggressive women actually invert the worst qualities of conventional men, who Thurber portrays as cowering fools tangled in typewriter ribbon. Only animals live in a calm, orderly space, serving as support beams for human disarray. Related, perhaps, to Thurber's own near-blindness, the humans are constantly mistaking animals for something they are clearly not. A moose is actually a horse with a span of antlers strapped to its head. A seagull is "a rabbit backing up" and that is no St. Bernard, madam; that is a bear.
In Thurber's last year, a series of strokes exacerbated his habitual crankiness, but did not dilute his insistence that humor was a serious genre. Eisenhower-era readers who wanted to interpret his fables — which Thurber regarded as among his most potent work — as jokey chestnuts received long, fulminating replies. To one Harvard professor he suggested, "Maybe your students should try rewriting 'The Waste Land' to get some cheer and zing into it. Good luck, anyway."
***
HUMORISTS at HILOBROW: Michael O'Donoghue | Jemaine Clement | Andy Kaufman | Danny Kaye | George Ade | Jimmy Durante | Jack Benny | Aziz Ansari | Don Rickles | Godfrey Cambridge | Eric Idle | David Cross | Stewart Lee | Samuel Beckett | Jerry Lewis | Joanna Lumley | Jerome K. Jerome | Phil Silvers | Edward Lear | Tony Hancock | George Carlin | Stephen Colbert | Tina Fey | Keith Allen | Russell Brand | Michael Cera | Stan Laurel | Ricky Gervais | Gilda Radner | Larry David | Chris Pontius | Dave Chappelle | Jimmy Finlayson | Paul Reubens | Peter Sellers | Buster Keaton | Flann O'Brien | Lenny Bruce | Sacha Baron Cohen | Steve Coogan | PG Wodehouse | A.J. Liebling | Curly Howard | Fran Lebowitz | Charlie Kaufman | Stephen Merchant | Richard Pryor | James Thurber | Bill Hicks | ALSO: Comedy and the Death of God
On his or her birthday, HiLobrow irregularly pays tribute to one of our high-, low-, no-, or hilobrow heroes. Also born this date: Diego Rivera, E.C. Segar, Jimmy Smith.
READ MORE about men and women born on the cusp between the Modernist (1884–93) and Hardboiled (1894-1903) Generations.