Alexandre Jacob
By: Lucy Sante
September 29, 2011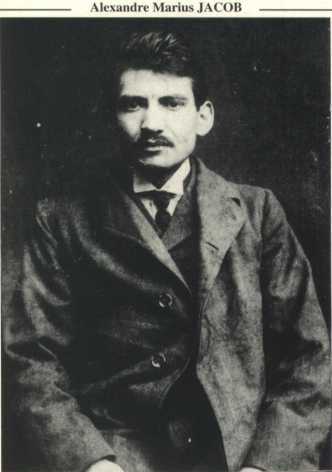 ALEXANDRE MARIUS JACOB (1879-1954) was a French illegalist anarchist whose avowed mission was to steal back from the major thieves: commerce, the aristocracy, the state. Although a lucid and articulate thinker and polemicist, he soon learned to avoid political milieux and cut to the chase, working with common criminals. He was by all accounts a phenomenal burglar — he was a model for the "gentleman-cambrioleur" Arsène Lupin. He had, for example, the panache to leave at the scenes of his crimes a calling card in the name of "Attila." He devised the trick, often enacted in movies, of breaking into an apartment from the floor above by poking an umbrella through the ceiling and using it to catch the plaster. At one point he bought a hardware store, where he could dismantle safes at his leisure. But he was also famously Robin Hoodesque, redistributing the bulk of his takes to the poor. When he discovered that an intended victim was choked by debts, he left her 10,000 gold francs, and when he found that another one was a writer, he put everything back and left money for damages. Caught and sent to forced labor in French Guyana in 1903, he attempted escape seventeen times, and authorities complained about having to bring in new guards at frequent intervals, since he regularly converted his jailers to his principles. He spent his last few decades as a market peddler in rural France.
***
On his or her birthday, HiLobrow irregularly pays tribute to one of our high-, low-, no-, or hilobrow heroes. Also born this date: Jerry Lee Lewis.
HILO HERO ITEMS by LUC SANTE: Dashiell Hammett | Pancho Villa | James M. Cain | Georges Bataille | Félix Fénéon | Émile Henry | A.J. Liebling | Jim Thompson | Joe Hill | Nestor Makhno | Hans Magnus Enzensberger | Captain Beefheart | William Burroughs | Ring Lardner | Lee "Scratch" Perry | Serge Gainsbourg | Kathy Acker | Arthur Cravan | Weegee | Alexander Trocchi | Ronnie Biggs | George Ade | Georges Darien | Zo d'Axa | Petrus Borel | Blaise Cendrars | Alexandre Jacob | Constance Rourke | Damia | J-P Manchette | Jean-Paul Clebert | Pierre Mac Orlan | Comte De Lautreamont | André Breton | Robert Desnos | Arthur Rimbaud |
READ MORE about members of the Psychonaut Generation (1874-83).