Zo d'Axa
By: Lucy Sante
May 28, 2011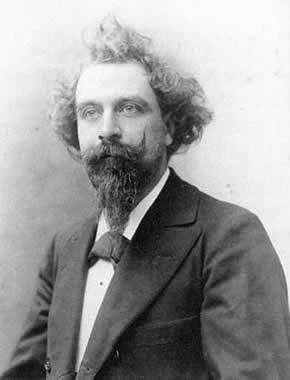 ZO D'AXA (Alphonse Gallaud de la Pérouse, 1864-1930) was a French individualist freethinker, who rejected the label of "anarchist" although he consorted and collaborated with anarchists his entire career. Born into bourgeois circumstances (he was descended from the eighteenth-century explorer La Pérouse), he deserted from the army at 18 after seducing the wife of his commanding officer. In 1891 he founded L'Endehors ("Outside"), a magazine that in its two years of existence succeeded in merging the worlds of high art and militant anarchism. Its writers included the theorists Jean Grave, Sébastien Faure, Émile Pouget (coiner of the word "sabotage"), and Errico Malatesta, the Commune veterans Louise Michel and Élisée Reclus, and the littérateurs Félix Fénéon, Georges Darien, Émile Verhaeren, and Octave Mirbeau. Jailed twice in 1893 at the height of a terrorism panic, he emerged to found another paper, La Feuille (1894-99), which he wrote entirely by himself, although each of his monthly articles was printed on a large sheet, the reverse of which featured a poster-size print by the likes of Théophile Steinlen or Maximilien Luce. In 1899, anticipating the Yippies, he promoted the candidacy of a donkey for the legislature. A dashing red-bearded character, he was called "the musketeer of anarchy." Although fiercely antimilitarist and anticapitalist, he always insisted that he had no political program beyond living life fully and in the moment.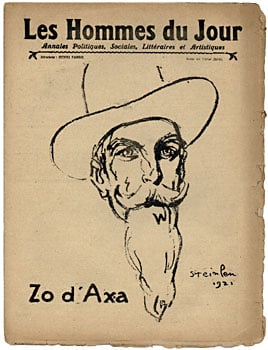 MORE ACTIVISTS: Mother Jones | Alexander Berkman | Eugene V. Debs | Tina Modotti | Big Bill Haywood | Lucy Stone | Antônio Conselheiro | Emmeline Pankhurst | Félix Fénéon | Meridel Le Sueur | Pierre-Joseph Proudhon | Zo d'Axa | Mikhail Bakunin | Voltairine de Cleyre | Emma Goldman | Will Allen | Rosa Luxemburg | Simone de Beauvoir | Émile Henry | Pancho Villa | Joe Hill | Margaret Sanger | Aldo Leopold | Screaming Lord Sutch | Nestor Makhno | Dorothy Day | Garry Kasparov | Adriano Olivetti | Mildred Harnack | Frederick Douglass | Murray Bookchin | George Orwell | Bayard Rustin | Abbie Hoffman | Ti-Grace Atkinson | Gloria Steinem | Rudolf Rocker | Stokely Carmichael | Angela Davis
***
On his or her birthday, HiLobrow irregularly pays tribute to one of our high-, low-, no-, or hilobrow heroes. Also born this date: Walker Percy and Victor Turner.
HILO HERO ITEMS by LUC SANTE: Dashiell Hammett | Pancho Villa | James M. Cain | Georges Bataille | Félix Fénéon | Émile Henry | A.J. Liebling | Jim Thompson | Joe Hill | Nestor Makhno | Hans Magnus Enzensberger | Captain Beefheart | William Burroughs | Ring Lardner | Lee "Scratch" Perry | Serge Gainsbourg | Kathy Acker | Arthur Cravan | Weegee | Alexander Trocchi | Ronnie Biggs | George Ade | Georges Darien | Zo d'Axa | Petrus Borel | Blaise Cendrars | Alexandre Jacob | Constance Rourke | Damia | J-P Manchette | Jean-Paul Clebert | Pierre Mac Orlan | Comte De Lautreamont | André Breton | Robert Desnos | Arthur Rimbaud |
READ MORE about men and women born on the cusp between the Plutonian (1854-63) and Anarcho-Symbolist (1864-73) generations.