Félix Fénéon
By: Lucy Sante
June 22, 2013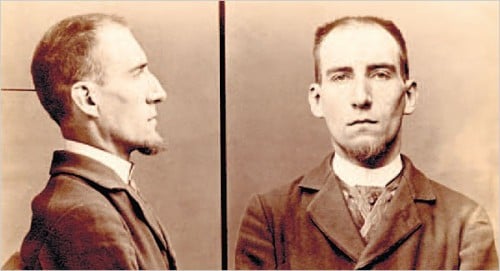 FÉLIX FÉNÉON (1861–1944) did his best to situate himself at the very center of his time while evading notice for himself, and nearly succeeded. He discovered and promoted many painters — Seurat, Signac, Luce, Maurice Denis — and wrote about their work in a variety of refined forms, from technical to populist. He translated Jane Austen, interviewed Jules Verne, edited Rimbaud and Lautréamont, published the early work of Jarry, Gide, Debussy (as a critic), Proust, Apollinaire, and James Joyce in his first appearance in French. He was an art dealer for a while, ran a publishing house for a bit. He wrote filler items for Le Matin for half of 1906 (ironically his most enduring literary legacy). He was also a committed anarchist, who may have set the bomb that destroyed Foyot, a restaurant catering to politicians (the only casualty was one of the anarchist poet Laurent Tailhade's eyes). He was tall, thin, and ascetic, spoke parsimoniously, gestured little, wore no jewelry, uttered devastating epigrams, was feared by his enemies and loved by his friends. He strove to be an honest man in a time when such a thing was no easier than in ours, and that is how he would have most liked to be remembered.
MORE ACTIVISTS: Mother Jones | Alexander Berkman | Eugene V. Debs | Tina Modotti | Big Bill Haywood | Lucy Stone | Antônio Conselheiro | Emmeline Pankhurst | Félix Fénéon | Meridel Le Sueur | Pierre-Joseph Proudhon | Zo d'Axa | Mikhail Bakunin | Voltairine de Cleyre | Emma Goldman | Will Allen | Rosa Luxemburg | Simone de Beauvoir | Émile Henry | Pancho Villa | Joe Hill | Margaret Sanger | Aldo Leopold | Screaming Lord Sutch | Nestor Makhno | Dorothy Day | Garry Kasparov | Adriano Olivetti | Mildred Harnack | Frederick Douglass | Murray Bookchin | George Orwell | Bayard Rustin | Abbie Hoffman | Ti-Grace Atkinson | Gloria Steinem | Rudolf Rocker | Stokely Carmichael | Angela Davis
HILO HERO ITEMS by LUC SANTE: Dashiell Hammett | Pancho Villa | James M. Cain | Georges Bataille | Félix Fénéon | Émile Henry | A.J. Liebling | Jim Thompson | Joe Hill | Nestor Makhno | Hans Magnus Enzensberger | Captain Beefheart | William Burroughs | Ring Lardner | Lee "Scratch" Perry | Serge Gainsbourg | Kathy Acker | Arthur Cravan | Weegee | Alexander Trocchi | Ronnie Biggs | George Ade | Georges Darien | Zo d'Axa | Petrus Borel | Blaise Cendrars | Alexandre Jacob | Constance Rourke | Damia | J-P Manchette | Jean-Paul Clebert | Pierre Mac Orlan | Comte De Lautreamont | André Breton | Robert Desnos | Arthur Rimbaud |
***
On his or her birthday, HiLobrow irregularly pays tribute to one of our high-, low-, no-, or hilobrow heroes. Also born this date: Octavia Butler, Green Gartside, David Rees, Schoolly D, Todd Rundgren.
READ MORE about members of the Plutonian Generation (1854-63).