FERB YOUR ENTHUSIASM (3)
By: Peggy Nelson
January 8, 2021
One in a series of 25 enthusiastic posts, contributed by 25 HILOBROW friends and regulars, on the topic of our favorite animated TV series.
*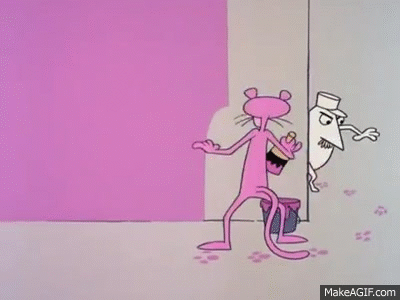 PINK PANTHER | FRITZ FRELENG | 1963–ONGOING
The first thing that strikes you is the sound. The unforgettable Henry Mancini theme, a catchy, minor-key, lightly narrative earworm, taps up and down the bars of the scale, not unlike a top-hat-and-cane routine, but one jazzed up and cooled down for a more jaded age. Then the Pink Panther appears, either peeking out, or casually strolling into frame, into a space that is not a space until he walks out, an abstraction of shapes and vectors that resolves itself into city or interior, floor or horizon, by virtue of how the Panther treats what is up to that point just a color or a line. The Panther is bipedal, unhurried, and unapologetically pink; with tail swishing, he is the epitome of cool. Similar to his predecessor Bugs Bunny, the Panther always maintains the upper hand in his antics, but he cools it down a few more degrees, as the Panther mostly does not speak. Neither good nor evil, the Panther exists in the in-between, as befits his origin as an imagined entity not really there but seen, or inferred, by those who want to.
The Pink Panther character originated in 1963 as an animated intro to the first Pink Panther movie by Blake Edwards, which starred Peter Sellers as the hapless Inspector Clouseau, attempting to catch a sophisticated jewel thief by thoroughly annoying everyone. The thief has stolen a pink diamond known as "The Pink Panther": when it flashed in the light, the figure of a leaping panther could be seen. Thus the animated Panther, the personification of this irresistible flash, sprung into being. He became such a hit that he was spun off into a series of his own, and later to any number of sequels and series. The elegant thief was all but forgotten; the Panther persisted.
The Panther has one nemesis, or rather, the one nemesis has him. Not a Lex Luthor or Joker; the Panther's arch-rival is "The Little Man" — reportedly a caricature of his creator, Fritz Freleng. A literal everyman, The Little Man lives next door and tries to mind his own business: obviously, catnip for this cat. The Panther's project is to thoroughly annoy him. The minute The Little Man's back is turned, or he is distracted, often by the Panther himself, the newly-painted blue wall turns pink, the door becomes Panther-shaped, every surface becomes vandalized (or improved, depending on your perspective), by the Panther.
But Pink Panther is more than an agent of chaotic whimsy, and a terror to neutral beige and mild-mannered mid-century everymen everywhere. The Panther humanizes modern art, occupying the abstractions and showing the viewer (kids glued to morning cartoons on a Saturday morning) how to bring a place of mere shapes and lines to life. That ability, to individualize one's world with imagination, is arguably more educational than the more straightforward edutainment offerings of public TV. Language is powerful. But, suggests the Panther, the mischievous gaze, plus a killer theme song, may be even more so.
***
FERB YOUR ENTHUSIASM: SERIES INTRODUCTION by Josh Glenn | Miranda Mellis on STEVEN UNIVERSE | Luc Sante on TOP CAT | Peggy Nelson on PINK PANTHER | Charlie Mitchell on COWBOY BEBOP | Mimi Lipson on THE FLINTSTONES | Sam Glenn on BIG MOUTH | Mandy Keifetz on ROAD RUNNER | Ramona Lyons on SHE-RA | Holly Interlandi on DRAGON BALL Z | Max Glenn on ADVENTURE TIME | Joe Alterio on REN & STIMPY | Josh Glenn on SPEED RACER | Adam McGovern on KIMBA THE WHITE LION | Jonathan Pinchera on SAMURAI JACK | Lynn Peril on JONNY QUEST | Stephanie Burt on X-MEN THE ANIMATED SERIES and X-MEN: EVOLUTION | Elizabeth Foy Larsen on THE JETSONS | Adam Netburn on NARUTO | Madeline Ashby on AVATAR: THE LAST AIRBENDER | Tom Nealon on TRANSFORMERS | Sara Ryan on BOJACK HORSEMAN | Michael Grasso on COSMIC CLOCK | Erin M. Routson on BEAVIS & BUTTHEAD | Deborah Wassertzug on DARIA | Lydia Millet on BOB'S BURGERS.
MORE ENTHUSIASM at HILOBROW
NERD YOUR ENTHUSIASM (4Q2021): NERDING | ARDUIN | KLINGON CONFIDENTIAL | MAP INSERTS | TIME | & 20 other nerdy passions. SWERVE YOUR ENTHUSIASM (3Q2021): WARHOL'S WALT WHITMAN | 70, GIRLS, 70 | TYRAEL'S MIGHT | SHIRATO SANPEI | THE LEON SUITES | & 20 other never-realized cultural productions. FIVE-O YOUR ENTHUSIASM (2Q2021): DARK SHADOWS | MANNIX | GET SMART | THE ADDAMS FAMILY | I DREAM OF JEANNIE | & 20 other Sixties (1964–1973) TV shows. FERB YOUR ENTHUSIASM (1Q2021): STEVEN UNIVERSE | TOP CAT | REN & STIMPY | SHE-RA AND THE PRINCESSES OF POWER | DRAGON BALL Z | & 20 other animated series. CARBONA YOUR ENTHUSIASM (2020): "Sex Bomb" | "Going Underground" | "Soft South Africans" | "Typical Girls" | "Human Fly" | & 20 other Seventies (1974–1983) punk singles. KLAATU YOU (2020 weekly): ZARDOZ | METROPOLIS | DARK STAR | SINS OF THE FLESHAPOIDS | SOLARIS | & dozens of other pre-STAR WARS sci-fi movies. CONVOY YOUR ENTHUSIASM (2019): THE TAKING OF PELHAM ONE TWO THREE | ROLLERBALL | BLACK SUNDAY | SORCERER | STRAIGHT TIME | & 20 other Seventies (1974–1983) action movies. SERIOCOMIC (2019 weekly): LITTLE LULU | VIZ | MARSUPILAMI | ERNIE POOK'S COMEEK | HELLBOY | & dozens of other comics. TUBE YOUR ENTHUSIASM (2018): LOONEY TUNES | THREE STOOGES | THE AVENGERS | ROCKY & BULLWINKLE | THE TWILIGHT ZONE | & 20 other Fifties (1954–1963) TV shows. WOWEE ZOWEE (2018 weekly): UNISEX | UNDER THE PINK | DUMMY | AMOR PROHIBIDO | HIPS AND MAKERS | & dozens of other Nineties (1994–2003) albums. KLUTE YOUR ENTHUSIASM (2017): THE KILLERS | BANDE À PART (BAND OF OUTSIDERS) | ALPHAVILLE | HARPER | BLOW-UP | & 20 other Sixties (1964–1973) neo-noir movies. #SQUADGOALS (2017 weekly): THE WILD BUNCH | BOWIE'S BAND | THE BLOOMSBURY GROUP | THE HONG KONG CAVALIERS | VI ÄR BÄST! & dozens of other squads. GROK MY ENTHUSIASM (2016 weekly): THE THEORY AND PRACTICE OF LUNCH | WEEKEND | MILLION YEAR PICNIC | LA BARONNE EMILE D'ERLANGER | THE SURVIVAL SAMPLER | & dozens more one-off enthusiasms. QUIRK YOUR ENTHUSIASM (2016): "Tainted Love" | "Metal" | "Frankie Teardrop" | "Savoir Faire" | "Broken English" | & 20 other Seventies (1974–1983) new wave singles. CROM YOUR ENTHUSIASM (2015): DARKER THAN YOU THINK | THE SWORD IN THE STONE | OUT OF THE SILENT PLANET | THIEVES' HOUSE | QUEEN OF THE BLACK COAST | & 20 other Thirties (1934–1943) fantasy novels. KERN YOUR ENTHUSIASM (2014): ALDINE ITALIC | DATA 70 | TORONTO SUBWAY | JOHNSTON'S "HAMLET" | TODD KLONE | & 20 other typefaces. HERC YOUR ENTHUSIASM (2013): "Spoonin' Rap" | "Rapper's Delight" | "Rappin' Blow" | "The Incredible Fulk" | "The Adventures of Super Rhyme" | & 20 other Seventies (1974–1983) hip-hop songs. KIRK YOUR ENTHUSIASM (2012): Justice or vengeance? | Kirk teaches his drill thrall to kiss | "KHAAAAAN!" | "No kill I" | Kirk browbeats NOMAD | & 20 other Captain Kirk scenes. KIRB YOUR ENTHUSIASM (2011): THE ETERNALS | BLACK MAGIC | DEMON | OMAC | CAPTAIN AMERICA | & 20 other Jack Kirby panels.