FERB YOUR ENTHUSIASM (13)
By: Adam McGovern
February 11, 2021
One in a series of 25 enthusiastic posts, contributed by 25 HILOBROW friends and regulars, on the topic of our favorite animated TV series.
*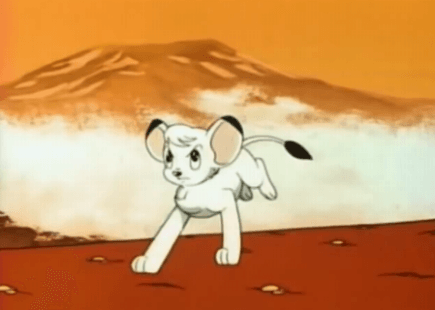 KIMBA THE WHITE LION | d. EIICHI YAMAMOTO | 1965-66
Parented by the TV screen, it took a saintly talking lion cub to teach me how not to be a man. Kimba came to American television in 1966, a time when saviors were defined by sacrifice, even to the 2-year-old I was when I started watching. Once-and-future kings were the currency of the global imagination, with an era of assassinations (JFK, Patrice Lumumba) already underway. Somehow even to baby-me, the pervading atmosphere of lost paradise and stoic persistence was communicated. Never more so than in the image of Kimba, born at sea after poachers shot his regal dad and stole his mom to sell to a Western zoo, then paddling the ocean clutching a remnant of the storm-wrecked ship while the stars above form the shape of his martyred mother, fondly assuring him from heaven to survive and reclaim his homeland and heritage. With fur of unearthly white, Kimba is clearly messianic, and his birth, in the matted straw of his mom's cage, attended by their only friends the onboard rats, might as well be a manger in Bethlehem. Making it back to Africa, Kimba works at preserving the peaceable kingdom foreseen in biblical prophecy, which his father began, leading all creatures away from being predators or prey, and trying to forge friendships with the two-legged ones.
Created as a manga by the immortal Osamu Tezuka just five years after the atomic bombings, this parable of compassion had a deep vein of urgency under the idyllic. While boys not all that older than me were burning down and dying in other jungles across Tezuka's native Asia, Kimba was tending his into an Eden. Watching the episodes now, I pick up on the hilarious caricatures of clueless Western colonizers wandering into Kimba's realm; I marvel at the lush painted landscapes on which the cameras of a long-ago attention-span linger. At the time, it was enough to read the white lion's paradise as the refuge of childhood, his outsmarting of bullies and conquerors the inherent wisdom of the young against those bigger and less imaginative. This was also the underlying idea of worldwide youth movements then being dismissed as juvenile utopianism. That rejection made them in many ways a generation of orphans, cast off and forced to find their own way to shore. Kimba's society, led by a child and governed on a maternal model, felt like a place that could and should be reached.
I don't know if kids were less sheltered back then, or a disturbing world was just more inescapable. But Kimba's grief, his parents' loss, the hostility he faced and the cataclysm he came through, did not scare me away from life; this cartoon was what first taught me how to care.
***
FERB YOUR ENTHUSIASM: SERIES INTRODUCTION by Josh Glenn | Miranda Mellis on STEVEN UNIVERSE | Luc Sante on TOP CAT | Peggy Nelson on PINK PANTHER | Charlie Mitchell on COWBOY BEBOP | Mimi Lipson on THE FLINTSTONES | Sam Glenn on BIG MOUTH | Mandy Keifetz on ROAD RUNNER | Ramona Lyons on SHE-RA | Holly Interlandi on DRAGON BALL Z | Max Glenn on ADVENTURE TIME | Joe Alterio on REN & STIMPY | Josh Glenn on SPEED RACER | Adam McGovern on KIMBA THE WHITE LION | Jonathan Pinchera on SAMURAI JACK | Lynn Peril on JONNY QUEST | Stephanie Burt on X-MEN THE ANIMATED SERIES and X-MEN: EVOLUTION | Elizabeth Foy Larsen on THE JETSONS | Adam Netburn on NARUTO | Madeline Ashby on AVATAR: THE LAST AIRBENDER | Tom Nealon on TRANSFORMERS | Sara Ryan on BOJACK HORSEMAN | Michael Grasso on COSMIC CLOCK | Erin M. Routson on BEAVIS & BUTTHEAD | Deborah Wassertzug on DARIA | Lydia Millet on BOB'S BURGERS.
MORE ENTHUSIASM at HILOBROW
STOOGE YOUR ENTHUSIASM (4Q2023): MOVE ON FAST | 96 TEARS | SHE CRACKED | WHAT A WAY TO DIE | PSYCHOTIC REACTION | & 20 other Sixties (1964–1973) proto-punk songs. CURVE YOUR ENTHUSIASM (3Q2023): PIZZA PURISM | BOY BANDS | THE '86 METS | LOVE ISLAND UK | ELTON JOHN | & 20 other reconsidered enthusiasms. TEEN YOUR ENTHUSIASM (2Q2023): ANDY GIBB | VALERIE BERTINELLI | KIM WILDE | ARLO GUTHRIE | MIKE PATTON | & 20 other heartthrobs from our adolescences. DOLLY YOUR ENTHUSIASM (1Q2023): WE FOUND IT | TOGETHER AGAIN | SUNDAY MORNIN' COMIN' DOWN | BAD CASE OF THE BLUES | FANCY | & 20 other Sixties (1964–1973) Country records. KILL YOUR ENTHUSIASM (4Q2022): LT. TASHA YAR | JOYCE SUMMERS | COL. HENRY BLAKE | MRS. LANDINGHAM | ALEX KAMAL | & 20 other TV deaths. BLURB YOUR ENTHUSIASM (3Q2022): LEFT-CORNER BRICK | JOY IS RESISTANCE | THE FUTURE IS PASSÉ | EVERY MINUTE AN OCEAN | SHUT UP, HE EXPLAINED | & 20 other apothegms to live by. KOJAK YOUR ENTHUSIASM (2Q2022): ARK II | WKRP IN CINCINNATI | BUCK ROGERS | THE WHITE SHADOW | POLICE WOMAN | & 20 other Seventies (1974–1983) TV shows. KICK YOUR ENTHUSIASM (1Q2022): KUILL | CATO | COSMO | TRIXIE | VOLSTAGG | & 20 other sidekicks. NERD YOUR ENTHUSIASM (4Q2021): TIME | THE POST OFFICE | ARDUIN | DOUBT | SUMMATIONS | & 20 other nerdy passions. SWERVE YOUR ENTHUSIASM (3Q2021): WARHOL'S WALT WHITMAN | 70, GIRLS, 70 | TYRAEL'S MIGHT | SHIRATO SANPEI | THE LEON SUITES | & 20 other never-realized cultural productions. FIVE-O YOUR ENTHUSIASM (2Q2021): DARK SHADOWS | MANNIX | GET SMART | THE ADDAMS FAMILY | I DREAM OF JEANNIE | & 20 other Sixties (1964–1973) TV shows. FERB YOUR ENTHUSIASM (1Q2021): STEVEN UNIVERSE | TOP CAT | REN & STIMPY | SHE-RA AND THE PRINCESSES OF POWER | DRAGON BALL Z | & 20 other animated series. CARBONA YOUR ENTHUSIASM (2020): "Sex Bomb" | "Going Underground" | "Soft South Africans" | "Typical Girls" | "Human Fly" | & 20 other Seventies (1974–1983) punk singles. KLAATU YOU (2020 weekly): ZARDOZ | METROPOLIS | DARK STAR | SINS OF THE FLESHAPOIDS | SOLARIS | & dozens of other pre-STAR WARS sci-fi movies. CONVOY YOUR ENTHUSIASM (2019): THE TAKING OF PELHAM ONE TWO THREE | ROLLERBALL | BLACK SUNDAY | SORCERER | STRAIGHT TIME | & 20 other Seventies (1974–1983) action movies. SERIOCOMIC (2019 weekly): LITTLE LULU | VIZ | MARSUPILAMI | ERNIE POOK'S COMEEK | HELLBOY | & dozens of other comics. TUBE YOUR ENTHUSIASM (2018): LOONEY TUNES | THREE STOOGES | THE AVENGERS | ROCKY & BULLWINKLE | THE TWILIGHT ZONE | & 20 other Fifties (1954–1963) TV shows. WOWEE ZOWEE (2018 weekly): UNISEX | UNDER THE PINK | DUMMY | AMOR PROHIBIDO | HIPS AND MAKERS | & dozens of other Nineties (1994–2003) albums. KLUTE YOUR ENTHUSIASM (2017): THE KILLERS | BANDE À PART (BAND OF OUTSIDERS) | ALPHAVILLE | HARPER | BLOW-UP | & 20 other Sixties (1964–1973) neo-noir movies. #SQUADGOALS (2017 weekly): THE WILD BUNCH | BOWIE'S BAND | THE BLOOMSBURY GROUP | THE HONG KONG CAVALIERS | VI ÄR BÄST! & dozens of other squads. GROK MY ENTHUSIASM (2016 weekly): THE THEORY AND PRACTICE OF LUNCH | WEEKEND | MILLION YEAR PICNIC | LA BARONNE EMILE D'ERLANGER | THE SURVIVAL SAMPLER | & dozens more one-off enthusiasms. QUIRK YOUR ENTHUSIASM (2016): "Tainted Love" | "Metal" | "Frankie Teardrop" | "Savoir Faire" | "Broken English" | & 20 other Seventies (1974–1983) new wave singles. CROM YOUR ENTHUSIASM (2015): DARKER THAN YOU THINK | THE SWORD IN THE STONE | OUT OF THE SILENT PLANET | THIEVES' HOUSE | QUEEN OF THE BLACK COAST | & 20 other Thirties (1934–1943) fantasy novels. KERN YOUR ENTHUSIASM (2014): ALDINE ITALIC | DATA 70 | TORONTO SUBWAY | JOHNSTON'S "HAMLET" | TODD KLONE | & 20 other typefaces. HERC YOUR ENTHUSIASM (2013): "Spoonin' Rap" | "Rapper's Delight" | "Rappin' Blow" | "The Incredible Fulk" | "The Adventures of Super Rhyme" | & 20 other Seventies (1974–1983) hip-hop songs. KIRK YOUR ENTHUSIASM (2012): Justice or vengeance? | Kirk teaches his drill thrall to kiss | "KHAAAAAN!" | "No kill I" | Kirk browbeats NOMAD | & 20 other Captain Kirk scenes. KIRB YOUR ENTHUSIASM (2011): THE ETERNALS | BLACK MAGIC | DEMON | OMAC | CAPTAIN AMERICA | & 20 other Jack Kirby panels.