Frans Masereel
By: Chris Lanier
July 31, 2011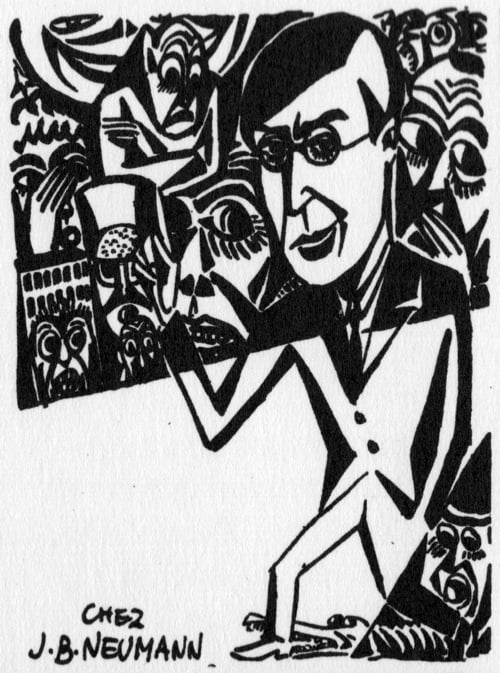 Belgian artist FRANS MASEREEL (1889-1972) raged against the stupidity of war as an illustrator for a series of pacifist magazines and books. He was a propagandist, the clarity of his high-contrast style suited equally well to the crude printing-press and the ideological punchline, but his agitprop kept strong strains of slapstick and poetry. He was obsessed with scenes of city life; Stefan Zweig remarked "Everything can perish, books, monuments, pictures and documents, but if Masereel's woodcuts survive, we could reconstruct the modern world." There are still a few books and monuments left, but in fact that "modern world" has perished, leaving Masereel's dream city to haunt the waking hours of our current Metropolis, sending its echoes of spectacle and jolts of political economy. You suspect all the streets connect up from one drawing and print and painting to the next, a borderless warren of pedestrians, police, vagrants, prostitutes, workers, dancers, sex murderers. Every window is a picture frame or comics panel, ready to fix a life story into an image for the alert reporter or voyeur to catch. The sky is a nail bed of smokestacks shooting projectile clouds of steam and pollution upward like ruffled thoughts.
Masereel pioneered a genre sometimes called the "novel without words," in which a series of images tells a story without the help of caption boxes or word balloons. Graphic novels avant la lettre, they were mixture of comic strip, print cycle, and silent cinema, a utopian stab at a purely visual language, leaping the national boundaries of native tongue and the class boundaries of literacy. In these wordless books, Masereel makes effortless scuttlings from the everyday to the metaphysical; the final image of his masterpiece, Mon Livre D'Heures (1919) (published in English as Passionate Journey), could serve as an emblem of his approach: an angel with a death's head face and an insouciant gait. Masereel understood that the quotidian without the metaphysical is just a grind, and the metaphysical without the quotidian is just a spangled opiate. He fused them in a silent thunderclap of pure black and pure white.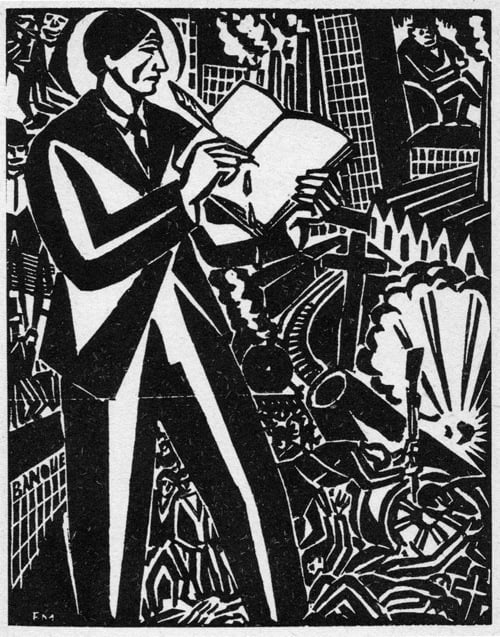 ***
On his or her birthday, HiLobrow irregularly pays tribute to one of our high-, low-, no-, or hilobrow heroes. Also born this date: Hilary Putnam.
READ MORE about members of the Modernist generation (1884-93).