SEMIO OBJECTS (7)
By: Charles Leech
April 27, 2021
One in a series of 25 nonfiction narratives about semioticians' significant objects. Presented to HILOBROW's readers by Project:Object.
*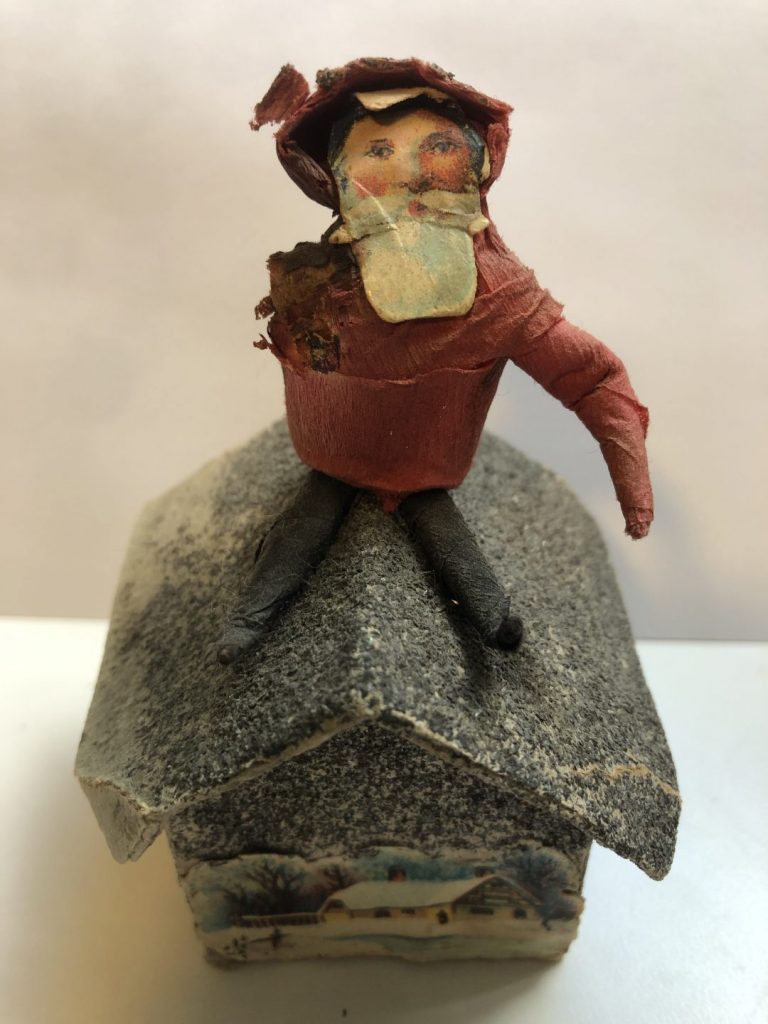 TREE ORNAMENT
This is an old Christmas tree ornament that's been in our family for generations: as best we can figure, it was obtained in Germany by my great-grandmother over 100 years ago. It depicts Father Christmas (not 'Santa Claus') on a rooftop, presumably in a quiet moment before chimney descent.
It's merely cardboard, tissue paper and glitter, but it carries a massive sentimental weight, as it became the lightning-rod of a terrible legal battle between me (supported by my siblings) and my estranged stepmother before becoming the holiday-season manifestation of the memory of my late father.
My father Hugo passed away in 2000 after a fairly short but vicious battle with brain cancer. For the second, final round I came back from grad school in Australia to help manage the process: my stepmother (whom we were always happy to tolerate) was never the most stable person and my father's fatal illness unhinged her completely.
My father's will specified some important family heirlooms as ours, but a large number of things with nominal monetary but high emotional value were not identified for us, so they passed to my stepmother as 'estate'. But she had behaved unforgivably during his illness and we knew we were never going to maintain even a civil relationship with her after Hugo's death; we also knew that many of the family heirlooms she now possessed meant nothing to her financially or emotionally: she had not been his wife for that long, or been embedded in the family during her short tenure in any meaningful way.
So, we fought her legally for these items. Of all of them, the Father Christmas tree ornament was the visual symbol of this battle: it became the shorthand icon to represent our goal, clawing back precious family heirlooms for future generations, to keep them in the family to which they properly belonged. At the time I was the last of his line; I had sole responsibility for any legacy he might have.
In the end, we won — as we knew, the objects we wanted meant nothing to her, and so as the vindictive legal volleys went back and forth, we believe she realized our emotional resources and will to fight far, far outclassed her lack of personal attachment to the items. What would she want with a stupid, dented, damaged cardboard ornament of Father Christmas? Missing an arm, for god's sake? Its very banality and shoddiness — the sheer size of the disproportion between signifier and signified — is what made it the perfect distillation of our fight.
These days, the Father Christmas ornament always takes pride of place on our Christmas tree. My wife and I have very different approaches to tree decorating: my family always liked to cover the tree with individual, richly-signified, curated ornaments; my wife prefers a more designed approach following a specific chromatic scheme. I'm now resigned to her approach, but the Father Christmas ornament is always carefully and proudly placed as a mini-shrine to my late father's memory.
*
SEMIO OBJECTS: INTRODUCTION by Josh Glenn | Chris Arning on INKSTONE BROOM | Hamsini Shivakumar on SOUL MOTHER SAREES| Lucia Laurent-Neva on SPONGEBOB BUS | Samuel Grange on SALT & PEPPER HOLDER| Ximena Tobi on VASALISA | Luca Marchetti on TEAPOT | Charles Leech on ORNAMENT| Gabriela Pedranti on MAFALDA DOLL | Sarah Johnson on JOAN OF ARC FIGURINE | Vijay Parthasarathy on BINGO | Aiyana Gunjan on WEDDING DUCKS | Serdar Paktin on NEY | Paulina Goch-Kenawy on VASE | Daria Arkhipova on POKER CHIP | Iván Islas on THERMOS| Sónia Marques on CABBAGE TUREEN | Thierry Mortier on BICYCLE BELL | Louise Jolly on CHALICES | Wei Fen Lee on CURRY PUFF POT | Mariane Cara on MINI WINDSOCK | Malex Salamanques Amiel on MARIA LIONZA | Seema Khanwalkar on THANJAVUR DOLL | Maria Papanthymou on KITCHEN WHISK | Martha Arango on ST. ANTHONY OF PADUA | Max Matus on WOODEN ROBOT.
*
MOVIE OBJECTS: INTRODUCTION | Ramona Lyons on EYE OF THE SERPENT (CONAN THE BARBARIAN) | Faythe Levine on BEDKNOB (BEDKNOBS AND BROOMSTICKS) | Gerald Peary on CUP OF COFFEE (THE BIG HEAT) | Christopher Orr on TOM'S HAT (MILLER'S CROSSING) | Lynn Peril on TRANSISTOR RADIO (DR. STRANGELOVE) | & 20 MORE.
LOST OBJECTS (vol. 2): INTRODUCTION | Joe Yonan on MACRAMÉ ART (ill. Theo Ellsworth) | Ben Katchor on LUCITE CARRYING CASE | Debbie Millman on GLASS POODLE | Lydia Millet on ROCKY HORROR NOVEL (ill. Berta Valló) | Ben Greenman on WARHOL CAN (ill. Clara Selina Bach) | & 20 MORE.
FETISHES: INTRODUCTION | Josh Foer on DEATH MASK | Beth Lisick on MURDERED-OUT KFC BUCKET | Christina Couch on LEECH ACTION FIGURE | Kenneth Goldsmith on THEWLIS SOCK | Abby Rapoport on MAGNATILES | & 20 MORE.
FOSSILS: INTRODUCTION | Allegra Huston on SKATAWAY JACKET | Kevin Obsatz on HOMEMADE NUNCHUKS | Ian Bogost on DESKTOP TELEPHONE | Jeff Lewonczyk on CHA-CHA JACKET SCRAP | Kelly Horan on VOLVO KEY | & 20 MORE.
FLAIR: INTRODUCTION | Cliff Kuang on ROLEX DATEJUST | Ethan Zuckerman on LAPTOP STICKERS | Ann Shoket on LEATHER JACKET | Kembrew McLeod on KEMBREW MERCH | Paola Antonelli on MERMAID TEARS | & 20 MORE.
LOST OBJECTS (vol. 1): INTRODUCTION | Kate Bernheimer on MULLET WIG (ill. Amy Evans) | Dan Piepenbring on COLOGNE (ill. Josh Neufeld) | Doug Dorst on STRATOCASTER (ill. John Holbo) | Paul Lukas on VANILLA BEAN (ill. Allison Bamcat) | Mimi Lipson on DODGE DART (ill. Mister Reusch) | & 20 MORE.
ILLICIT OBJECTS: INTRODUCTION | Kio Stark on PEEPSHOW TOKEN | Sari Wilson on TOMBSTONE PARTS | Annalee Newitz on CAR-BOMB REMNANT | Tito Bottitta on MOONINITE DEVICE | Eric Bennett on DIRTY MAGAZINE | & 20 MORE.
TALISMANIC OBJECTS: INTRODUCTION | Veda Hille on CROCHET SHEEP | Gary Panter on DINOSAUR BONES | Jami Attenberg on SELENITE CRYSTAL | Annie Nocenti on MINIATURE DICE | Wayne Curtis on CLOCK WINDING KEY | & 20 MORE.
POLITICAL OBJECTS: INTRODUCTION | Luc Sante on CAMPAIGN PAMPHLETS | Lydia Millet on PVC POLAR BEAR | Ben Greenman on MATCHBOX CAR | Rob Baedeker on PRESIDENTS PLACEMAT | L.A. Kauffman on WHEATPASTE POSTER | & 20 MORE.
ALSO SEE: PROJECT:OBJECT homepage | POLITICAL OBJECTS (1Q2017) | TALISMANIC OBJECTS (2Q2017) | ILLICIT OBJECTS (3Q2017) | LOST OBJECTS vol. 1 (4Q2017) | FLAIR (2Q2018) | FOSSILS (4Q2018) | FETISHES (2Q2019) | LOST OBJECTS vol. 2 (4Q2019) | MOVIE OBJECTS (2Q2020) | SEMIO OBJECTS (2Q2021) | SIGNIFICANT OBJECTS (cross-posted from Significant Objects website). ALSO SEE: SIGNIFICANT OBJECTS website | LOST OBJECTS (Hat & Beard Press, 2022) | SIGNIFICANT OBJECTS collection, ed. Rob Walker and Josh Glenn (Fantagraphics, 2012) | TAKING THINGS SERIOUSLY, ed. Josh Glenn (Princeton Architectural Press, 2007) | TAKING THINGS SERIOUSLY excerpts.