PULP WAVE (9)
By: Charles Leech
December 18, 2022
We are pleased to present a 10-part series, by Canadian semiotician and HILOBROW friend Charles Leech, sampling the recombinant artwork that he sells via his Etsy shop RecombinantCulture.
PULP WAVE: INTRO by Charles Leech | PLEASE, PLEASE, PLEASE, LET ME GET WHAT I WANT | PLANET CLAIRE | ONE OF OUR SUBMARINES | LET ME GO | PERFECT KISS | BELA LUGOSI'S DEAD | JUST LIKE HEAVEN | HAPPY HOUR | SHOUT | FALL ON ME. PS: Here's a Spotify playlist. Also see: QUIRK YOUR ENTHUSIASM series | POPSZTÁR SAMIZDAT series | FILE X series | SURVIVAL SAMPLER.
*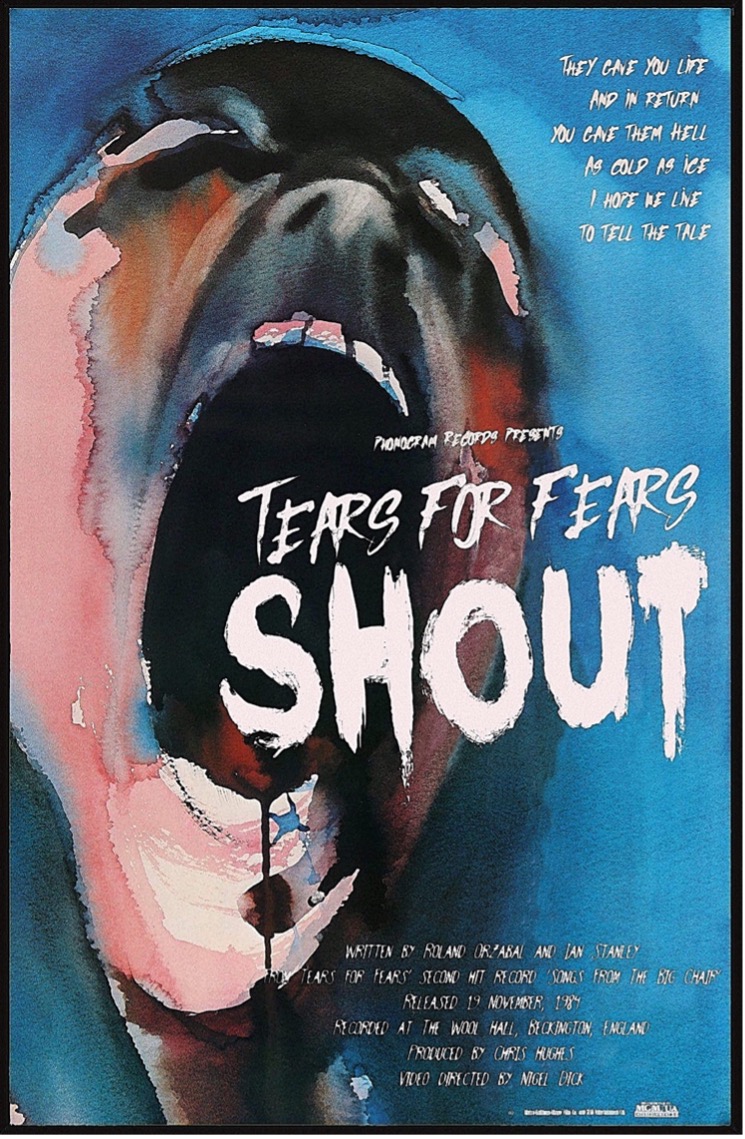 I try to avoid using music posters (or music-movies) for song covers, but in this instance I simply couldn't resist. Spend any time talking '80s music with me and you'll quickly learn that I think 1982 was an extraordinarily high watermark in music — perhaps the best of the decade. Whenever I research or rediscover an amazing new wave song and look up the year, more often than not: 1982.
Pink Floyd — The Wall was a hugely influential film for teenage me, and it turned me into a Pink Floyd music fan. I had this poster up on my wall — place of honour, right above my headboard.
At the time, and like many other fans I believe, I thought 'Shout' was about primal scream therapy, but Smith and Orzabal have since downplayed this interpretation, in favour of it being more about encouraging political protest post-Cold War. Nonetheless, when I thought about primal screaming, this specific Pink Floyd — The Wall movie scene and poster came instantly to mind — it was a great way to combine two of my favourite '80s texts into one piece.
***
CURATED SERIES at HILOBROW: LINOCUT 2022 by Lawry Hutcheson | PULP WAVE by Charles Leech | DRAWING TABLE WORLD by Theo Ellsworth | PARAMAX by Max Glenn | YUKO ODA by Yuko Oda | PLAGUE YEAR by Rick Pinchera | NOOSFERA by Charles Glaubitz | A SILENT HALLUCINATION by Alex Gerasev | BUNNY CITY by Gary Panter | HOP UP by Lucy Sante | HERE BE MONSTERS by Mister Reusch | DOWNTOWNE by Bradley Peterson | OUTBOUND TO MONTEVIDEO by Mimi Lipson | STERANKOISMS by Douglas Wolk | COOLING OFF THE COMMOTION by Chenjerai Kumanyika | UNFLOWN by Jacob Covey | ADEQUATED by Franklin Bruno | PINAKOTHEK by Lucy Sante | BIGFOOT ISLAND by Michael Lewy | DAILY DRUMPF by Rick Pinchera | WINDS OF MAGIC by James Parker | MUSEUM OF FEMORIBILIA by Lynn Peril | ROBOTS + MONSTERS by Joe Alterio | ANNOTATED GIF by Kerry Callen | NOMADBROW by Erik Davis | & many others.