SEMIO OBJECTS (20)
By: Mariane Cara
June 13, 2021
One in a series of 25 nonfiction narratives about semioticians' significant objects. Presented to HILOBROW's readers by Project:Object.
*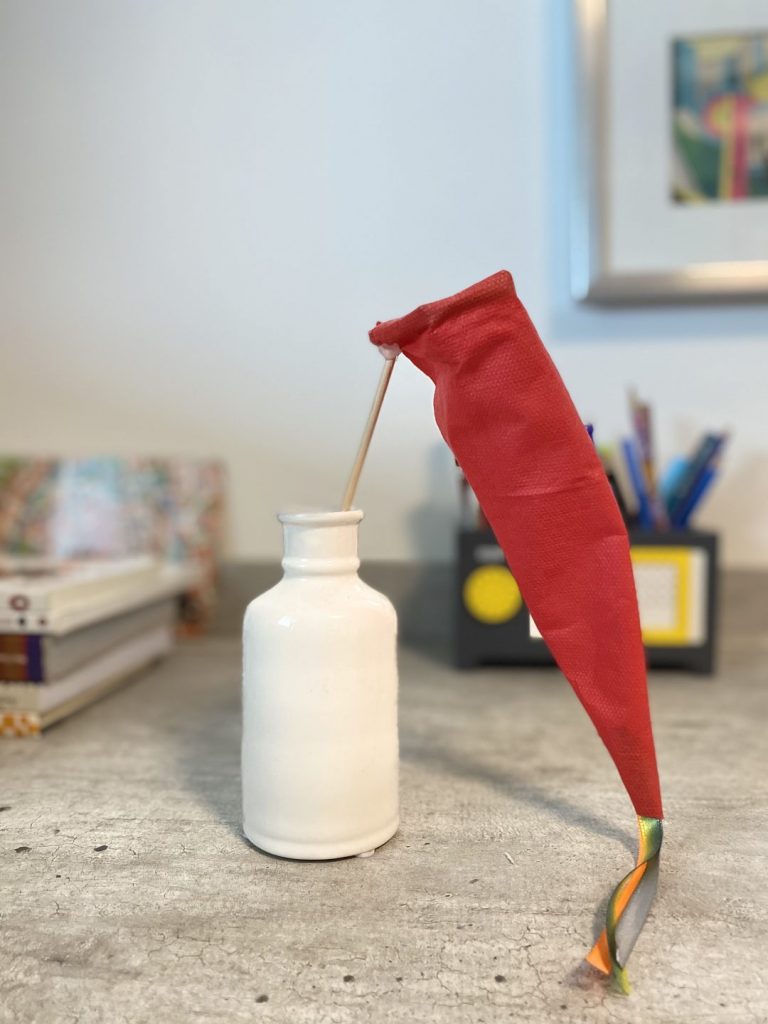 MINI WINDSOCK
What could be more maternal than collecting memorabilia from a child's early years at school? Naturally, as a mother of two, I keep a huge box filled with cards, artwork and other cute things. Among these items, there is one particular little gadget that has a unique twist.
It was the end of an ordinary third grade afternoon, in those innocent days when almost any class might have the ability to bring a moment of "aha" and Sofia climbed into the car with a mini windsock that she had just made in her science class. A piece of sticks, straws and a red non-woven textile decorated with colourful ribbons. She offered it to me as a gift, meant to be added to the contents of my famous mommy-box-of-school- keepsakes. Her eyes were so alight with anxiousness as she described the marvels of that little stick that held up an odd little cone, seeming half a butterfly catcher, half a Santa's hat. What had fascinated her was the fact of the wind — that invisible breath — could made itself tangible through a simple piece of cloth whose movement make pilots sure of where to land.
I made all the faces of an attentive mother, thanked her profusely for the gift and, before I could put the mini windsock away in the box, I realized that I had just received a sort of Woody (Toy Story's hero): an object of somewhat superior status that it would be placed atop my all but elegant freelancer's desk. And for a semiotician's reason.
Peirce would say that my mini windsock was a legitimate replica of a dicent sinsign, reproducing the indexical representation of the direction of the wind in its purest secondness (enough to give an academic the chills!). Nonetheless, it might better serve instead as a metaphor for our condition as commercial semioticians — a symbol of how we map out the direction and speed of the winds of change, their dominant and emerging forces, without offering some ultra-technical or millimetric quantitative data, yet providing excellent parameters for a safe brand's landing.
And this ultra-signifying albeit ordinary object has also some interesting trivia about naming:
If for Anglo-Saxons, it is the sock that is worn on the feet of the wind, for the Spanish and the Portuguese it is the sleeve of an invisible power, and for the Germans a sack that keeps the air orderly.
For Brazilians, it is none of the above! In our all-but-classical way of naming things, we strip ourselves of all wearable (and almost poetic) associations with socks, sleeves and sacks and simply award the object the name "biruta": a term that has also a colloquial connotation for restless weirdos and eccentric (plus) uncanny folks. After all, someone able to capture the shifting of winds in such singular manner can only be outside the box!
*
SEMIO OBJECTS: INTRODUCTION by Josh Glenn | Chris Arning on INKSTONE BROOM | Hamsini Shivakumar on SOUL MOTHER SAREES| Lucia Laurent-Neva on SPONGEBOB BUS | Samuel Grange on SALT & PEPPER HOLDER| Ximena Tobi on VASALISA | Luca Marchetti on TEAPOT | Charles Leech on ORNAMENT| Gabriela Pedranti on MAFALDA DOLL | Sarah Johnson on JOAN OF ARC FIGURINE | Vijay Parthasarathy on BINGO | Aiyana Gunjan on WEDDING DUCKS | Serdar Paktin on NEY | Paulina Goch-Kenawy on VASE | Daria Arkhipova on POKER CHIP | Iván Islas on THERMOS| Sónia Marques on CABBAGE TUREEN | Thierry Mortier on BICYCLE BELL | Louise Jolly on CHALICES | Wei Fen Lee on CURRY PUFF POT | Mariane Cara on MINI WINDSOCK | Malex Salamanques Amiel on MARIA LIONZA | Seema Khanwalkar on THANJAVUR DOLL | Maria Papanthymou on KITCHEN WHISK | Martha Arango on ST. ANTHONY OF PADUA | Max Matus on WOODEN ROBOT.
*
MOVIE OBJECTS: INTRODUCTION | Ramona Lyons on EYE OF THE SERPENT (CONAN THE BARBARIAN) | Faythe Levine on BEDKNOB (BEDKNOBS AND BROOMSTICKS) | Gerald Peary on CUP OF COFFEE (THE BIG HEAT) | Christopher Orr on TOM'S HAT (MILLER'S CROSSING) | Lynn Peril on TRANSISTOR RADIO (DR. STRANGELOVE) | & 20 MORE.
LOST OBJECTS (vol. 2): INTRODUCTION | Joe Yonan on MACRAMÉ ART (ill. Theo Ellsworth) | Ben Katchor on LUCITE CARRYING CASE | Debbie Millman on GLASS POODLE | Lydia Millet on ROCKY HORROR NOVEL (ill. Berta Valló) | Ben Greenman on WARHOL CAN (ill. Clara Selina Bach) | & 20 MORE.
FETISHES: INTRODUCTION | Josh Foer on DEATH MASK | Beth Lisick on MURDERED-OUT KFC BUCKET | Christina Couch on LEECH ACTION FIGURE | Kenneth Goldsmith on THEWLIS SOCK | Abby Rapoport on MAGNATILES | & 20 MORE.
FOSSILS: INTRODUCTION | Allegra Huston on SKATAWAY JACKET | Kevin Obsatz on HOMEMADE NUNCHUKS | Ian Bogost on DESKTOP TELEPHONE | Jeff Lewonczyk on CHA-CHA JACKET SCRAP | Kelly Horan on VOLVO KEY | & 20 MORE.
FLAIR: INTRODUCTION | Cliff Kuang on ROLEX DATEJUST | Ethan Zuckerman on LAPTOP STICKERS | Ann Shoket on LEATHER JACKET | Kembrew McLeod on KEMBREW MERCH | Paola Antonelli on MERMAID TEARS | & 20 MORE.
LOST OBJECTS (vol. 1): INTRODUCTION | Kate Bernheimer on MULLET WIG (ill. Amy Evans) | Dan Piepenbring on COLOGNE (ill. Josh Neufeld) | Doug Dorst on STRATOCASTER (ill. John Holbo) | Paul Lukas on VANILLA BEAN (ill. Allison Bamcat) | Mimi Lipson on DODGE DART (ill. Mister Reusch) | & 20 MORE.
ILLICIT OBJECTS: INTRODUCTION | Kio Stark on PEEPSHOW TOKEN | Sari Wilson on TOMBSTONE PARTS | Annalee Newitz on CAR-BOMB REMNANT | Tito Bottitta on MOONINITE DEVICE | Eric Bennett on DIRTY MAGAZINE | & 20 MORE.
TALISMANIC OBJECTS: INTRODUCTION | Veda Hille on CROCHET SHEEP | Gary Panter on DINOSAUR BONES | Jami Attenberg on SELENITE CRYSTAL | Annie Nocenti on MINIATURE DICE | Wayne Curtis on CLOCK WINDING KEY | & 20 MORE.
POLITICAL OBJECTS: INTRODUCTION | Luc Sante on CAMPAIGN PAMPHLETS | Lydia Millet on PVC POLAR BEAR | Ben Greenman on MATCHBOX CAR | Rob Baedeker on PRESIDENTS PLACEMAT | L.A. Kauffman on WHEATPASTE POSTER | & 20 MORE.
ALSO SEE: PROJECT:OBJECT homepage | POLITICAL OBJECTS (1Q2017) | TALISMANIC OBJECTS (2Q2017) | ILLICIT OBJECTS (3Q2017) | LOST OBJECTS vol. 1 (4Q2017) | FLAIR (2Q2018) | FOSSILS (4Q2018) | FETISHES (2Q2019) | LOST OBJECTS vol. 2 (4Q2019) | MOVIE OBJECTS (2Q2020) | SEMIO OBJECTS (2Q2021) | SIGNIFICANT OBJECTS (cross-posted from Significant Objects website). ALSO SEE: SIGNIFICANT OBJECTS website | LOST OBJECTS (Hat & Beard Press, 2022) | SIGNIFICANT OBJECTS collection, ed. Rob Walker and Josh Glenn (Fantagraphics, 2012) | TAKING THINGS SERIOUSLY, ed. Josh Glenn (Princeton Architectural Press, 2007) | TAKING THINGS SERIOUSLY excerpts.