SEMIO OBJECTS (9)
By: Sarah Johnson
May 4, 2021
One in a series of 25 nonfiction narratives about semioticians' significant objects. Presented to HILOBROW's readers by Project:Object.
*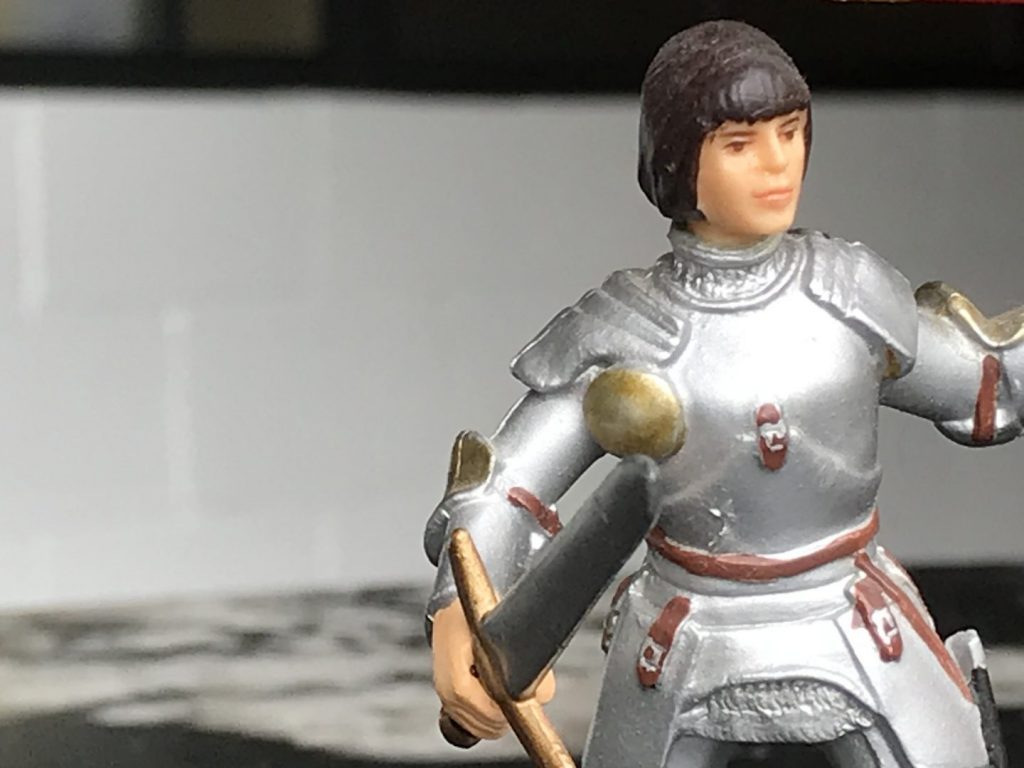 JOAN OF ARC FIGURINE
I am eight or nine. I am watching Saturday morning cartoons, interspersed with "educational" shorts depicting critical moments of — mostly American — history. (I am Canadian, I am already used to most of my content having this lens). I see one short about a young peasant girl. She hears voices telling her to save France. She dresses up as a boy. She goes to the French court. She immediately identifies the king from a room of courtiers. She rides into battle. She is badass (although, in those days, badass was not a term anyone used). She is a character from the feminist fairy-tales my hippie parents got me, but she is real. She is burned at the stake. That part is not so good, but I am hooked.
I am fifteen. I am preparing for my audition to a drama school. (Keanu Reeves also went there. What should that tell me?). I memorize a monologue from Saint Joan: "Light your fire! Do you think I dread it as much as the life of a rat in a hole? My voices were right!" (I do not have to look this up today). I fondly believe I have a unique relationship to this role. I do not realize I am a drama teen cliché.
I am seventeen. I am in English class. Another girl is presenting her analysis of "Joan of Arc" by Leonard Cohen. Of course I know and love this song. Of course I know and love Leonard Cohen. I am a teenage would-be beatnik. The other girl says Joan is tired of the war and wants to go home. I contribute that the poem is a metaphor for female desire. The girl looks at me, bewildered. The class looks at me disdainfully. I burn with shame but also righteousness: isn't it obvious? And yet, clearly the others think that I am twisted. "It's there," the teacher reassures me quietly. But I am only partly reassured.
I am eighteen. I go to McGill, in Montreal, home of Leonard Cohen. I don't think much about Joan of Arc but we all think about Leonard, all the time.
I am thirty. I go to the Loire Valley with a group of friends. All the other tourists are either senior citizens or school children. We say we are the youngest old people or the oldest young people in The Loire. I wanted to go to the Loire because it has chateaux, but also because it is Joan of Arc country. I take my friends through a guided tour of chateaux associated with Joan. We start at the castle where she first met the Dauphin. The throne room is the size of a suburban rec room. We imagine Joan and the Dauphin. We think about history and mythology.
Somewhere on this trip I found this plastic figurine. It looks like it was made in Japan. It is a mini action figure. It is kind of badass, although it does not stand up very well. It sits on my bookcase.
*
SEMIO OBJECTS: INTRODUCTION by Josh Glenn | Chris Arning on INKSTONE BROOM | Hamsini Shivakumar on SOUL MOTHER SAREES| Lucia Laurent-Neva on SPONGEBOB BUS | Samuel Grange on SALT & PEPPER HOLDER| Ximena Tobi on VASALISA | Luca Marchetti on TEAPOT | Charles Leech on ORNAMENT| Gabriela Pedranti on MAFALDA DOLL | Sarah Johnson on JOAN OF ARC FIGURINE | Vijay Parthasarathy on BINGO | Aiyana Gunjan on WEDDING DUCKS | Serdar Paktin on NEY | Paulina Goch-Kenawy on VASE | Daria Arkhipova on POKER CHIP | Iván Islas on THERMOS| Sónia Marques on CABBAGE TUREEN | Thierry Mortier on BICYCLE BELL | Louise Jolly on CHALICES | Wei Fen Lee on CURRY PUFF POT | Mariane Cara on MINI WINDSOCK | Malex Salamanques Amiel on MARIA LIONZA | Seema Khanwalkar on THANJAVUR DOLL | Maria Papanthymou on KITCHEN WHISK | Martha Arango on ST. ANTHONY OF PADUA | Max Matus on WOODEN ROBOT.
*
MOVIE OBJECTS: INTRODUCTION | Ramona Lyons on EYE OF THE SERPENT (CONAN THE BARBARIAN) | Faythe Levine on BEDKNOB (BEDKNOBS AND BROOMSTICKS) | Gerald Peary on CUP OF COFFEE (THE BIG HEAT) | Christopher Orr on TOM'S HAT (MILLER'S CROSSING) | Lynn Peril on TRANSISTOR RADIO (DR. STRANGELOVE) | & 20 MORE.
LOST OBJECTS (vol. 2): INTRODUCTION | Joe Yonan on MACRAMÉ ART (ill. Theo Ellsworth) | Ben Katchor on LUCITE CARRYING CASE | Debbie Millman on GLASS POODLE | Lydia Millet on ROCKY HORROR NOVEL (ill. Berta Valló) | Ben Greenman on WARHOL CAN (ill. Clara Selina Bach) | & 20 MORE.
FETISHES: INTRODUCTION | Josh Foer on DEATH MASK | Beth Lisick on MURDERED-OUT KFC BUCKET | Christina Couch on LEECH ACTION FIGURE | Kenneth Goldsmith on THEWLIS SOCK | Abby Rapoport on MAGNATILES | & 20 MORE.
FOSSILS: INTRODUCTION | Allegra Huston on SKATAWAY JACKET | Kevin Obsatz on HOMEMADE NUNCHUKS | Ian Bogost on DESKTOP TELEPHONE | Jeff Lewonczyk on CHA-CHA JACKET SCRAP | Kelly Horan on VOLVO KEY | & 20 MORE.
FLAIR: INTRODUCTION | Cliff Kuang on ROLEX DATEJUST | Ethan Zuckerman on LAPTOP STICKERS | Ann Shoket on LEATHER JACKET | Kembrew McLeod on KEMBREW MERCH | Paola Antonelli on MERMAID TEARS | & 20 MORE.
LOST OBJECTS (vol. 1): INTRODUCTION | Kate Bernheimer on MULLET WIG (ill. Amy Evans) | Dan Piepenbring on COLOGNE (ill. Josh Neufeld) | Doug Dorst on STRATOCASTER (ill. John Holbo) | Paul Lukas on VANILLA BEAN (ill. Allison Bamcat) | Mimi Lipson on DODGE DART (ill. Mister Reusch) | & 20 MORE.
ILLICIT OBJECTS: INTRODUCTION | Kio Stark on PEEPSHOW TOKEN | Sari Wilson on TOMBSTONE PARTS | Annalee Newitz on CAR-BOMB REMNANT | Tito Bottitta on MOONINITE DEVICE | Eric Bennett on DIRTY MAGAZINE | & 20 MORE.
TALISMANIC OBJECTS: INTRODUCTION | Veda Hille on CROCHET SHEEP | Gary Panter on DINOSAUR BONES | Jami Attenberg on SELENITE CRYSTAL | Annie Nocenti on MINIATURE DICE | Wayne Curtis on CLOCK WINDING KEY | & 20 MORE.
POLITICAL OBJECTS: INTRODUCTION | Luc Sante on CAMPAIGN PAMPHLETS | Lydia Millet on PVC POLAR BEAR | Ben Greenman on MATCHBOX CAR | Rob Baedeker on PRESIDENTS PLACEMAT | L.A. Kauffman on WHEATPASTE POSTER | & 20 MORE.
ALSO SEE: PROJECT:OBJECT homepage | POLITICAL OBJECTS (1Q2017) | TALISMANIC OBJECTS (2Q2017) | ILLICIT OBJECTS (3Q2017) | LOST OBJECTS vol. 1 (4Q2017) | FLAIR (2Q2018) | FOSSILS (4Q2018) | FETISHES (2Q2019) | LOST OBJECTS vol. 2 (4Q2019) | MOVIE OBJECTS (2Q2020) | SEMIO OBJECTS (2Q2021) | SIGNIFICANT OBJECTS (cross-posted from Significant Objects website). ALSO SEE: SIGNIFICANT OBJECTS website | LOST OBJECTS (Hat & Beard Press, 2022) | SIGNIFICANT OBJECTS collection, ed. Rob Walker and Josh Glenn (Fantagraphics, 2012) | TAKING THINGS SERIOUSLY, ed. Josh Glenn (Princeton Architectural Press, 2007) | TAKING THINGS SERIOUSLY excerpts.