PULP WAVE (1)
By: Charles Leech
December 2, 2022
We are pleased to present a 10-part series, by Canadian semiotician and HILOBROW friend Charles Leech, sampling the recombinant artwork that he sells via his Etsy shop RecombinantCulture.
PULP WAVE: INTRO by Charles Leech | PLEASE, PLEASE, PLEASE, LET ME GET WHAT I WANT | PLANET CLAIRE | ONE OF OUR SUBMARINES | LET ME GO | PERFECT KISS | BELA LUGOSI'S DEAD | JUST LIKE HEAVEN | HAPPY HOUR | SHOUT | FALL ON ME. PS: Here's a Spotify playlist. Also see: QUIRK YOUR ENTHUSIASM series | POPSZTÁR SAMIZDAT series | FILE X series | SURVIVAL SAMPLER.
*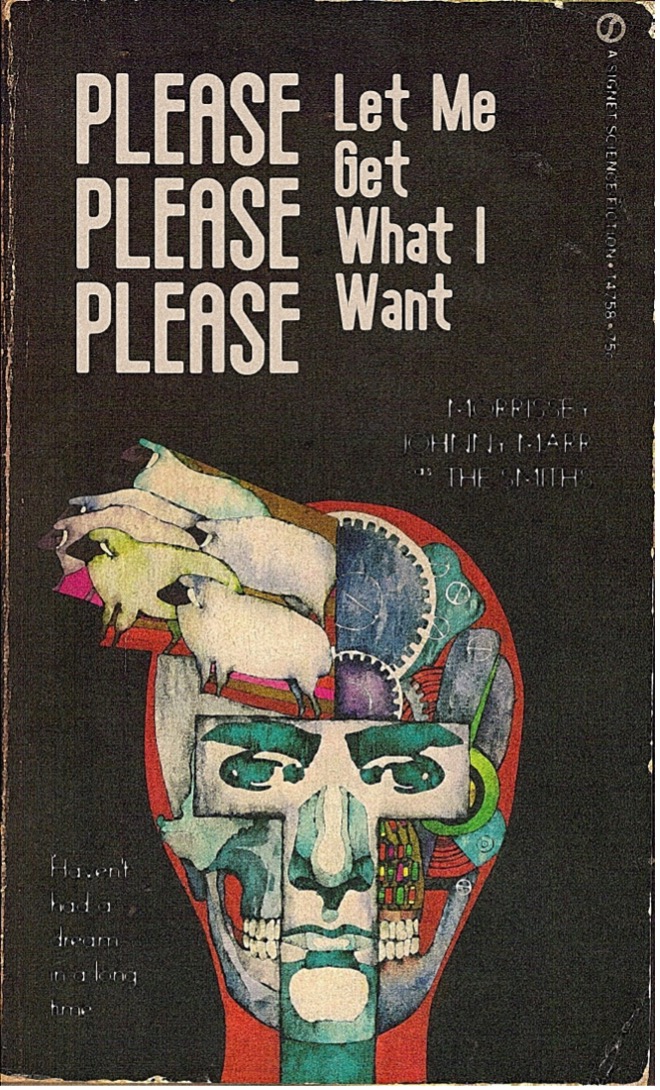 I'm a huge Blade Runner fan. I'd read the original Philip K. Dick short story 'Do Androids Dream of Electric Sheep?' years ago, and appreciate the way Ridley Scott uses the notions of dreams and memories in the film to prompt consideration of 'identity' and humanity: what it means to be human, and what makes us individuals within that. I suffer from extremely poor episodic memory, so I'm constantly gnawing on the role that memories play in the construction of identity.
I'd always thought of Blade Runner when Morrissey sings the line "haven't had a dream in a long time", so it made sense to start looking for congruence between Blade Runner and the song, especially since they share a similar tone of wistfulness and melancholy. And the song, the story, and the movies are all quests: please, let me get what I want! Then I discovered the incredible art of Bob Pepper and thought his cover for the Dick short story was magnificent (I also have a fondness for skulls), so things snapped together after that very quickly.
***
CURATED SERIES at HILOBROW: LINOCUT 2022 by Lawry Hutcheson | PULP WAVE by Charles Leech | DRAWING TABLE WORLD by Theo Ellsworth | PARAMAX by Max Glenn | YUKO ODA by Yuko Oda | PLAGUE YEAR by Rick Pinchera | NOOSFERA by Charles Glaubitz | A SILENT HALLUCINATION by Alex Gerasev | BUNNY CITY by Gary Panter | HOP UP by Lucy Sante | HERE BE MONSTERS by Mister Reusch | DOWNTOWNE by Bradley Peterson | OUTBOUND TO MONTEVIDEO by Mimi Lipson | STERANKOISMS by Douglas Wolk | COOLING OFF THE COMMOTION by Chenjerai Kumanyika | UNFLOWN by Jacob Covey | ADEQUATED by Franklin Bruno | PINAKOTHEK by Lucy Sante | BIGFOOT ISLAND by Michael Lewy | DAILY DRUMPF by Rick Pinchera | WINDS OF MAGIC by James Parker | MUSEUM OF FEMORIBILIA by Lynn Peril | ROBOTS + MONSTERS by Joe Alterio | ANNOTATED GIF by Kerry Callen | NOMADBROW by Erik Davis | & many others.