SEMIO OBJECTS (22)
By: Seema Khanwalkar
June 19, 2021
One in a series of 25 nonfiction narratives about semioticians' significant objects. Presented to HILOBROW's readers by Project:Object.
*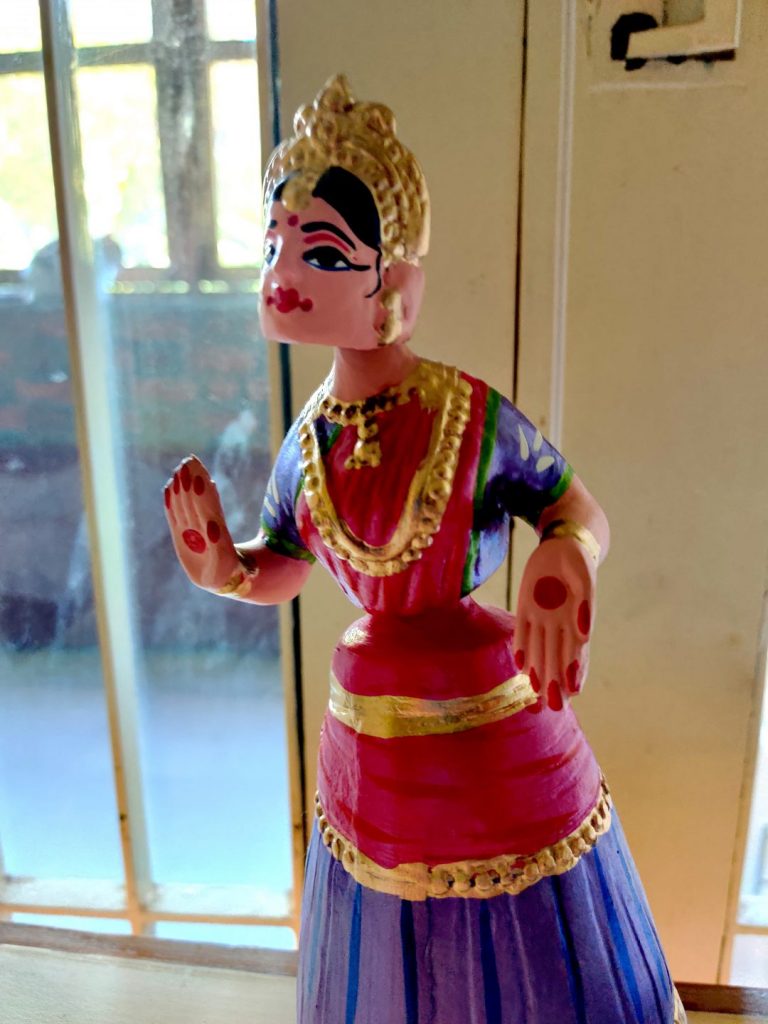 THANJAVUR DOLL
When I was a little girl, living as a non-native in Chennai, Tamilnadu, my visits to my neighbours' houses would constitute playing with the 'dancing doll', admiring its shining, colourful attire, painted by skilled craftsmen on sago, plaster of Paris, wood pulp and papier-mâché. I would play with its oscillating neck, and waist with my little fingers. The doll was captivating, complete with the henna on her hands, the mudra position of her fingers, the beautiful headdress, jewellery, and — something I realised much later in life — the Aryan skin tone, and the Brahminical beauty of the face.
A terracotta doll with a flexible head, neck, waist, and a billowing skirt that moves in any direction, the Thanjavur dancing doll is comes in small to large sizes and is easily located in almost every home. Dating back to the 19th century during the reign of King Saraboji it continues to be a part of the heritage of the town: its silks, classical dance forms, craftsmanship, etc.
As for the craftsmanship of the doll, the neck of the doll is placed inside a hook extending from the lower body and hence its bobs away like a dancer's neck with ease and flexibility. The doll vicariously fulfilled my desire to learn dancing too. The bob of the neck is a beautiful reflection of the non-committal nod that afflicts most adult Indians — making it difficult to comprehend. It's a sign of diplomacy, reflection, bodily flexibility, the dancer's nod, and an amazing communication at once. I would ask questions to the doll and move the head, interpreting it to suit my immediate needs. What a wonderful way to conduct an intercultural communication!
In a combination of two dolls, the male counterpart to this doll is usually pot-bellied, a brahman sometimes accompanied by his wife who is depicted seated next to him. It seems to be a homage to the patriarchy of the culture, where the woman is the bedrock of the home and cultural traditions. Women celebrate women during the period of Navaratri (nine nights), when the mother goddess Durga is believed to descend to her maternal home. These dolls and myriad others find a place of pride on the nine steps ("Golu"), where they serve as expressions of cultural beliefs and narratives.
Looking back at my fascination, I now understand my visceral connection with the doll — and how it stemmed from my own sense of an outsider to the community and the beauty of the women. Unlike the rest of the Brahminical society, the doll did not seem to have boundaries of participation. Playing with it for hours, I could make it nod, I could make it dance, I could hold it (gently of course), and have my own cerebral sense of connection with it. It later struck me that the doll could be an answer to the caste divisions — and allowed access to a world that was formidable to the average Dravidian with dark skin and not belonging to the brahmin caste.
Almost every girl in my neighbourhood resembled the doll's beauty. As a little girl it fulfilled a need in me — wanting to come close to these beauties and attempt to imitate their silken grace.
*
SEMIO OBJECTS: INTRODUCTION by Josh Glenn | Chris Arning on INKSTONE BROOM | Hamsini Shivakumar on SOUL MOTHER SAREES| Lucia Laurent-Neva on SPONGEBOB BUS | Samuel Grange on SALT & PEPPER HOLDER| Ximena Tobi on VASALISA | Luca Marchetti on TEAPOT | Charles Leech on ORNAMENT| Gabriela Pedranti on MAFALDA DOLL | Sarah Johnson on JOAN OF ARC FIGURINE | Vijay Parthasarathy on BINGO | Aiyana Gunjan on WEDDING DUCKS | Serdar Paktin on NEY | Paulina Goch-Kenawy on VASE | Daria Arkhipova on POKER CHIP | Iván Islas on THERMOS| Sónia Marques on CABBAGE TUREEN | Thierry Mortier on BICYCLE BELL | Louise Jolly on CHALICES | Wei Fen Lee on CURRY PUFF POT | Mariane Cara on MINI WINDSOCK | Malex Salamanques Amiel on MARIA LIONZA | Seema Khanwalkar on THANJAVUR DOLL | Maria Papanthymou on KITCHEN WHISK | Martha Arango on ST. ANTHONY OF PADUA | Max Matus on WOODEN ROBOT.
*
MOVIE OBJECTS: INTRODUCTION | Ramona Lyons on EYE OF THE SERPENT (CONAN THE BARBARIAN) | Faythe Levine on BEDKNOB (BEDKNOBS AND BROOMSTICKS) | Gerald Peary on CUP OF COFFEE (THE BIG HEAT) | Christopher Orr on TOM'S HAT (MILLER'S CROSSING) | Lynn Peril on TRANSISTOR RADIO (DR. STRANGELOVE) | & 20 MORE.
LOST OBJECTS (vol. 2): INTRODUCTION | Joe Yonan on MACRAMÉ ART (ill. Theo Ellsworth) | Ben Katchor on LUCITE CARRYING CASE | Debbie Millman on GLASS POODLE | Lydia Millet on ROCKY HORROR NOVEL (ill. Berta Valló) | Ben Greenman on WARHOL CAN (ill. Clara Selina Bach) | & 20 MORE.
FETISHES: INTRODUCTION | Josh Foer on DEATH MASK | Beth Lisick on MURDERED-OUT KFC BUCKET | Christina Couch on LEECH ACTION FIGURE | Kenneth Goldsmith on THEWLIS SOCK | Abby Rapoport on MAGNATILES | & 20 MORE.
FOSSILS: INTRODUCTION | Allegra Huston on SKATAWAY JACKET | Kevin Obsatz on HOMEMADE NUNCHUKS | Ian Bogost on DESKTOP TELEPHONE | Jeff Lewonczyk on CHA-CHA JACKET SCRAP | Kelly Horan on VOLVO KEY | & 20 MORE.
FLAIR: INTRODUCTION | Cliff Kuang on ROLEX DATEJUST | Ethan Zuckerman on LAPTOP STICKERS | Ann Shoket on LEATHER JACKET | Kembrew McLeod on KEMBREW MERCH | Paola Antonelli on MERMAID TEARS | & 20 MORE.
LOST OBJECTS (vol. 1): INTRODUCTION | Kate Bernheimer on MULLET WIG (ill. Amy Evans) | Dan Piepenbring on COLOGNE (ill. Josh Neufeld) | Doug Dorst on STRATOCASTER (ill. John Holbo) | Paul Lukas on VANILLA BEAN (ill. Allison Bamcat) | Mimi Lipson on DODGE DART (ill. Mister Reusch) | & 20 MORE.
ILLICIT OBJECTS: INTRODUCTION | Kio Stark on PEEPSHOW TOKEN | Sari Wilson on TOMBSTONE PARTS | Annalee Newitz on CAR-BOMB REMNANT | Tito Bottitta on MOONINITE DEVICE | Eric Bennett on DIRTY MAGAZINE | & 20 MORE.
TALISMANIC OBJECTS: INTRODUCTION | Veda Hille on CROCHET SHEEP | Gary Panter on DINOSAUR BONES | Jami Attenberg on SELENITE CRYSTAL | Annie Nocenti on MINIATURE DICE | Wayne Curtis on CLOCK WINDING KEY | & 20 MORE.
POLITICAL OBJECTS: INTRODUCTION | Luc Sante on CAMPAIGN PAMPHLETS | Lydia Millet on PVC POLAR BEAR | Ben Greenman on MATCHBOX CAR | Rob Baedeker on PRESIDENTS PLACEMAT | L.A. Kauffman on WHEATPASTE POSTER | & 20 MORE.
ALSO SEE: PROJECT:OBJECT homepage | POLITICAL OBJECTS (1Q2017) | TALISMANIC OBJECTS (2Q2017) | ILLICIT OBJECTS (3Q2017) | LOST OBJECTS vol. 1 (4Q2017) | FLAIR (2Q2018) | FOSSILS (4Q2018) | FETISHES (2Q2019) | LOST OBJECTS vol. 2 (4Q2019) | MOVIE OBJECTS (2Q2020) | SEMIO OBJECTS (2Q2021) | SIGNIFICANT OBJECTS (cross-posted from Significant Objects website). ALSO SEE: SIGNIFICANT OBJECTS website | LOST OBJECTS (Hat & Beard Press, 2022) | SIGNIFICANT OBJECTS collection, ed. Rob Walker and Josh Glenn (Fantagraphics, 2012) | TAKING THINGS SERIOUSLY, ed. Josh Glenn (Princeton Architectural Press, 2007) | TAKING THINGS SERIOUSLY excerpts.