PULP WAVE (4)
By: Charles Leech
December 8, 2022
We are pleased to present a 10-part series, by Canadian semiotician and HILOBROW friend Charles Leech, sampling the recombinant artwork that he sells via his Etsy shop RecombinantCulture.
PULP WAVE: INTRO by Charles Leech | PLEASE, PLEASE, PLEASE, LET ME GET WHAT I WANT | PLANET CLAIRE | ONE OF OUR SUBMARINES | LET ME GO | PERFECT KISS | BELA LUGOSI'S DEAD | JUST LIKE HEAVEN | HAPPY HOUR | SHOUT | FALL ON ME. PS: Here's a Spotify playlist. Also see: QUIRK YOUR ENTHUSIASM series | POPSZTÁR SAMIZDAT series | FILE X series | SURVIVAL SAMPLER.
*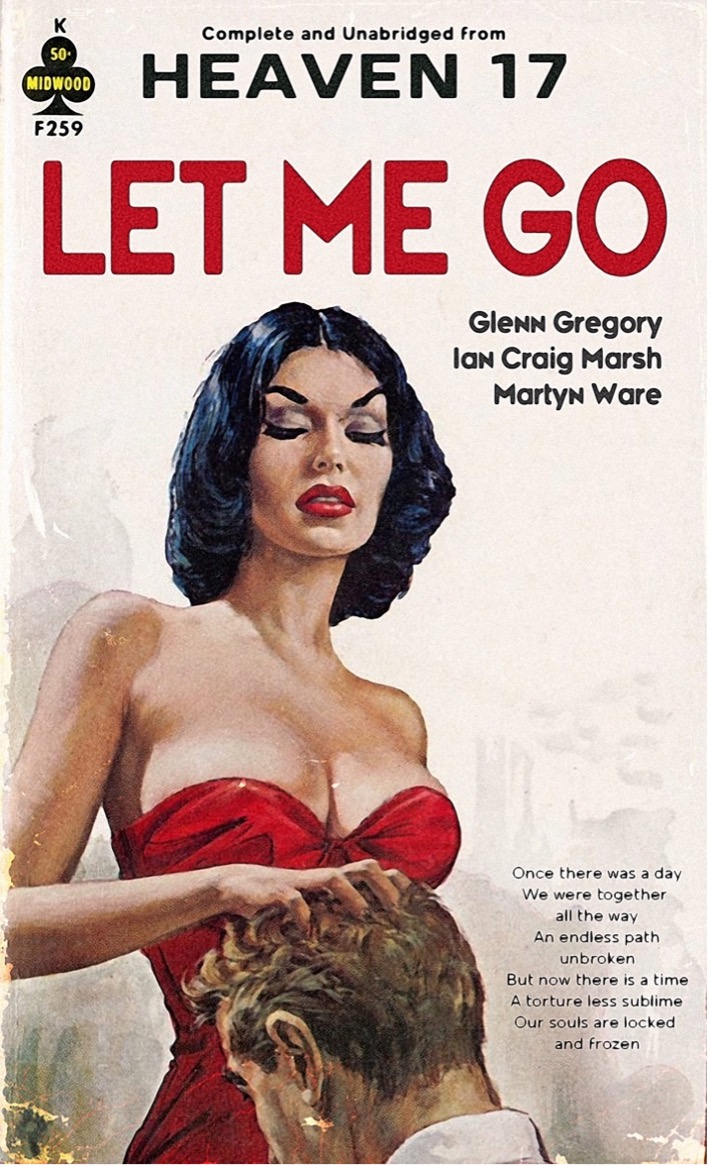 Easily one of my top 5 new wave songs of all time — it's just so good, and musically engaging. The shifts from major to minor key never fails to fascinate in their ability to instantly pivot the mood of the song – it's a brilliant example of a musical anaphone for capriciousness.
This version attempts to capture that capriciousness – the lyrics suggest a plea for release from somebody (minor key) in a poisonous relationship that used to be good (major key) – and I thought this wonderful cover (artist unknown to me) captured the sadistic emotional vindictiveness of somebody who enjoyed toying with a beaten partner's feelings.
The song has amazing layers – and if you like the original, I encourage you to seek out the many remixes and covers available online …. Nouvelle Vague does a brilliant bossa nova version, and there's a nearly-9-minutes-long extended remix which is fantastic.
***
CURATED SERIES at HILOBROW: LINOCUT 2022 by Lawry Hutcheson | PULP WAVE by Charles Leech | DRAWING TABLE WORLD by Theo Ellsworth | PARAMAX by Max Glenn | YUKO ODA by Yuko Oda | PLAGUE YEAR by Rick Pinchera | NOOSFERA by Charles Glaubitz | A SILENT HALLUCINATION by Alex Gerasev | BUNNY CITY by Gary Panter | HOP UP by Lucy Sante | HERE BE MONSTERS by Mister Reusch | DOWNTOWNE by Bradley Peterson | OUTBOUND TO MONTEVIDEO by Mimi Lipson | STERANKOISMS by Douglas Wolk | COOLING OFF THE COMMOTION by Chenjerai Kumanyika | UNFLOWN by Jacob Covey | ADEQUATED by Franklin Bruno | PINAKOTHEK by Lucy Sante | BIGFOOT ISLAND by Michael Lewy | DAILY DRUMPF by Rick Pinchera | WINDS OF MAGIC by James Parker | MUSEUM OF FEMORIBILIA by Lynn Peril | ROBOTS + MONSTERS by Joe Alterio | ANNOTATED GIF by Kerry Callen | NOMADBROW by Erik Davis | & many others.