FOSSILS (20)
By: Tony Leone
December 1, 2018
The sixth PROJECT:OBJECT volume is a 25-part series of true stories about fossils — which is to say, objects that bear witness to a vanished way of life.
*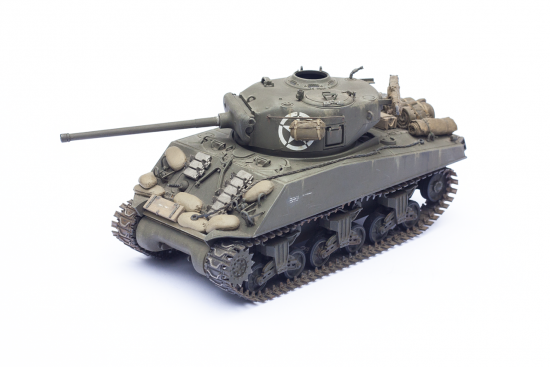 I'm a competitive model-builder — model tanks, specifically. I started building tanks when I was about 8 or 9; I'm 45 now. I first built this Sherman M4A3(76) model when I was in the sixth grade; of all the models I built as a youth, this is the only one that has survived.
Even as a kid, I had an eye for historical detail; I remember wanting to build a really accurate Sherman tank, like the ones I saw in WW2 picture books — which I pored over. So when I found this kit at the local Kmart, one look at the awesome box art was all I needed to see. (The product's manufacturer, Tamiya, at the time represented the state of the art in fine-scale model kits.) I built the kit, painted it, and presented it to my class during our weekly Current Events discussion — we were allowed to present something creative that we'd done outside of school. Model building was considered nerdy, but I didn't care — and I still don't care.
Technically, what you're looking at here is a "kit-bash" — a custom model created from more than one kit. Although the lower hull is what I built in sixth grade, when I was a high school sophomore I replaced the tank's turret with one from another model — transforming it into a 76mm gun Sherman. I repainted the entire thing, and added stowage details. I'd become less interested in model building, but a new model company, Verlinden, came onto the scene in 1988; they made accessories so accurate and detailed that when I first saw them in the local hobby shop, Hobby Heaven, my interest was reignited. I also added scratch-built details, such as bedrolls made of toilet paper and sewing thread for tie-downs. Sure, I'd do things differently now — I'd use more mature and time-consuming painting techniques; I'd stress out about updating the finer details; I'd debate historical accuracy with my model-building pal, Bill — but I'm still proud of this tank. I was thrilled when Hobby Heaven put my model on display.
Model building is more stressful for me these days, because I do it competitively — but it's still a joyful process. Call it a complex joy, like everything else in my adult life. I have, however, introduced my own 6th grader to the hobby. My friend Bill and I recently brought our sons to a model show and competition, where they had a good time and won prizes with their models. But they were two of only three junior entrants, and most of the other adults at the show were older than Bill and me. It was painful reminder that the hobby is in decline. Hobby shops have disappeared from the landscape. Time for model making can't compete with screen time. So this Sherman M4A3(76) model is a fossil not only of my youth, but of a once-thriving hobby.
*
ALSO: Check out Tony's HILOBROW series TANK UP, which showcases 10 of his favorite builds.
FOSSILS: INTRODUCTION | Allegra Huston on SKATAWAY JACKET | Kevin Obsatz on HOMEMADE NUNCHUKS | Ian Bogost on DESKTOP TELEPHONE | Jeff Lewonczyk on CHA-CHA JACKET SCRAP | Kelly Horan on VOLVO KEY | Sarah Rich on WESTFEST EARRINGS | Cynthia Joyce on MELODICA | Kevin Brockmeier on SALADMOBILE | Adam Harrison Levy on PASSPORT HOLDER | Marissa Frayer on BABY BLANKET | Elizabeth Foy Larsen on RML BOOKEND | Jae Nichelle on SHEET MUSIC | Sean Patrick Walsh on TYPEWRITER | Andrew Innes on BUST OF DUCK | Carla Sinclair on FACTSHEET FIVE | Chapell Ellison on SLEIGH BELL | Malcolm Evans on "QUEEN MARY" FOB | Jason Gilbert on HAND CHAIR | Karl Taro Greenfeld on OPIUM KIT | Tony Leone on MODEL TANK | Dave Boerger on TEEN BIBLE | Chelsey Johnson on BREYER HORSES | Erin M. Routson on PAPER WALLET | Alissa Walker on JUKEBOX | Adrienne Crew on FISH SCALER.
FLAIR: INTRODUCTION | Cliff Kuang on ROLEX DATEJUST | Ethan Zuckerman on LAPTOP STICKERS | Ann Shoket on LEATHER JACKET | Kembrew McLeod on KEMBREW MERCH | Paola Antonelli on MERMAID TEARS | & 20 MORE.
LOST OBJECTS (vol. 1): INTRODUCTION | Kate Bernheimer on MULLET WIG (ill. Amy Evans) | Dan Piepenbring on COLOGNE (ill. Josh Neufeld) | Doug Dorst on STRATOCASTER (ill. John Holbo) | Paul Lukas on VANILLA BEAN (ill. Allison Bamcat) | Mimi Lipson on DODGE DART (ill. Mister Reusch) | & 20 MORE.
ILLICIT OBJECTS: INTRODUCTION | Kio Stark on PEEPSHOW TOKEN | Sari Wilson on TOMBSTONE PARTS | Annalee Newitz on CAR-BOMB REMNANT | Tito Bottitta on MOONINITE DEVICE | Eric Bennett on DIRTY MAGAZINE | & 20 MORE.
TALISMANIC OBJECTS: INTRODUCTION | Veda Hille on CROCHET SHEEP | Gary Panter on DINOSAUR BONES | Jami Attenberg on SELENITE CRYSTAL | Annie Nocenti on MINIATURE DICE | Wayne Curtis on CLOCK WINDING KEY | & 20 MORE.
POLITICAL OBJECTS: INTRODUCTION | Luc Sante on CAMPAIGN PAMPHLETS | Lydia Millet on PVC POLAR BEAR | Ben Greenman on MATCHBOX CAR | Rob Baedeker on PRESIDENTS PLACEMAT | L.A. Kauffman on WHEATPASTE POSTER | & 20 MORE.
SIGNIFICANT OBJECTS at HILOBROW: PROJECT:OBJECT homepage | PROJECT:OBJECT newsletter | PROJECT:OBJECT objects (Threadless shop — all profits donated to the ACLU) | POLITICAL OBJECTS series (1Q2017) | TALISMANIC OBJECTS series (2Q2017) | ILLICIT OBJECTS series (3Q2017) | LOST OBJECTS vol. 1 series (4Q2017) | FLAIR series (2Q2018) | FOSSIL series (4Q2018) | FETISHES series (2Q2019) | LOST OBJECTS vol. 2 series (4Q2019) | MOVIE OBJECTS series (2Q2020). ALSO SEE: SIGNIFICANT OBJECTS website | SIGNIFICANT OBJECTS collection, ed. Rob Walker and Josh Glenn (Fantagraphics, 2012) | TAKING THINGS SERIOUSLY, ed. Josh Glenn (Princeton Architectural Press, 2007) | TAKING THINGS SERIOUSLY excerpts.