FOSSILS (11)
By: Elizabeth Foy Larsen
November 1, 2018
The sixth PROJECT:OBJECT volume is a 25-part series of true stories about fossils — which is to say, objects that bear witness to a vanished way of life.
*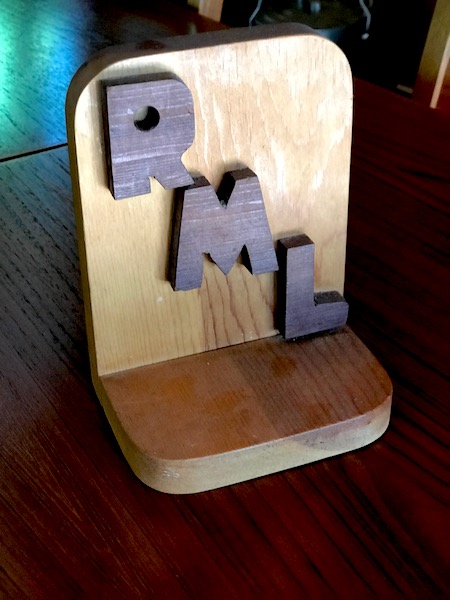 When I see that top-heavy R — bloated and lopsided, like a beer gut — I remember how much I struggled to master that damn jigsaw. The band saw was easy; line up the pencil mark with the blade and steer. The drill press was even more of a snap: Pull down and pull up. Watch as the whirling metal rod unfurled a nest of shavings. Repeat
But the jigsaw! Why was it that the very tool that gave you the most creative freedom was so much more difficult to maneuver? The wood vibrated and jumped as my hands tried to cut even the most basic curves.
It was 1974, and I was in fifth grade and making a set of bookends for my dad. My all-girls school had just been subsumed — the administrators preferred the term "merged" — into a boys' prep school on the outskirts of Minneapolis. Gone were our navy pinafores, grades for table manners, and a gym curriculum that included instructions for how to dance the Virginia reel. Now, we wore Levis and Adidas, ran hill sprints until we barfed, and corrected our multiple-choice tests using military code. Apple, Baker, Baker, Charlie, Delta, Apple. And we took shop.
My English teacher, Mr. Close (the master of the military code, who also had a paddle hanging next to his desk), had served in World War II — a peek into history that even then I understood was the closest I'd ever get to time travel. I was an uninspired and undisciplined student, but I adored his stories about navigating a plane above the lines of battle and how the blast of a missile made his ears pop. My shop teacher, Mr. Johnson, was also an old-timer, with a flattop haircut that was so bristled you could have used it to remove rust from a fender.
Both teachers were intense, revered order and systems, and brooked zero shenanigans. I worshipped them, probably because I could sense that their time in the military had made them intensely loyal… which I'm guessing was a comfort because my own dad had gone AWOL, having decamped to Miami — where he owned a condominium complex/nightclub called the Jockey Club. He called home every day, and told us how hard he was working and how much he missed us. But then I'd see photos of him dancing with Connie Stevens and dining with the likes of Howard Cosell and Jackie Gleason.
Did I make him the bookends, which I'd decorated with his initials, to remind my dad that he had a family back in Minnesota? I'm not sure. What I do know is that today, I can't find this one's mate. I'm guessing that, like my parents, the bookends got separated decades ago and were never reunited.
*
FOSSILS: INTRODUCTION | Allegra Huston on SKATAWAY JACKET | Kevin Obsatz on HOMEMADE NUNCHUKS | Ian Bogost on DESKTOP TELEPHONE | Jeff Lewonczyk on CHA-CHA JACKET SCRAP | Kelly Horan on VOLVO KEY | Sarah Rich on WESTFEST EARRINGS | Cynthia Joyce on MELODICA | Kevin Brockmeier on SALADMOBILE | Adam Harrison Levy on PASSPORT HOLDER | Marissa Frayer on BABY BLANKET | Elizabeth Foy Larsen on RML BOOKEND | Jae Nichelle on SHEET MUSIC | Sean Patrick Walsh on TYPEWRITER | Andrew Innes on BUST OF DUCK | Carla Sinclair on FACTSHEET FIVE | Chapell Ellison on SLEIGH BELL | Malcolm Evans on "QUEEN MARY" FOB | Jason Gilbert on HAND CHAIR | Karl Taro Greenfeld on OPIUM KIT | Tony Leone on MODEL TANK | Dave Boerger on TEEN BIBLE | Chelsey Johnson on BREYER HORSES | Erin M. Routson on PAPER WALLET | Alissa Walker on JUKEBOX | Adrienne Crew on FISH SCALER.
FLAIR: INTRODUCTION | Cliff Kuang on ROLEX DATEJUST | Ethan Zuckerman on LAPTOP STICKERS | Ann Shoket on LEATHER JACKET | Kembrew McLeod on KEMBREW MERCH | Paola Antonelli on MERMAID TEARS | & 20 MORE.
LOST OBJECTS (vol. 1): INTRODUCTION | Kate Bernheimer on MULLET WIG (ill. Amy Evans) | Dan Piepenbring on COLOGNE (ill. Josh Neufeld) | Doug Dorst on STRATOCASTER (ill. John Holbo) | Paul Lukas on VANILLA BEAN (ill. Allison Bamcat) | Mimi Lipson on DODGE DART (ill. Mister Reusch) | & 20 MORE.
ILLICIT OBJECTS: INTRODUCTION | Kio Stark on PEEPSHOW TOKEN | Sari Wilson on TOMBSTONE PARTS | Annalee Newitz on CAR-BOMB REMNANT | Tito Bottitta on MOONINITE DEVICE | Eric Bennett on DIRTY MAGAZINE | & 20 MORE.
TALISMANIC OBJECTS: INTRODUCTION | Veda Hille on CROCHET SHEEP | Gary Panter on DINOSAUR BONES | Jami Attenberg on SELENITE CRYSTAL | Annie Nocenti on MINIATURE DICE | Wayne Curtis on CLOCK WINDING KEY | & 20 MORE.
POLITICAL OBJECTS: INTRODUCTION | Luc Sante on CAMPAIGN PAMPHLETS | Lydia Millet on PVC POLAR BEAR | Ben Greenman on MATCHBOX CAR | Rob Baedeker on PRESIDENTS PLACEMAT | L.A. Kauffman on WHEATPASTE POSTER | & 20 MORE.
SIGNIFICANT OBJECTS at HILOBROW: PROJECT:OBJECT homepage | PROJECT:OBJECT newsletter | PROJECT:OBJECT objects (Threadless shop — all profits donated to the ACLU) | POLITICAL OBJECTS series (1Q2017) | TALISMANIC OBJECTS series (2Q2017) | ILLICIT OBJECTS series (3Q2017) | LOST OBJECTS vol. 1 series (4Q2017) | FLAIR series (2Q2018) | FOSSIL series (4Q2018) | FETISHES series (2Q2019) | LOST OBJECTS vol. 2 series (4Q2019) | MOVIE OBJECTS series (2Q2020). ALSO SEE: SIGNIFICANT OBJECTS website | SIGNIFICANT OBJECTS collection, ed. Rob Walker and Josh Glenn (Fantagraphics, 2012) | TAKING THINGS SERIOUSLY, ed. Josh Glenn (Princeton Architectural Press, 2007) | TAKING THINGS SERIOUSLY excerpts.