FOSSILS (15)
By: Carla Sinclair
November 16, 2018
The sixth PROJECT:OBJECT volume is a 25-part series of true stories about fossils — which is to say, objects that bear witness to a vanished way of life.
*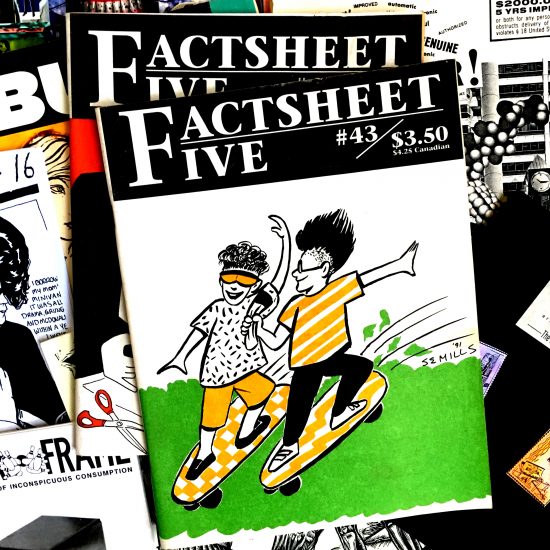 In 1986, my boyfriend and I stumbled upon an object so powerful, it changed the course of our lives.
I was a college student majoring in Spanish, planning on becoming a translator, and Mark had just started a career as a mechanical engineer. We were hanging out in his Santa Clara apartment one weekend when a package arrived.
It was a zine called Factsheet Five that he had ordered after reading an article in The Whole Earth Review called "Your Pathway to Cosmic Truth — By Mail!!" by Church of the SubGenius creator Ivan Stang. Once we opened the pages of F5, we sat hunched on his bed for hours, entranced. A spell had been cast.
Factsheet Five launched in 1982 as a 2-page photocopied newsletter by Mike Gunderloy dedicated to sci-fi fanzines. By 1986 it had exploded into a meaty directory, or "zine of zines," that reviewed hundreds of other zines and indie publications. Opening the pages of F5 was like stepping into another universe, with every featured zine a world we wanted to visit. It was a hub with spokes that reached out to the far ends of fringe culture, connecting like-minded people from all corners of the world.
I finally understood what Timothy Leary had meant when he was asked what people should do after they'd tuned in, turned on, and dropped out. He said, "Find the others." Factsheet Five was my guidebook for finding the others. It made me realize that I could share my ideas with other people around the world without having to deal with mass-media gatekeepers who had neither the interest nor the awareness of the long tail of niche media. It inspired Mark and me to publish a zine, called bOING bOING, to share our interest in cyberpunk, underground comics, consciousness enhancement technology, creative computing, and high weirdness. Through Factsheet Five, we met people with whom we remain lifelong friends and creative collaborators.
Before the Internet, F5 was an object that provoked a sense of urgency. It was a lifeline to another reality, another tribe. By the late '90s, though, it was no longer essential. Zines in general could now exist online. bOING bOING (now Boing Boing) moved online.
Fortunately I still have a couple of copies of Factsheet Five, artifacts I save that allow me to revisit the magic of that earlier time.
*
FOSSILS: INTRODUCTION | Allegra Huston on SKATAWAY JACKET | Kevin Obsatz on HOMEMADE NUNCHUKS | Ian Bogost on DESKTOP TELEPHONE | Jeff Lewonczyk on CHA-CHA JACKET SCRAP | Kelly Horan on VOLVO KEY | Sarah Rich on WESTFEST EARRINGS | Cynthia Joyce on MELODICA | Kevin Brockmeier on SALADMOBILE | Adam Harrison Levy on PASSPORT HOLDER | Marissa Frayer on BABY BLANKET | Elizabeth Foy Larsen on RML BOOKEND | Jae Nichelle on SHEET MUSIC | Sean Patrick Walsh on TYPEWRITER | Andrew Innes on BUST OF DUCK | Carla Sinclair on FACTSHEET FIVE | Chapell Ellison on SLEIGH BELL | Malcolm Evans on "QUEEN MARY" FOB | Jason Gilbert on HAND CHAIR | Karl Taro Greenfeld on OPIUM KIT | Tony Leone on MODEL TANK | Dave Boerger on TEEN BIBLE | Chelsey Johnson on BREYER HORSES | Erin M. Routson on PAPER WALLET | Alissa Walker on JUKEBOX | Adrienne Crew on FISH SCALER.
FLAIR: INTRODUCTION | Cliff Kuang on ROLEX DATEJUST | Ethan Zuckerman on LAPTOP STICKERS | Ann Shoket on LEATHER JACKET | Kembrew McLeod on KEMBREW MERCH | Paola Antonelli on MERMAID TEARS | & 20 MORE.
LOST OBJECTS (vol. 1): INTRODUCTION | Kate Bernheimer on MULLET WIG (ill. Amy Evans) | Dan Piepenbring on COLOGNE (ill. Josh Neufeld) | Doug Dorst on STRATOCASTER (ill. John Holbo) | Paul Lukas on VANILLA BEAN (ill. Allison Bamcat) | Mimi Lipson on DODGE DART (ill. Mister Reusch) | & 20 MORE.
ILLICIT OBJECTS: INTRODUCTION | Kio Stark on PEEPSHOW TOKEN | Sari Wilson on TOMBSTONE PARTS | Annalee Newitz on CAR-BOMB REMNANT | Tito Bottitta on MOONINITE DEVICE | Eric Bennett on DIRTY MAGAZINE | & 20 MORE.
TALISMANIC OBJECTS: INTRODUCTION | Veda Hille on CROCHET SHEEP | Gary Panter on DINOSAUR BONES | Jami Attenberg on SELENITE CRYSTAL | Annie Nocenti on MINIATURE DICE | Wayne Curtis on CLOCK WINDING KEY | & 20 MORE.
POLITICAL OBJECTS: INTRODUCTION | Luc Sante on CAMPAIGN PAMPHLETS | Lydia Millet on PVC POLAR BEAR | Ben Greenman on MATCHBOX CAR | Rob Baedeker on PRESIDENTS PLACEMAT | L.A. Kauffman on WHEATPASTE POSTER | & 20 MORE.
SIGNIFICANT OBJECTS at HILOBROW: PROJECT:OBJECT homepage | PROJECT:OBJECT newsletter | PROJECT:OBJECT objects (Threadless shop — all profits donated to the ACLU) | POLITICAL OBJECTS series (1Q2017) | TALISMANIC OBJECTS series (2Q2017) | ILLICIT OBJECTS series (3Q2017) | LOST OBJECTS vol. 1 series (4Q2017) | FLAIR series (2Q2018) | FOSSIL series (4Q2018) | FETISHES series (2Q2019) | LOST OBJECTS vol. 2 series (4Q2019) | MOVIE OBJECTS series (2Q2020). ALSO SEE: SIGNIFICANT OBJECTS website | SIGNIFICANT OBJECTS collection, ed. Rob Walker and Josh Glenn (Fantagraphics, 2012) | TAKING THINGS SERIOUSLY, ed. Josh Glenn (Princeton Architectural Press, 2007) | TAKING THINGS SERIOUSLY excerpts.