FOSSILS (22)
By: Chelsey Johnson
December 7, 2018
The sixth PROJECT:OBJECT volume is a 25-part series of true stories about fossils — which is to say, objects that bear witness to a vanished way of life.
*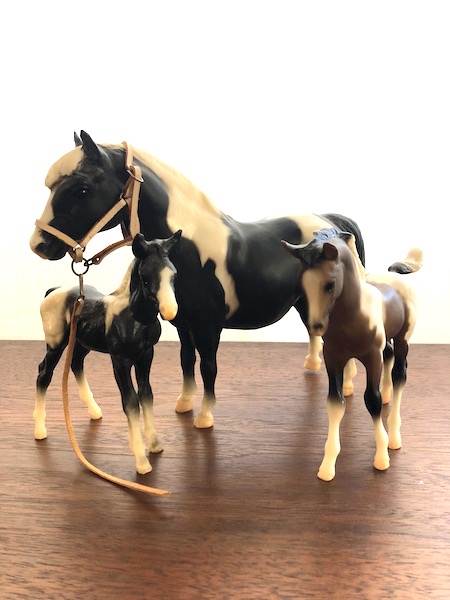 I can't separate the horses from the smell of leather. Arnie's Leather Shop stood at the end of Main Street, a weathered wood storefront with a shingled awning and shelves of Breyer model horses lined up in the picture window. Arnie, an actual cobbler, sold shoes and fixed shoes, and the side line of Breyers lured me and a few other horse-crazy kids in town into handing over whatever cash we'd scrounged together. I'd started babysitting at ten and spent every dollar I earned on horses.
Inside the store, hard carpet, fluorescent light, shadowy rows of shoes behind the counter, and the aroma of leather: earthy, animal, almost sweet, the smell of formerly-alive. I inhaled it as I ran my fingers over the horses' muscled hindquarters, slender fetlocks and ankles, ears that curved toward a fragile tip, delicate nostril rims. My cousin's My Little Ponies were blasphemy, a feminized grotesque, but the Breyers looked true to life. Many were modeled on real horses (Ruffian, Man O'War, Seabiscuit) or the stars of the Marguerite Henry books I devoured (Misty, Stormy, Sea Star, Sham.) The others I named myself before I introduced to them to the Breyers already lounging in the corral that occupied a third of my bedroom floor. The horses developed complex social networks, animosities and affections.
Which was the problem with Brenda Breyer. Brenda was the lone human Breyer created, a plain girl with brittle straight brown hair, blue eyeshadow, cheap boot-cut jeans, a tomato-red T-shirt, and limbs that bent poorly. She was supposed to be my avatar, but Brenda ruined everything. When her stiff plastic hand touched a horse's sleek flank, artifice bombed the illusion. The multifacted consciousness inhabiting the horses dissolved into the plain facts: I was a kid, playing with toys. That was not the kind of real I wanted.
Breyer still makes horses, many from the same molds, but they look different now, airbrushed, overdetermined, with the whites of their eyes painted on — in real horses, a sign of fear. Like everything now, you don't have to return to the store every week to see which ones have come in — you can buy whichever one you want online, just like you can bet on racehorses online, or even buy a living horse online. A former colleague of mine co-owns a racehorse with her husband and two other investors. The horse lives in a distant state; they've met him a few times, but if they walked up to his stall, inhaling the sweet musky smell of hay and warm horse and leather, and reached out a hand, I don't think he would know who they are.
*
FOSSILS: INTRODUCTION | Allegra Huston on SKATAWAY JACKET | Kevin Obsatz on HOMEMADE NUNCHUKS | Ian Bogost on DESKTOP TELEPHONE | Jeff Lewonczyk on CHA-CHA JACKET SCRAP | Kelly Horan on VOLVO KEY | Sarah Rich on WESTFEST EARRINGS | Cynthia Joyce on MELODICA | Kevin Brockmeier on SALADMOBILE | Adam Harrison Levy on PASSPORT HOLDER | Marissa Frayer on BABY BLANKET | Elizabeth Foy Larsen on RML BOOKEND | Jae Nichelle on SHEET MUSIC | Sean Patrick Walsh on TYPEWRITER | Andrew Innes on BUST OF DUCK | Carla Sinclair on FACTSHEET FIVE | Chapell Ellison on SLEIGH BELL | Malcolm Evans on "QUEEN MARY" FOB | Jason Gilbert on HAND CHAIR | Karl Taro Greenfeld on OPIUM KIT | Tony Leone on MODEL TANK | Dave Boerger on TEEN BIBLE | Chelsey Johnson on BREYER HORSES | Erin M. Routson on PAPER WALLET | Alissa Walker on JUKEBOX | Adrienne Crew on FISH SCALER.
FLAIR: INTRODUCTION | Cliff Kuang on ROLEX DATEJUST | Ethan Zuckerman on LAPTOP STICKERS | Ann Shoket on LEATHER JACKET | Kembrew McLeod on KEMBREW MERCH | Paola Antonelli on MERMAID TEARS | & 20 MORE.
LOST OBJECTS (vol. 1): INTRODUCTION | Kate Bernheimer on MULLET WIG (ill. Amy Evans) | Dan Piepenbring on COLOGNE (ill. Josh Neufeld) | Doug Dorst on STRATOCASTER (ill. John Holbo) | Paul Lukas on VANILLA BEAN (ill. Allison Bamcat) | Mimi Lipson on DODGE DART (ill. Mister Reusch) | & 20 MORE.
ILLICIT OBJECTS: INTRODUCTION | Kio Stark on PEEPSHOW TOKEN | Sari Wilson on TOMBSTONE PARTS | Annalee Newitz on CAR-BOMB REMNANT | Tito Bottitta on MOONINITE DEVICE | Eric Bennett on DIRTY MAGAZINE | & 20 MORE.
TALISMANIC OBJECTS: INTRODUCTION | Veda Hille on CROCHET SHEEP | Gary Panter on DINOSAUR BONES | Jami Attenberg on SELENITE CRYSTAL | Annie Nocenti on MINIATURE DICE | Wayne Curtis on CLOCK WINDING KEY | & 20 MORE.
POLITICAL OBJECTS: INTRODUCTION | Luc Sante on CAMPAIGN PAMPHLETS | Lydia Millet on PVC POLAR BEAR | Ben Greenman on MATCHBOX CAR | Rob Baedeker on PRESIDENTS PLACEMAT | L.A. Kauffman on WHEATPASTE POSTER | & 20 MORE.
SIGNIFICANT OBJECTS at HILOBROW: PROJECT:OBJECT homepage | PROJECT:OBJECT newsletter | PROJECT:OBJECT objects (Threadless shop — all profits donated to the ACLU) | POLITICAL OBJECTS series (1Q2017) | TALISMANIC OBJECTS series (2Q2017) | ILLICIT OBJECTS series (3Q2017) | LOST OBJECTS vol. 1 series (4Q2017) | FLAIR series (2Q2018) | FOSSIL series (4Q2018) | FETISHES series (2Q2019) | LOST OBJECTS vol. 2 series (4Q2019) | MOVIE OBJECTS series (2Q2020). ALSO SEE: SIGNIFICANT OBJECTS website | SIGNIFICANT OBJECTS collection, ed. Rob Walker and Josh Glenn (Fantagraphics, 2012) | TAKING THINGS SERIOUSLY, ed. Josh Glenn (Princeton Architectural Press, 2007) | TAKING THINGS SERIOUSLY excerpts.