FOSSILS (8)
By: Kevin Brockmeier
October 23, 2018
The sixth PROJECT:OBJECT volume is a 25-part series of true stories about fossils — which is to say, objects that bear witness to a vanished way of life.
*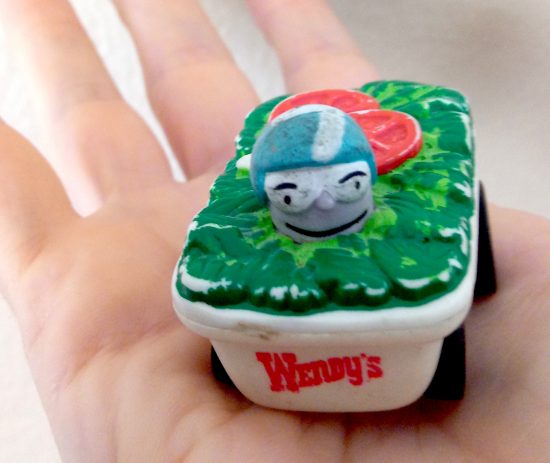 Let's call it the saladmobile. It is today, as it was in 1991, a cheap plastic car with a simple pullback motor: junk, yes, but junk so compactly and durably made that in almost thirty years it has not broken. From a childhood of ten thousand toys, it is one of the few that has washed up into my adulthood, though I was already eighteen, and mostly beyond toys, when I acquired it. The body is a hard white polymer, boxlike, ornamented on the front and back with the Wendy's logo. Topped with light and dark shades of lettuce, a pair of tomato slices, and a semicircle of onion, it is captained by a smiling purple radish whose blue helmet makes him look at once vaguely old-fashioned and vaguely European, like a race car driver from a movie filmed in Monte Carlo in the days of Technicolor.
I remember the night it came into my possession, and clearly. I was with a girl from my high school with whom I had fallen quickly and fearfully in love, so quickly and so fearfully that I couldn't figure out how to tell her so. As a lark we both ordered Wendy's Kids' Meals. With my burger and fries came the saladmobile; with hers, I'm sure, some other toy, though I don't recall what it was. Less than an hour later, messing around in a movie theater, I made the mistake of running the saladmobile across her head. With a few tightening clicks and a whizz of black rubber, her hair wound into the axles. For the next two hours, in the darkness, as the movie played, I slowly unspooled her hair from the machinery, holding each strand carefully in place as I worked it loose so that it wouldn't tug at her scalp. In 1991, and maybe still today, this was the single most titillating exercise of my life. Until that night I had never realized that a body's entire gravity could be concentrated in its fingertips.
Growing up, I had as many crushes as I did toys, but the girl from that night, or at least the memory of her, is one of the few who has washed up into my adulthood — not only a never-did, like so many of the others, but a could-have-been; a should-have-been; a why-didn't-I?
There are times when I feel I have abandoned myself somewhere in the past. My body has kept aging, but some essential part of me hasn't. I haven't seen it in years. The least regretful version of this story's ending: Maybe it's back there in my fingertips, on a Friday night in 1991, moving as delicately as possible through the hair of a girl I loved. The most: It is a cheap kind of life, the one I've made, but a simple one — a life that only moves forward when I draw it back.
*
FOSSILS: INTRODUCTION | Allegra Huston on SKATAWAY JACKET | Kevin Obsatz on HOMEMADE NUNCHUKS | Ian Bogost on DESKTOP TELEPHONE | Jeff Lewonczyk on CHA-CHA JACKET SCRAP | Kelly Horan on VOLVO KEY | Sarah Rich on WESTFEST EARRINGS | Cynthia Joyce on MELODICA | Kevin Brockmeier on SALADMOBILE | Adam Harrison Levy on PASSPORT HOLDER | Marissa Frayer on BABY BLANKET | Elizabeth Foy Larsen on RML BOOKEND | Jae Nichelle on SHEET MUSIC | Sean Patrick Walsh on TYPEWRITER | Andrew Innes on BUST OF DUCK | Carla Sinclair on FACTSHEET FIVE | Chapell Ellison on SLEIGH BELL | Malcolm Evans on "QUEEN MARY" FOB | Jason Gilbert on HAND CHAIR | Karl Taro Greenfeld on OPIUM KIT | Tony Leone on MODEL TANK | Dave Boerger on TEEN BIBLE | Chelsey Johnson on BREYER HORSES | Erin M. Routson on PAPER WALLET | Alissa Walker on JUKEBOX | Adrienne Crew on FISH SCALER.
FLAIR: INTRODUCTION | Cliff Kuang on ROLEX DATEJUST | Ethan Zuckerman on LAPTOP STICKERS | Ann Shoket on LEATHER JACKET | Kembrew McLeod on KEMBREW MERCH | Paola Antonelli on MERMAID TEARS | & 20 MORE.
LOST OBJECTS (vol. 1): INTRODUCTION | Kate Bernheimer on MULLET WIG (ill. Amy Evans) | Dan Piepenbring on COLOGNE (ill. Josh Neufeld) | Doug Dorst on STRATOCASTER (ill. John Holbo) | Paul Lukas on VANILLA BEAN (ill. Allison Bamcat) | Mimi Lipson on DODGE DART (ill. Mister Reusch) | & 20 MORE.
ILLICIT OBJECTS: INTRODUCTION | Kio Stark on PEEPSHOW TOKEN | Sari Wilson on TOMBSTONE PARTS | Annalee Newitz on CAR-BOMB REMNANT | Tito Bottitta on MOONINITE DEVICE | Eric Bennett on DIRTY MAGAZINE | & 20 MORE.
TALISMANIC OBJECTS: INTRODUCTION | Veda Hille on CROCHET SHEEP | Gary Panter on DINOSAUR BONES | Jami Attenberg on SELENITE CRYSTAL | Annie Nocenti on MINIATURE DICE | Wayne Curtis on CLOCK WINDING KEY | & 20 MORE.
POLITICAL OBJECTS: INTRODUCTION | Luc Sante on CAMPAIGN PAMPHLETS | Lydia Millet on PVC POLAR BEAR | Ben Greenman on MATCHBOX CAR | Rob Baedeker on PRESIDENTS PLACEMAT | L.A. Kauffman on WHEATPASTE POSTER | & 20 MORE.
SIGNIFICANT OBJECTS at HILOBROW: PROJECT:OBJECT homepage | PROJECT:OBJECT newsletter | PROJECT:OBJECT objects (Threadless shop — all profits donated to the ACLU) | POLITICAL OBJECTS series (1Q2017) | TALISMANIC OBJECTS series (2Q2017) | ILLICIT OBJECTS series (3Q2017) | LOST OBJECTS vol. 1 series (4Q2017) | FLAIR series (2Q2018) | FOSSIL series (4Q2018) | FETISHES series (2Q2019) | LOST OBJECTS vol. 2 series (4Q2019) | MOVIE OBJECTS series (2Q2020). ALSO SEE: SIGNIFICANT OBJECTS website | SIGNIFICANT OBJECTS collection, ed. Rob Walker and Josh Glenn (Fantagraphics, 2012) | TAKING THINGS SERIOUSLY, ed. Josh Glenn (Princeton Architectural Press, 2007) | TAKING THINGS SERIOUSLY excerpts.