FOSSILS (19)
By: Karl Taro Greenfeld
November 28, 2018
The sixth PROJECT:OBJECT volume is a 25-part series of true stories about fossils — which is to say, objects that bear witness to a vanished way of life.
*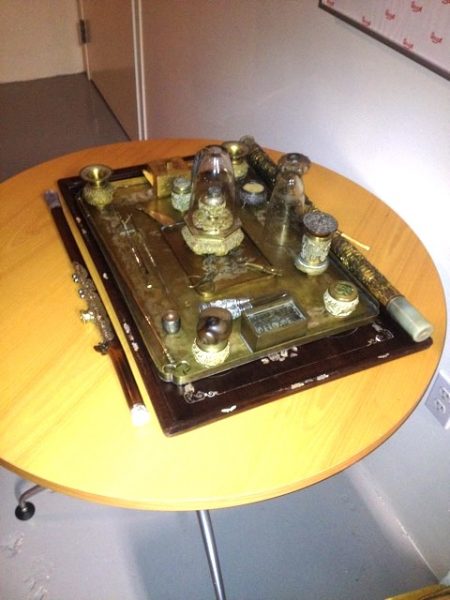 In the fall of 2014, Steven Martin, author of seminal books on opium collectibles and addiction, assembled for me one of the few complete, antique opium layouts in the world.
We met in Bangkok in 1996. I was newly sober from a decade-long drug addiction, and Steven had yet to embark on the opium addiction that would end up defining his life. I hired him as a fixer while reporting a story for Time on opium tourists in Vang Vieng, a riverside village in Laos where westerners would pay a few kip to smoke opium from hill tribe bamboo pipes using sterno cans as lamps. We bought a pair of opium pipes in a curio shop. A compulsive collector since childhood, Steven was smitten by his new souvenir and spent that evening in a hotel admiring the pipe's crisp lines. "It was a decidedly cool thing to collect," he would write in Opium Fiend (2012), "perhaps the coolest thing I had ever considered collecting. And in that instant I knew I had to have more of them."
He became the world's foremost expert in opium antiquities, rediscovering the lost artistry and craft that had surrounded the creation of elaborate pipes, bowls, lamps, layout trays, dross boxes, scrapers, and had once been commonplace wherever Chinese populations had settled. At the height of its popularity, in the 19th Century, there were at least 100 million opium users across Asia, North America and Europe. With the eradication campaigns of the early and mid 20th Century, however, most of the exquisite pieces had been destroyed, and many of the bowls, trays, dross boxes, and tools, the scissors for cutting the lamp wicks and the decorative shades to protect the smoker's sensitive eyes from the flickering lamplight, had been put to other uses.
Steven found beautiful, original pipes in the markets of Asia and on eBay. His book The Art of Opium Antiques was published in 2007. Of course, having the finest collection of opium pipes in the world and a source of the highest grade opium, he became an addict.
In 2009 he was diagnosed with testicular cancer, requiring five months of chemotherapy and an 8-hour operation to remove a testicle and a fist-sized tumor that had attached itself perilously close to his aorta. In 2014, when a screening revealed the cancer had recurred, he chose to let the disease run its course. He was 53.
He had already donated his extensive collection to the University of Idaho. But he had kept with him a few treasures, including one remarkable pipe, bronze with a bat and cloud motif. As I was visiting him one evening toward the end, I held this pipe. I was seized by the same desire to collect and own it as had prompted Steve's original obsession. I offered to buy it.
He proposed, instead, to assemble an entire layout, complete with an ornate repousse lamp, mother-of-pearl layout tray, spittoons, silver-handled scrapers, dross box, and a dozen more tools gathered with the intention of assembling the best and most complete opium smoking layout in the world. The project took him six months, and I like to think, besides his books, that it is his masterwork.
I picked it up from him on November 25, 2014. He died in February 2015, from an intentional overdose of modern — and to his way of thinking, profane — versions of the opium that he himself had become addicted to during his frenzied collection. Oxycodone. Hydrocodone. Hydromorphone.
The layout remains packed in the suitcase in which he lovingly bubble wrapped each item. Every few months I think of taking it out and setting it up — it's a real thing of beauty, stunning in its intricacies — but then I imagine the cat will knock over the glass lamp, or one of my daughters' friends will get the wrong impression, and so I keep this tribute to our addictions hidden away.
*
FOSSILS: INTRODUCTION | Allegra Huston on SKATAWAY JACKET | Kevin Obsatz on HOMEMADE NUNCHUKS | Ian Bogost on DESKTOP TELEPHONE | Jeff Lewonczyk on CHA-CHA JACKET SCRAP | Kelly Horan on VOLVO KEY | Sarah Rich on WESTFEST EARRINGS | Cynthia Joyce on MELODICA | Kevin Brockmeier on SALADMOBILE | Adam Harrison Levy on PASSPORT HOLDER | Marissa Frayer on BABY BLANKET | Elizabeth Foy Larsen on RML BOOKEND | Jae Nichelle on SHEET MUSIC | Sean Patrick Walsh on TYPEWRITER | Andrew Innes on BUST OF DUCK | Carla Sinclair on FACTSHEET FIVE | Chapell Ellison on SLEIGH BELL | Malcolm Evans on "QUEEN MARY" FOB | Jason Gilbert on HAND CHAIR | Karl Taro Greenfeld on OPIUM KIT | Tony Leone on MODEL TANK | Dave Boerger on TEEN BIBLE | Chelsey Johnson on BREYER HORSES | Erin M. Routson on PAPER WALLET | Alissa Walker on JUKEBOX | Adrienne Crew on FISH SCALER.
FLAIR: INTRODUCTION | Cliff Kuang on ROLEX DATEJUST | Ethan Zuckerman on LAPTOP STICKERS | Ann Shoket on LEATHER JACKET | Kembrew McLeod on KEMBREW MERCH | Paola Antonelli on MERMAID TEARS | & 20 MORE.
LOST OBJECTS (vol. 1): INTRODUCTION | Kate Bernheimer on MULLET WIG (ill. Amy Evans) | Dan Piepenbring on COLOGNE (ill. Josh Neufeld) | Doug Dorst on STRATOCASTER (ill. John Holbo) | Paul Lukas on VANILLA BEAN (ill. Allison Bamcat) | Mimi Lipson on DODGE DART (ill. Mister Reusch) | & 20 MORE.
ILLICIT OBJECTS: INTRODUCTION | Kio Stark on PEEPSHOW TOKEN | Sari Wilson on TOMBSTONE PARTS | Annalee Newitz on CAR-BOMB REMNANT | Tito Bottitta on MOONINITE DEVICE | Eric Bennett on DIRTY MAGAZINE | & 20 MORE.
TALISMANIC OBJECTS: INTRODUCTION | Veda Hille on CROCHET SHEEP | Gary Panter on DINOSAUR BONES | Jami Attenberg on SELENITE CRYSTAL | Annie Nocenti on MINIATURE DICE | Wayne Curtis on CLOCK WINDING KEY | & 20 MORE.
POLITICAL OBJECTS: INTRODUCTION | Luc Sante on CAMPAIGN PAMPHLETS | Lydia Millet on PVC POLAR BEAR | Ben Greenman on MATCHBOX CAR | Rob Baedeker on PRESIDENTS PLACEMAT | L.A. Kauffman on WHEATPASTE POSTER | & 20 MORE.
SIGNIFICANT OBJECTS at HILOBROW: PROJECT:OBJECT homepage | PROJECT:OBJECT newsletter | PROJECT:OBJECT objects (Threadless shop — all profits donated to the ACLU) | POLITICAL OBJECTS series (1Q2017) | TALISMANIC OBJECTS series (2Q2017) | ILLICIT OBJECTS series (3Q2017) | LOST OBJECTS vol. 1 series (4Q2017) | FLAIR series (2Q2018) | FOSSIL series (4Q2018) | FETISHES series (2Q2019) | LOST OBJECTS vol. 2 series (4Q2019) | MOVIE OBJECTS series (2Q2020). ALSO SEE: SIGNIFICANT OBJECTS website | SIGNIFICANT OBJECTS collection, ed. Rob Walker and Josh Glenn (Fantagraphics, 2012) | TAKING THINGS SERIOUSLY, ed. Josh Glenn (Princeton Architectural Press, 2007) | TAKING THINGS SERIOUSLY excerpts.