FOSSILS (7)
By: Cynthia Joyce
October 20, 2018
The sixth PROJECT:OBJECT volume is a 25-part series of true stories about fossils — which is to say, objects that bear witness to a vanished way of life.
*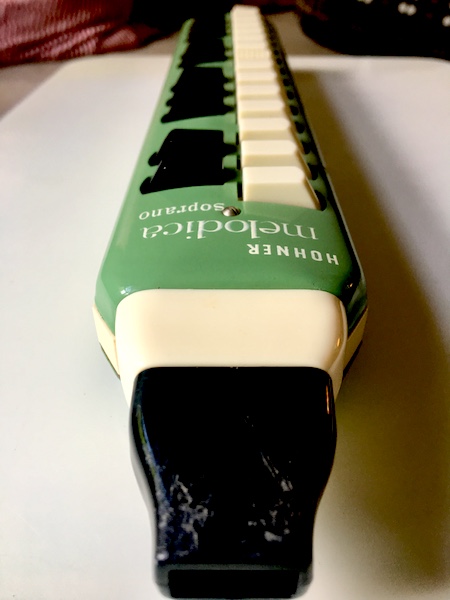 By the time I encountered the Melodica, I'd already been taking violin lessons for a few years. God, how that instrument gave me a pain. Literal scars. My fingertips were calloused from pressing on the strings; holding it up left a hickey under my chin. There was practicing — so much practicing — and still it only sounded right some of the time. And then there were the mandatory performances. In between, there was hardly anything that resembled "playing."
Playing the Melodica, on the other hand, was like riding a tricycle across a life-sized atlas. You couldn't get lost; you couldn't bend or break the notes, which were limited to just two octaves and comfortably laid out in front of you. It was musical paint-by-numbers — all you had to do was press the buttons and breathe.
From the very first time I blew into one, it sounded like it was supposed to (and like it still does, more than 40 years later and five minutes ago): funky and bright, like a harmonica, with a dollop of schmaltz, like an accordion.
I still have two of them. They were Christmas presents given to my older sister and me by my grandparents, circa 1976: Hohner Melodicas, one alto and one soprano, separate but equal, intended to be just different enough to keep our chronic rivalry in check.
My sister got the alto, which at some point she left at my parents' house, so naturally I took it. I asked her about it recently to see whether she'd noticed.
— "Didn't Grandma and Grandpa give you one, too? Yours was…"
I was about to say "red," but, being the bossy big sister, she finished my sentence for me:
— "…the better one!"
She is 53 years old. You can see why same-but-arguably-different was a necessary gift-giving strategy.
Anyway, hers-now-mine is indeed a deep red, the same shade as my Etch-a-Sketch and our mother's VW Bug. But mine is mint-green — the perfect hue of an idyllic 1970s youth, a color now synonymous with nostalgia itself. It was the color of our rotary phone, my grandparents' American Tourister suitcases, and scary equipment at the dentist's office. It was also, at one time or another, the color of everybody's bathroom.
I still play both mine and my sister's Melodica from time to time, when I'm bored or procrastinating or just walking around the house, even though there's something sort of self-consciously mournful about it and one of them (hers) has a stuck key because somebody (not me) dropped a Mallo Cup crumb or something on it a long time ago.
After a while, my playing elicits repeated heavy sighs from the dog, at which point I know it's time to put it away.
*
FOSSILS: INTRODUCTION | Allegra Huston on SKATAWAY JACKET | Kevin Obsatz on HOMEMADE NUNCHUKS | Ian Bogost on DESKTOP TELEPHONE | Jeff Lewonczyk on CHA-CHA JACKET SCRAP | Kelly Horan on VOLVO KEY | Sarah Rich on WESTFEST EARRINGS | Cynthia Joyce on MELODICA | Kevin Brockmeier on SALADMOBILE | Adam Harrison Levy on PASSPORT HOLDER | Marissa Frayer on BABY BLANKET | Elizabeth Foy Larsen on RML BOOKEND | Jae Nichelle on SHEET MUSIC | Sean Patrick Walsh on TYPEWRITER | Andrew Innes on BUST OF DUCK | Carla Sinclair on FACTSHEET FIVE | Chapell Ellison on SLEIGH BELL | Malcolm Evans on "QUEEN MARY" FOB | Jason Gilbert on HAND CHAIR | Karl Taro Greenfeld on OPIUM KIT | Tony Leone on MODEL TANK | Dave Boerger on TEEN BIBLE | Chelsey Johnson on BREYER HORSES | Erin M. Routson on PAPER WALLET | Alissa Walker on JUKEBOX | Adrienne Crew on FISH SCALER.
FLAIR: INTRODUCTION | Cliff Kuang on ROLEX DATEJUST | Ethan Zuckerman on LAPTOP STICKERS | Ann Shoket on LEATHER JACKET | Kembrew McLeod on KEMBREW MERCH | Paola Antonelli on MERMAID TEARS | & 20 MORE.
LOST OBJECTS (vol. 1): INTRODUCTION | Kate Bernheimer on MULLET WIG (ill. Amy Evans) | Dan Piepenbring on COLOGNE (ill. Josh Neufeld) | Doug Dorst on STRATOCASTER (ill. John Holbo) | Paul Lukas on VANILLA BEAN (ill. Allison Bamcat) | Mimi Lipson on DODGE DART (ill. Mister Reusch) | & 20 MORE.
ILLICIT OBJECTS: INTRODUCTION | Kio Stark on PEEPSHOW TOKEN | Sari Wilson on TOMBSTONE PARTS | Annalee Newitz on CAR-BOMB REMNANT | Tito Bottitta on MOONINITE DEVICE | Eric Bennett on DIRTY MAGAZINE | & 20 MORE.
TALISMANIC OBJECTS: INTRODUCTION | Veda Hille on CROCHET SHEEP | Gary Panter on DINOSAUR BONES | Jami Attenberg on SELENITE CRYSTAL | Annie Nocenti on MINIATURE DICE | Wayne Curtis on CLOCK WINDING KEY | & 20 MORE.
POLITICAL OBJECTS: INTRODUCTION | Luc Sante on CAMPAIGN PAMPHLETS | Lydia Millet on PVC POLAR BEAR | Ben Greenman on MATCHBOX CAR | Rob Baedeker on PRESIDENTS PLACEMAT | L.A. Kauffman on WHEATPASTE POSTER | & 20 MORE.
SIGNIFICANT OBJECTS at HILOBROW: PROJECT:OBJECT homepage | PROJECT:OBJECT newsletter | PROJECT:OBJECT objects (Threadless shop — all profits donated to the ACLU) | POLITICAL OBJECTS series (1Q2017) | TALISMANIC OBJECTS series (2Q2017) | ILLICIT OBJECTS series (3Q2017) | LOST OBJECTS vol. 1 series (4Q2017) | FLAIR series (2Q2018) | FOSSIL series (4Q2018) | FETISHES series (2Q2019) | LOST OBJECTS vol. 2 series (4Q2019) | MOVIE OBJECTS series (2Q2020). ALSO SEE: SIGNIFICANT OBJECTS website | SIGNIFICANT OBJECTS collection, ed. Rob Walker and Josh Glenn (Fantagraphics, 2012) | TAKING THINGS SERIOUSLY, ed. Josh Glenn (Princeton Architectural Press, 2007) | TAKING THINGS SERIOUSLY excerpts.