FOSSILS (16)
By: Chapell Ellison
November 19, 2018
The sixth PROJECT:OBJECT volume is a 25-part series of true stories about fossils — which is to say, objects that bear witness to a vanished way of life.
*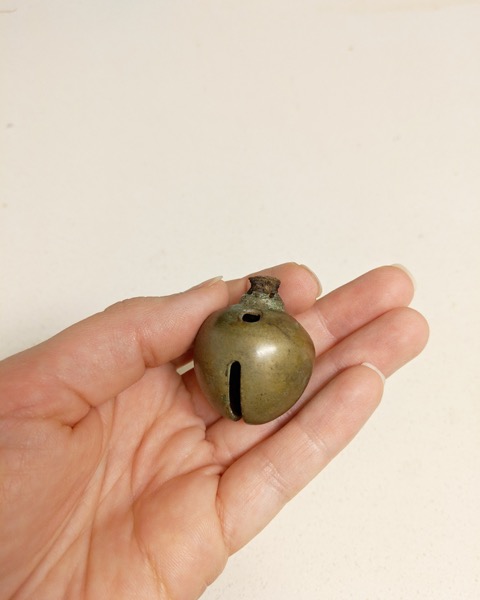 It's 1989. A 39-year-old woman wades through mountains of unsorted items in an antique shop in northeast Texas, where antique shops are run out of converted garages. This woman is my mom. She's looking for a Christmas gift for me. As she scans bins of vintage magazines and jars of bottle caps and coins from forgotten regimes, she begins to lose hope.
See, when I was 6 years old, I wrote a letter to Santa and asked for two gifts. One, that there would be no more litter in the world — a tall order, even for Santa — and two, a bell from Santa's sleigh.
"Sleigh bells?" the owner says, in the kind of drawl you only hear in a 100-mile radius of the great bend of the southern Red River. "Don't know if we have any of those things, but if we did, they'd be back over yonder." He nods toward a corner of the store. My mom sifts through a cardboard box on the floor, labeled: "50 cents each." She digs past a mix of decorative pins, figurines and trinkets, toward a sound — a distinct jingling — and scoops up a heavy, tarnished brass sleigh bell. It is perfect.
On Christmas morning, when I discovered a perfectly square little box with a tag that read, "From: Santa," I knew it was the sleigh bell. Perhaps I wanted to keep a part of Santa in my pocket year-round, to be reminded of my favorite time of the year? But that's the Hallmark card version. What I really wanted was proof. The sleigh bell could finally validate the stories I'd only heard and read in books, about this guy in a red suit who shoved himself through chimneys to give freebies to sleeping families.
Now, as an adult woman, nearing the age my mom was in 1989, the sleigh bell doesn't remind me of Santa. When I roll it in the palm of my hand, feel its heft and hear its deep jangling tone, I think of a mother's determination to bring joy and magic to her daughter, even if it meant digging through box after box in small-town resale shops. Objects, as it turns out, are proof. Maybe not of Santa Claus, but of the relationships between people, both those who make the object and those who give and receive it. I've come to find this is far more magical than the guy in the red suit could ever hope to be.
*
FOSSILS: INTRODUCTION | Allegra Huston on SKATAWAY JACKET | Kevin Obsatz on HOMEMADE NUNCHUKS | Ian Bogost on DESKTOP TELEPHONE | Jeff Lewonczyk on CHA-CHA JACKET SCRAP | Kelly Horan on VOLVO KEY | Sarah Rich on WESTFEST EARRINGS | Cynthia Joyce on MELODICA | Kevin Brockmeier on SALADMOBILE | Adam Harrison Levy on PASSPORT HOLDER | Marissa Frayer on BABY BLANKET | Elizabeth Foy Larsen on RML BOOKEND | Jae Nichelle on SHEET MUSIC | Sean Patrick Walsh on TYPEWRITER | Andrew Innes on BUST OF DUCK | Carla Sinclair on FACTSHEET FIVE | Chapell Ellison on SLEIGH BELL | Malcolm Evans on "QUEEN MARY" FOB | Jason Gilbert on HAND CHAIR | Karl Taro Greenfeld on OPIUM KIT | Tony Leone on MODEL TANK | Dave Boerger on TEEN BIBLE | Chelsey Johnson on BREYER HORSES | Erin M. Routson on PAPER WALLET | Alissa Walker on JUKEBOX | Adrienne Crew on FISH SCALER.
FLAIR: INTRODUCTION | Cliff Kuang on ROLEX DATEJUST | Ethan Zuckerman on LAPTOP STICKERS | Ann Shoket on LEATHER JACKET | Kembrew McLeod on KEMBREW MERCH | Paola Antonelli on MERMAID TEARS | & 20 MORE.
LOST OBJECTS (vol. 1): INTRODUCTION | Kate Bernheimer on MULLET WIG (ill. Amy Evans) | Dan Piepenbring on COLOGNE (ill. Josh Neufeld) | Doug Dorst on STRATOCASTER (ill. John Holbo) | Paul Lukas on VANILLA BEAN (ill. Allison Bamcat) | Mimi Lipson on DODGE DART (ill. Mister Reusch) | & 20 MORE.
ILLICIT OBJECTS: INTRODUCTION | Kio Stark on PEEPSHOW TOKEN | Sari Wilson on TOMBSTONE PARTS | Annalee Newitz on CAR-BOMB REMNANT | Tito Bottitta on MOONINITE DEVICE | Eric Bennett on DIRTY MAGAZINE | & 20 MORE.
TALISMANIC OBJECTS: INTRODUCTION | Veda Hille on CROCHET SHEEP | Gary Panter on DINOSAUR BONES | Jami Attenberg on SELENITE CRYSTAL | Annie Nocenti on MINIATURE DICE | Wayne Curtis on CLOCK WINDING KEY | & 20 MORE.
POLITICAL OBJECTS: INTRODUCTION | Luc Sante on CAMPAIGN PAMPHLETS | Lydia Millet on PVC POLAR BEAR | Ben Greenman on MATCHBOX CAR | Rob Baedeker on PRESIDENTS PLACEMAT | L.A. Kauffman on WHEATPASTE POSTER | & 20 MORE.
SIGNIFICANT OBJECTS at HILOBROW: PROJECT:OBJECT homepage | PROJECT:OBJECT newsletter | PROJECT:OBJECT objects (Threadless shop — all profits donated to the ACLU) | POLITICAL OBJECTS series (1Q2017) | TALISMANIC OBJECTS series (2Q2017) | ILLICIT OBJECTS series (3Q2017) | LOST OBJECTS vol. 1 series (4Q2017) | FLAIR series (2Q2018) | FOSSIL series (4Q2018) | FETISHES series (2Q2019) | LOST OBJECTS vol. 2 series (4Q2019) | MOVIE OBJECTS series (2Q2020). ALSO SEE: SIGNIFICANT OBJECTS website | SIGNIFICANT OBJECTS collection, ed. Rob Walker and Josh Glenn (Fantagraphics, 2012) | TAKING THINGS SERIOUSLY, ed. Josh Glenn (Princeton Architectural Press, 2007) | TAKING THINGS SERIOUSLY excerpts.