FOSSILS (14)
By: Andrew Innes
November 13, 2018
The sixth PROJECT:OBJECT volume is a 25-part series of true stories about fossils — which is to say, objects that bear witness to a vanished way of life.
*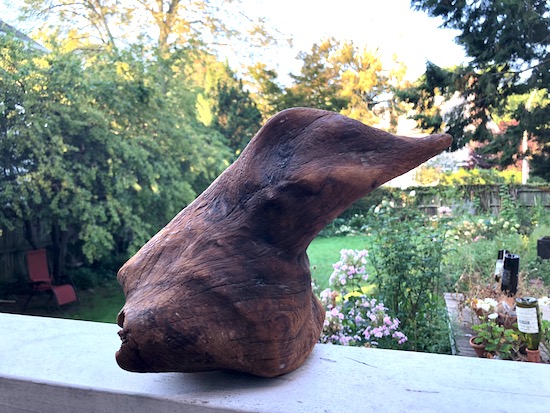 We stumbled upon Bust of Duck during a walk on the shore of Lake Champlain in December of 1988. A hunk of driftwood, perpetually bumped and smoothed by the lake and the weather. Does it even look like a duck? I don't think so, not really. We had arrived in Vermont the night before, after a long drive from Ohio; myself, my roommate Matt, and three friends at the start of our winter break. We made the trip in an old wood-paneled station wagon.
Bust of Duck brought instant amusement to our racing minds. The name bestowed immediately upon arrival. "BUST OF DUCK!" we intoned in our deepest Don Pardo voices, complete with a hearty imaginary reverb. "BUST OF DUCK…."
*
Bust of Duck sits on the book shelf in our dorm room. There is worn carpet, there are saggy mattresses. There are clothes on the floor and various instruments lying around; saxophones, harmonicas, a guitar. It's college. There's some weed. Lots of books. Matt and I roomed together for most of our time at college. We were instant friends sharing a passion for music, the absurd, and something we called THE TRUTH. The truth was elusive, but we knew it was about working at something, maybe practicing an instrument, until you reached a point of transcendence. And then this transcendence could just be your way of life. As if you could live inside of Kind of Blue, or Sunday at the Village Vanguard, or perhaps Mingus at Antibes. Just live there forever, being perfect.
*
I'm sitting in a chair in the ICU at SF General. Matt's in the bed. His body is full of tubes: an IV, a trach tube, a tube venting excess fluid from his brain. A partial lobectomy of the right temporal lobe has been performed. Bike accident, no helmet.
Bust of Duck is packed into my large green army duffel bag. The bag sits on the floor of Matt's bedroom in San Francisco. It's May of 1994 and I have just arrived in San Francisco with my girlfriend. We had decided to move west after our first post-college year in NYC.
We waited at the airport for Matt to pick us up. He was late. Though, he was pretty much always late. But then he was really late. And then he never came at all.
*
Bust of Duck sits in the window of our second-floor hallway. It's there with 4 orchids; three living, two flowering, one dead. It's 2018 and a little before 5 am, Boston. I come out of the bathroom, and notice Bust of Duck in the morning light with the orchids. There is a basket of laundry on the hallway floor. Also, there are two nerf bullets and a random piece of Lego just waiting for a bare foot. I think of Matt. I think of him often anyway, but Bust of Duck is old reliable. I head downstairs to make the coffee and then get on with my version of the truth.
*
FOSSILS: INTRODUCTION | Allegra Huston on SKATAWAY JACKET | Kevin Obsatz on HOMEMADE NUNCHUKS | Ian Bogost on DESKTOP TELEPHONE | Jeff Lewonczyk on CHA-CHA JACKET SCRAP | Kelly Horan on VOLVO KEY | Sarah Rich on WESTFEST EARRINGS | Cynthia Joyce on MELODICA | Kevin Brockmeier on SALADMOBILE | Adam Harrison Levy on PASSPORT HOLDER | Marissa Frayer on BABY BLANKET | Elizabeth Foy Larsen on RML BOOKEND | Jae Nichelle on SHEET MUSIC | Sean Patrick Walsh on TYPEWRITER | Andrew Innes on BUST OF DUCK | Carla Sinclair on FACTSHEET FIVE | Chapell Ellison on SLEIGH BELL | Malcolm Evans on "QUEEN MARY" FOB | Jason Gilbert on HAND CHAIR | Karl Taro Greenfeld on OPIUM KIT | Tony Leone on MODEL TANK | Dave Boerger on TEEN BIBLE | Chelsey Johnson on BREYER HORSES | Erin M. Routson on PAPER WALLET | Alissa Walker on JUKEBOX | Adrienne Crew on FISH SCALER.
FLAIR: INTRODUCTION | Cliff Kuang on ROLEX DATEJUST | Ethan Zuckerman on LAPTOP STICKERS | Ann Shoket on LEATHER JACKET | Kembrew McLeod on KEMBREW MERCH | Paola Antonelli on MERMAID TEARS | & 20 MORE.
LOST OBJECTS (vol. 1): INTRODUCTION | Kate Bernheimer on MULLET WIG (ill. Amy Evans) | Dan Piepenbring on COLOGNE (ill. Josh Neufeld) | Doug Dorst on STRATOCASTER (ill. John Holbo) | Paul Lukas on VANILLA BEAN (ill. Allison Bamcat) | Mimi Lipson on DODGE DART (ill. Mister Reusch) | & 20 MORE.
ILLICIT OBJECTS: INTRODUCTION | Kio Stark on PEEPSHOW TOKEN | Sari Wilson on TOMBSTONE PARTS | Annalee Newitz on CAR-BOMB REMNANT | Tito Bottitta on MOONINITE DEVICE | Eric Bennett on DIRTY MAGAZINE | & 20 MORE.
TALISMANIC OBJECTS: INTRODUCTION | Veda Hille on CROCHET SHEEP | Gary Panter on DINOSAUR BONES | Jami Attenberg on SELENITE CRYSTAL | Annie Nocenti on MINIATURE DICE | Wayne Curtis on CLOCK WINDING KEY | & 20 MORE.
POLITICAL OBJECTS: INTRODUCTION | Luc Sante on CAMPAIGN PAMPHLETS | Lydia Millet on PVC POLAR BEAR | Ben Greenman on MATCHBOX CAR | Rob Baedeker on PRESIDENTS PLACEMAT | L.A. Kauffman on WHEATPASTE POSTER | & 20 MORE.
SIGNIFICANT OBJECTS at HILOBROW: PROJECT:OBJECT homepage | PROJECT:OBJECT newsletter | PROJECT:OBJECT objects (Threadless shop — all profits donated to the ACLU) | POLITICAL OBJECTS series (1Q2017) | TALISMANIC OBJECTS series (2Q2017) | ILLICIT OBJECTS series (3Q2017) | LOST OBJECTS vol. 1 series (4Q2017) | FLAIR series (2Q2018) | FOSSIL series (4Q2018) | FETISHES series (2Q2019) | LOST OBJECTS vol. 2 series (4Q2019) | MOVIE OBJECTS series (2Q2020). ALSO SEE: SIGNIFICANT OBJECTS website | SIGNIFICANT OBJECTS collection, ed. Rob Walker and Josh Glenn (Fantagraphics, 2012) | TAKING THINGS SERIOUSLY, ed. Josh Glenn (Princeton Architectural Press, 2007) | TAKING THINGS SERIOUSLY excerpts.