FOSSILS (21)
By: Dave Boerger
December 4, 2018
The sixth PROJECT:OBJECT volume is a 25-part series of true stories about fossils — which is to say, objects that bear witness to a vanished way of life.
*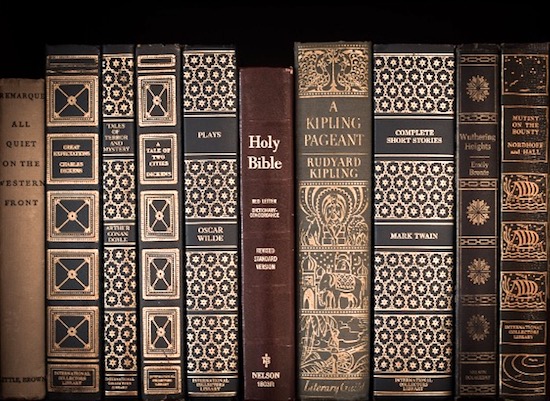 I collect books with pretty spines.
The oddball in my collection – not at all pretty – is the Holy Bible.
It was given to me at my Lutheran confirmation. As the grandson of a minister, I saw this as a truly sacred event. But for the other 9th graders, it was a pain to endure, like an overplayed Weird Al Yankovic song. At the rehearsal, the chit-chatting grew so loud that Pastor Orv bellowed "If you can't hear my questions tomorrow, know that the answers are 'yes!'"
The whole thing felt like a sham.
But instead of rejecting religion, I doubled down, taking my soul across town to an Evangelical Free church. I accepted Jesus as my Lord and Savior and became a "soldier in God's army." Soon I was at the mall helping strangers avoid eternal damnation. Life was good.
Two years later, I flew to Boston for a summer academic program. I was a new-to-deodorant 16 year-old packing heat (my trusty Bible). But it wasn't until the final week that I found Bo, a guitar-strumming, Division I hockey player and uber-cool Christian. He invited me to a bible study.
That evening, as we listened to verses from the book of Matthew, I felt like I was home again. As we wrapped up, the leader asked "How about you, Dave? Have you been baptized?"
"Yes. As a baby."
"Interesting. Why do think Jesus chose to be baptized as an adult in the river Jordan?"
I mumbled something, but more questions followed. As more smiling faces turned my way, it dawned on me that this wasn't a digression, the verses hadn't been chosen at random, and that this bible study was more of a Dave study.
Soon I was agreeing I needed to baptized again.
"I'd love to attend your Sunday service at the Charles River. But my flight back to Minnesota is Thursday."
[Whispering ensued].
"Dave, what if I told you we can take care of your flight and extended lodging?"
These were the most generous one-hour-friends I'd ever had.
But it was happening so fast.
"I'm sorry. I can't."
*
I landed in Minneapolis confused. Did baptism have an age requirement? Was my come-to-Jesus moment invalid because it wasn't wet?
My youth pastor assured me I'd run into a fringe group overly focused on a technicality.
But if they were fringe, who were we? The line between saved souls and overcooked s'more souls was getting fuzzier by the minute.
By the following year, as I chose what to pack for college, I elected to keep my bible on the shelf.
And there it stayed for twenty-five years.
But today, even as my spiritual pendulum has swung toward atheism, my bible still comes in handy. When "liberal elitist" Facebook friends mock the Trump-thumping evangelicals, I look up at my leather talisman and think "There but by the grace of God go I…"
For if not for a Bible study, I might still be a Christian.
*
FOSSILS: INTRODUCTION | Allegra Huston on SKATAWAY JACKET | Kevin Obsatz on HOMEMADE NUNCHUKS | Ian Bogost on DESKTOP TELEPHONE | Jeff Lewonczyk on CHA-CHA JACKET SCRAP | Kelly Horan on VOLVO KEY | Sarah Rich on WESTFEST EARRINGS | Cynthia Joyce on MELODICA | Kevin Brockmeier on SALADMOBILE | Adam Harrison Levy on PASSPORT HOLDER | Marissa Frayer on BABY BLANKET | Elizabeth Foy Larsen on RML BOOKEND | Jae Nichelle on SHEET MUSIC | Sean Patrick Walsh on TYPEWRITER | Andrew Innes on BUST OF DUCK | Carla Sinclair on FACTSHEET FIVE | Chapell Ellison on SLEIGH BELL | Malcolm Evans on "QUEEN MARY" FOB | Jason Gilbert on HAND CHAIR | Karl Taro Greenfeld on OPIUM KIT | Tony Leone on MODEL TANK | Dave Boerger on TEEN BIBLE | Chelsey Johnson on BREYER HORSES | Erin M. Routson on PAPER WALLET | Alissa Walker on JUKEBOX | Adrienne Crew on FISH SCALER.
FLAIR: INTRODUCTION | Cliff Kuang on ROLEX DATEJUST | Ethan Zuckerman on LAPTOP STICKERS | Ann Shoket on LEATHER JACKET | Kembrew McLeod on KEMBREW MERCH | Paola Antonelli on MERMAID TEARS | & 20 MORE.
LOST OBJECTS (vol. 1): INTRODUCTION | Kate Bernheimer on MULLET WIG (ill. Amy Evans) | Dan Piepenbring on COLOGNE (ill. Josh Neufeld) | Doug Dorst on STRATOCASTER (ill. John Holbo) | Paul Lukas on VANILLA BEAN (ill. Allison Bamcat) | Mimi Lipson on DODGE DART (ill. Mister Reusch) | & 20 MORE.
ILLICIT OBJECTS: INTRODUCTION | Kio Stark on PEEPSHOW TOKEN | Sari Wilson on TOMBSTONE PARTS | Annalee Newitz on CAR-BOMB REMNANT | Tito Bottitta on MOONINITE DEVICE | Eric Bennett on DIRTY MAGAZINE | & 20 MORE.
TALISMANIC OBJECTS: INTRODUCTION | Veda Hille on CROCHET SHEEP | Gary Panter on DINOSAUR BONES | Jami Attenberg on SELENITE CRYSTAL | Annie Nocenti on MINIATURE DICE | Wayne Curtis on CLOCK WINDING KEY | & 20 MORE.
POLITICAL OBJECTS: INTRODUCTION | Luc Sante on CAMPAIGN PAMPHLETS | Lydia Millet on PVC POLAR BEAR | Ben Greenman on MATCHBOX CAR | Rob Baedeker on PRESIDENTS PLACEMAT | L.A. Kauffman on WHEATPASTE POSTER | & 20 MORE.
SIGNIFICANT OBJECTS at HILOBROW: PROJECT:OBJECT homepage | PROJECT:OBJECT newsletter | PROJECT:OBJECT objects (Threadless shop — all profits donated to the ACLU) | POLITICAL OBJECTS series (1Q2017) | TALISMANIC OBJECTS series (2Q2017) | ILLICIT OBJECTS series (3Q2017) | LOST OBJECTS vol. 1 series (4Q2017) | FLAIR series (2Q2018) | FOSSIL series (4Q2018) | FETISHES series (2Q2019) | LOST OBJECTS vol. 2 series (4Q2019) | MOVIE OBJECTS series (2Q2020). ALSO SEE: SIGNIFICANT OBJECTS website | SIGNIFICANT OBJECTS collection, ed. Rob Walker and Josh Glenn (Fantagraphics, 2012) | TAKING THINGS SERIOUSLY, ed. Josh Glenn (Princeton Architectural Press, 2007) | TAKING THINGS SERIOUSLY excerpts.