FOSSILS (17)
By: Malcolm Evans
November 22, 2018
The sixth PROJECT:OBJECT volume is a 25-part series of true stories about fossils — which is to say, objects that bear witness to a vanished way of life.
*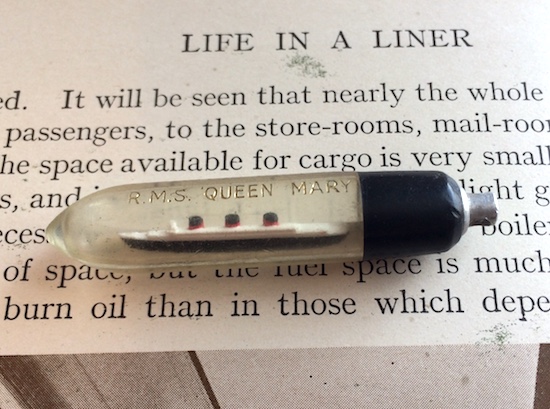 Its bullet shape lodges in a sediment of undiscarded objects. The keyring and chain are lost. The time-capsule souvenir survived. My parents were like children themselves when they showed it to us onboard. A miniature Queen Mary imagined by a five year-old boy as a world with invisible people.
Ocean liners represented empire, speed and scale. The blue ribband; how the ship would look dwarfing Nelson's column diagonal across Trafalgar Square; boys' own comic illustrations with precise portholes, cabins, engine room, kitchens, pools, theatres. Big model ships you walked around in museums. Dream toys for giants.
Our first sight of it was at Southampton docks. The hull's black cliff, three huge funnels above, gulls filling the air. There's a picture of us at dinner. Mum and Dad's eyes shine. Nigel, aged seven, seen from behind looking towards them. Me half rising from my seat, smiling at the photographer. I'm always surprised when it surfaces, never looking quite as in memory.
The Welsh village's young schoolteachers fall in love. He goes to war, eventually captains a torpedo boat. War ends, they marry and have children, then leap into the blue — cross the Atlantic, overnight by train from Grand Central to Miami. Landing on an island of white sand, tropical seas, palm fronds. With five families interbreeding for a couple of centuries since a ship carrying puritans to America wrecked on a reef nearby.
Then three years lit by dazzling sun. Smell of hog plums, mango, decomposing guava. Children lost to the sea at night. Evangelists arriving each year by seaplane. Everybody suddenly born again. How Dad's unfamiliar burnt cooking tasted the day Mum had to be flown to Nassau to be looked after.
They say about my generation that just when you think you're through all the lows and highs — jobs, children, divorces, hopes and dreams — the biggest thing yet arrives as if from nowhere. Death of parents, unimaginable turmoil of bereavement, actual grief. When you say "I lost my dad" the euphemism is literal. You are there, lost, five years old in a place with no bearings. I would visit my mother at the home near the end of her life, when she couldn't leave bed or say more than a word or two. It became a ritual, like the prelude to a story, to ask at some point "Do you remember the day we walked to Lower End?" Her eyes would open wide in amazement, then she would look at me and nod. That was the deserted part of the island, where nature was still in charge. The walk was unplanned, hazy always in memory, just the happiest time. For reasons of its own.
The walk would always reach a horizon where neither of us could see what happened next. Here it ends with the key fob diminishing to nothing. A grain of sand between numb fingers.
*
FOSSILS: INTRODUCTION | Allegra Huston on SKATAWAY JACKET | Kevin Obsatz on HOMEMADE NUNCHUKS | Ian Bogost on DESKTOP TELEPHONE | Jeff Lewonczyk on CHA-CHA JACKET SCRAP | Kelly Horan on VOLVO KEY | Sarah Rich on WESTFEST EARRINGS | Cynthia Joyce on MELODICA | Kevin Brockmeier on SALADMOBILE | Adam Harrison Levy on PASSPORT HOLDER | Marissa Frayer on BABY BLANKET | Elizabeth Foy Larsen on RML BOOKEND | Jae Nichelle on SHEET MUSIC | Sean Patrick Walsh on TYPEWRITER | Andrew Innes on BUST OF DUCK | Carla Sinclair on FACTSHEET FIVE | Chapell Ellison on SLEIGH BELL | Malcolm Evans on "QUEEN MARY" FOB | Jason Gilbert on HAND CHAIR | Karl Taro Greenfeld on OPIUM KIT | Tony Leone on MODEL TANK | Dave Boerger on TEEN BIBLE | Chelsey Johnson on BREYER HORSES | Erin M. Routson on PAPER WALLET | Alissa Walker on JUKEBOX | Adrienne Crew on FISH SCALER.
FLAIR: INTRODUCTION | Cliff Kuang on ROLEX DATEJUST | Ethan Zuckerman on LAPTOP STICKERS | Ann Shoket on LEATHER JACKET | Kembrew McLeod on KEMBREW MERCH | Paola Antonelli on MERMAID TEARS | & 20 MORE.
LOST OBJECTS (vol. 1): INTRODUCTION | Kate Bernheimer on MULLET WIG (ill. Amy Evans) | Dan Piepenbring on COLOGNE (ill. Josh Neufeld) | Doug Dorst on STRATOCASTER (ill. John Holbo) | Paul Lukas on VANILLA BEAN (ill. Allison Bamcat) | Mimi Lipson on DODGE DART (ill. Mister Reusch) | & 20 MORE.
ILLICIT OBJECTS: INTRODUCTION | Kio Stark on PEEPSHOW TOKEN | Sari Wilson on TOMBSTONE PARTS | Annalee Newitz on CAR-BOMB REMNANT | Tito Bottitta on MOONINITE DEVICE | Eric Bennett on DIRTY MAGAZINE | & 20 MORE.
TALISMANIC OBJECTS: INTRODUCTION | Veda Hille on CROCHET SHEEP | Gary Panter on DINOSAUR BONES | Jami Attenberg on SELENITE CRYSTAL | Annie Nocenti on MINIATURE DICE | Wayne Curtis on CLOCK WINDING KEY | & 20 MORE.
POLITICAL OBJECTS: INTRODUCTION | Luc Sante on CAMPAIGN PAMPHLETS | Lydia Millet on PVC POLAR BEAR | Ben Greenman on MATCHBOX CAR | Rob Baedeker on PRESIDENTS PLACEMAT | L.A. Kauffman on WHEATPASTE POSTER | & 20 MORE.
SIGNIFICANT OBJECTS at HILOBROW: PROJECT:OBJECT homepage | PROJECT:OBJECT newsletter | PROJECT:OBJECT objects (Threadless shop — all profits donated to the ACLU) | POLITICAL OBJECTS series (1Q2017) | TALISMANIC OBJECTS series (2Q2017) | ILLICIT OBJECTS series (3Q2017) | LOST OBJECTS vol. 1 series (4Q2017) | FLAIR series (2Q2018) | FOSSIL series (4Q2018) | FETISHES series (2Q2019) | LOST OBJECTS vol. 2 series (4Q2019) | MOVIE OBJECTS series (2Q2020). ALSO SEE: SIGNIFICANT OBJECTS website | SIGNIFICANT OBJECTS collection, ed. Rob Walker and Josh Glenn (Fantagraphics, 2012) | TAKING THINGS SERIOUSLY, ed. Josh Glenn (Princeton Architectural Press, 2007) | TAKING THINGS SERIOUSLY excerpts.