FOSSILS (9)
By: Adam Harrison Levy
October 26, 2018
The sixth PROJECT:OBJECT volume is a 25-part series of true stories about fossils — which is to say, objects that bear witness to a vanished way of life.
*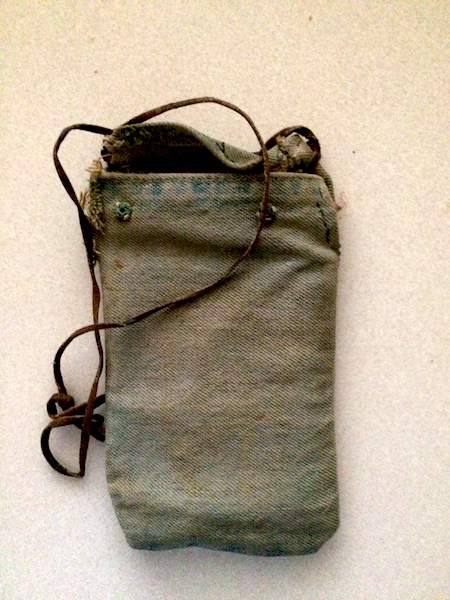 The pouch is hand-made from denim with a leather lariat as tough as a hobo's shoe. It was sewn by my sister, a present when I embarked on a backpacking trip through Europe in 1986. I was travelling with my best friend from high school. We each carried a Fodor's guide, three changes of clothes, a Swiss Army knife, a (film) camera, and a book. I brought A Portrait of the Artist as a Young Man and he brought The Tin Drum. We each had $500 dollars and our passports.
I worried about my money and my passport. We had Eurorail passes so we could spontaneously travel from country to country. We planned on sleeping on the train when not staying in youth hostels. I wanted to visit Montparnasse and he wanted to hang out in Venice. Rome was likely because we were both Fellini fans. Would we visit Omaha Beach? Hike the Pyrenees? Visit Auschwitz to please our parents? Or head to the Mediterranean coast hoping to get laid?
We had heard stories of kids getting robbed by sneaky Sardinians with knives or losing their passports on benches and beaches. We could tuck our documents into the recesses of our ponderous metal-framed backpacks, but what would happen when we went to sleep? Our passports were too rigid to fit comfortably into our pockets and fanny packs were for middle-aged tourists from Kansas. The pouch was the solution.
Neither of us had travelled outside of America. We landed in Frankfurt and boarded an overnight train heading south. We had no particular destination. The sleeping compartment was thrilling: heavy metal sliding doors that thunked closed, narrow bunk beds, the stale smell of cigarettes, and the sway of the train as it hurtled over junctions. We felt like we had entered the past, the post-World War Two era of Middle Europa, where cynical men in overcoats stood in the shadow of doorways.
Around three in the morning the door abruptly slid open. A uniformed conductor asked for our tickets. Holding a small flashlight in his hand, he looked them over. He then swept the beam across our faces and demanded our "reisepass" — our passports. I fished in the pouch that was hanging from my neck. "Türkisch?" he asked threateningly. My hands were shaking as I unsnapped the pouch and took out my passport. I handed it to him. He brightened. "American," he said in accented German. "Welcome aboard!"
During those fifteen seconds when I had anxiously fumbled with the pouch, I experienced the fear of being suspected to be an illegal immigrant. For a terrifying moment my history, my memory, and my family didn't exist until I could prove otherwise. The pouch had protected my identity. I never felt more Jewish, more American, nor more naïve.
*
FOSSILS: INTRODUCTION | Allegra Huston on SKATAWAY JACKET | Kevin Obsatz on HOMEMADE NUNCHUKS | Ian Bogost on DESKTOP TELEPHONE | Jeff Lewonczyk on CHA-CHA JACKET SCRAP | Kelly Horan on VOLVO KEY | Sarah Rich on WESTFEST EARRINGS | Cynthia Joyce on MELODICA | Kevin Brockmeier on SALADMOBILE | Adam Harrison Levy on PASSPORT HOLDER | Marissa Frayer on BABY BLANKET | Elizabeth Foy Larsen on RML BOOKEND | Jae Nichelle on SHEET MUSIC | Sean Patrick Walsh on TYPEWRITER | Andrew Innes on BUST OF DUCK | Carla Sinclair on FACTSHEET FIVE | Chapell Ellison on SLEIGH BELL | Malcolm Evans on "QUEEN MARY" FOB | Jason Gilbert on HAND CHAIR | Karl Taro Greenfeld on OPIUM KIT | Tony Leone on MODEL TANK | Dave Boerger on TEEN BIBLE | Chelsey Johnson on BREYER HORSES | Erin M. Routson on PAPER WALLET | Alissa Walker on JUKEBOX | Adrienne Crew on FISH SCALER.
FLAIR: INTRODUCTION | Cliff Kuang on ROLEX DATEJUST | Ethan Zuckerman on LAPTOP STICKERS | Ann Shoket on LEATHER JACKET | Kembrew McLeod on KEMBREW MERCH | Paola Antonelli on MERMAID TEARS | & 20 MORE.
LOST OBJECTS (vol. 1): INTRODUCTION | Kate Bernheimer on MULLET WIG (ill. Amy Evans) | Dan Piepenbring on COLOGNE (ill. Josh Neufeld) | Doug Dorst on STRATOCASTER (ill. John Holbo) | Paul Lukas on VANILLA BEAN (ill. Allison Bamcat) | Mimi Lipson on DODGE DART (ill. Mister Reusch) | & 20 MORE.
ILLICIT OBJECTS: INTRODUCTION | Kio Stark on PEEPSHOW TOKEN | Sari Wilson on TOMBSTONE PARTS | Annalee Newitz on CAR-BOMB REMNANT | Tito Bottitta on MOONINITE DEVICE | Eric Bennett on DIRTY MAGAZINE | & 20 MORE.
TALISMANIC OBJECTS: INTRODUCTION | Veda Hille on CROCHET SHEEP | Gary Panter on DINOSAUR BONES | Jami Attenberg on SELENITE CRYSTAL | Annie Nocenti on MINIATURE DICE | Wayne Curtis on CLOCK WINDING KEY | & 20 MORE.
POLITICAL OBJECTS: INTRODUCTION | Luc Sante on CAMPAIGN PAMPHLETS | Lydia Millet on PVC POLAR BEAR | Ben Greenman on MATCHBOX CAR | Rob Baedeker on PRESIDENTS PLACEMAT | L.A. Kauffman on WHEATPASTE POSTER | & 20 MORE.
SIGNIFICANT OBJECTS at HILOBROW: PROJECT:OBJECT homepage | PROJECT:OBJECT newsletter | PROJECT:OBJECT objects (Threadless shop — all profits donated to the ACLU) | POLITICAL OBJECTS series (1Q2017) | TALISMANIC OBJECTS series (2Q2017) | ILLICIT OBJECTS series (3Q2017) | LOST OBJECTS vol. 1 series (4Q2017) | FLAIR series (2Q2018) | FOSSIL series (4Q2018) | FETISHES series (2Q2019) | LOST OBJECTS vol. 2 series (4Q2019) | MOVIE OBJECTS series (2Q2020). ALSO SEE: SIGNIFICANT OBJECTS website | SIGNIFICANT OBJECTS collection, ed. Rob Walker and Josh Glenn (Fantagraphics, 2012) | TAKING THINGS SERIOUSLY, ed. Josh Glenn (Princeton Architectural Press, 2007) | TAKING THINGS SERIOUSLY excerpts.