FOSSILS (6)
By: Sarah Rich
October 17, 2018
The sixth PROJECT:OBJECT volume is a 25-part series of true stories about fossils — which is to say, objects that bear witness to a vanished way of life.
*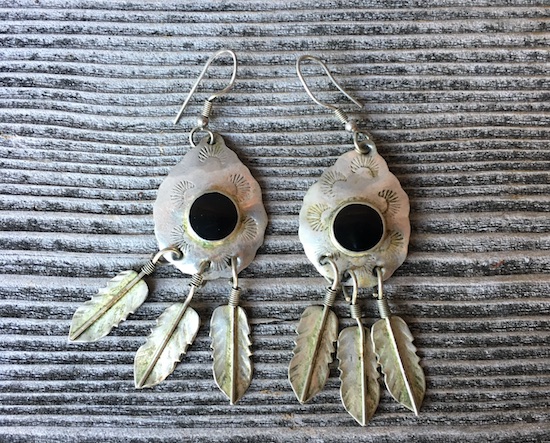 Her contact information shows up in my phone as "Maya Goddess Mother," because that's how she was stored in my friend's phone when he shared her number with me. Maya is in her 60s. She dyes her hair garnet and wears it in a thick, long braid over her shoulder. Her wrists are stacked with silver bracelets, and piles of beaded necklaces adorn her neck. In other words, Goddess Mother fits.
I'd known Maya for several years, but never had reason to call her until her daughter Tatyana, my friend and a little sister of sorts, was killed in a bike accident on the last day of May. Maya flew to Oakland to clear Tatyana's belongings from the place she'd just moved into. It didn't take long; Tatyana rented a room in a shared house of 20-somethings and traveled frequently, so her possessions were minimal.
Over the weekend as Tatyana's friends came and went from our house, where Maya was staying, they mentioned objects they might give me to remember her. There was a pair of red high tops, a houseplant, a Tarot deck, but the community absorbed it all swiftly, distributing pieces of her as analgesic against the acute, collective wound.
On the day before Maya started the drive home to Minneapolis, she offered me a pair of earrings she'd once gifted to Tatyana. She opened her palm to display two silver dream catchers with a black stone at the center, three feathers dangling from each circle.
I mostly wear yellow gold. But in some ways these are a better signifier of who I am, historically — a girl from the mountain west, whose childhood years were punctuated by visits to the Denver stock show and rodeo, and to an annual Labor Day weekend event called WestFest.
Now that I Google it, WestFest, which was founded in 1986 by country-western music star Michael Martin Murphey, was mostly a country music festival. But in my memory it was a maze of 10'x10' pop-up tents where Southwestern Native craftspeople displayed tables loaded with silver and turquoise jewelry, bolo ties, leather pouches and ghost beads. Each year we got to pick one thing before heading to the base of the mountain where cowboys were grilling burgers and hotdogs on kettle-drum sized barbeques and scooping out Styrofoam bowls of baked beans. We went back home when the bruisy afternoon thunderheads built up, before the music got loud and the crowd got drunk.
I hadn't thought about WestFest in probably 25 years until Maya offered Tatyana's earrings. I accepted them, not to be gracious to a grieving mother, but because in the same way Tatyana felt like family, this keepsake felt like a surprise lasso roping me to my foundation. When I wear them I like to think I'm a proxy for a spirit too soon departed — I can capture my own dreams when I sleep, but hers are on the wind now. What separates us is material.
*
FOSSILS: INTRODUCTION | Allegra Huston on SKATAWAY JACKET | Kevin Obsatz on HOMEMADE NUNCHUKS | Ian Bogost on DESKTOP TELEPHONE | Jeff Lewonczyk on CHA-CHA JACKET SCRAP | Kelly Horan on VOLVO KEY | Sarah Rich on WESTFEST EARRINGS | Cynthia Joyce on MELODICA | Kevin Brockmeier on SALADMOBILE | Adam Harrison Levy on PASSPORT HOLDER | Marissa Frayer on BABY BLANKET | Elizabeth Foy Larsen on RML BOOKEND | Jae Nichelle on SHEET MUSIC | Sean Patrick Walsh on TYPEWRITER | Andrew Innes on BUST OF DUCK | Carla Sinclair on FACTSHEET FIVE | Chapell Ellison on SLEIGH BELL | Malcolm Evans on "QUEEN MARY" FOB | Jason Gilbert on HAND CHAIR | Karl Taro Greenfeld on OPIUM KIT | Tony Leone on MODEL TANK | Dave Boerger on TEEN BIBLE | Chelsey Johnson on BREYER HORSES | Erin M. Routson on PAPER WALLET | Alissa Walker on JUKEBOX | Adrienne Crew on FISH SCALER.
FLAIR: INTRODUCTION | Cliff Kuang on ROLEX DATEJUST | Ethan Zuckerman on LAPTOP STICKERS | Ann Shoket on LEATHER JACKET | Kembrew McLeod on KEMBREW MERCH | Paola Antonelli on MERMAID TEARS | & 20 MORE.
LOST OBJECTS (vol. 1): INTRODUCTION | Kate Bernheimer on MULLET WIG (ill. Amy Evans) | Dan Piepenbring on COLOGNE (ill. Josh Neufeld) | Doug Dorst on STRATOCASTER (ill. John Holbo) | Paul Lukas on VANILLA BEAN (ill. Allison Bamcat) | Mimi Lipson on DODGE DART (ill. Mister Reusch) | & 20 MORE.
ILLICIT OBJECTS: INTRODUCTION | Kio Stark on PEEPSHOW TOKEN | Sari Wilson on TOMBSTONE PARTS | Annalee Newitz on CAR-BOMB REMNANT | Tito Bottitta on MOONINITE DEVICE | Eric Bennett on DIRTY MAGAZINE | & 20 MORE.
TALISMANIC OBJECTS: INTRODUCTION | Veda Hille on CROCHET SHEEP | Gary Panter on DINOSAUR BONES | Jami Attenberg on SELENITE CRYSTAL | Annie Nocenti on MINIATURE DICE | Wayne Curtis on CLOCK WINDING KEY | & 20 MORE.
POLITICAL OBJECTS: INTRODUCTION | Luc Sante on CAMPAIGN PAMPHLETS | Lydia Millet on PVC POLAR BEAR | Ben Greenman on MATCHBOX CAR | Rob Baedeker on PRESIDENTS PLACEMAT | L.A. Kauffman on WHEATPASTE POSTER | & 20 MORE.
SIGNIFICANT OBJECTS at HILOBROW: PROJECT:OBJECT homepage | PROJECT:OBJECT newsletter | PROJECT:OBJECT objects (Threadless shop — all profits donated to the ACLU) | POLITICAL OBJECTS series (1Q2017) | TALISMANIC OBJECTS series (2Q2017) | ILLICIT OBJECTS series (3Q2017) | LOST OBJECTS vol. 1 series (4Q2017) | FLAIR series (2Q2018) | FOSSIL series (4Q2018) | FETISHES series (2Q2019) | LOST OBJECTS vol. 2 series (4Q2019) | MOVIE OBJECTS series (2Q2020). ALSO SEE: SIGNIFICANT OBJECTS website | SIGNIFICANT OBJECTS collection, ed. Rob Walker and Josh Glenn (Fantagraphics, 2012) | TAKING THINGS SERIOUSLY, ed. Josh Glenn (Princeton Architectural Press, 2007) | TAKING THINGS SERIOUSLY excerpts.