FOSSILS (12)
By: Jae Nichelle
November 7, 2018
The sixth PROJECT:OBJECT volume is a 25-part series of true stories about fossils — which is to say, objects that bear witness to a vanished way of life.
*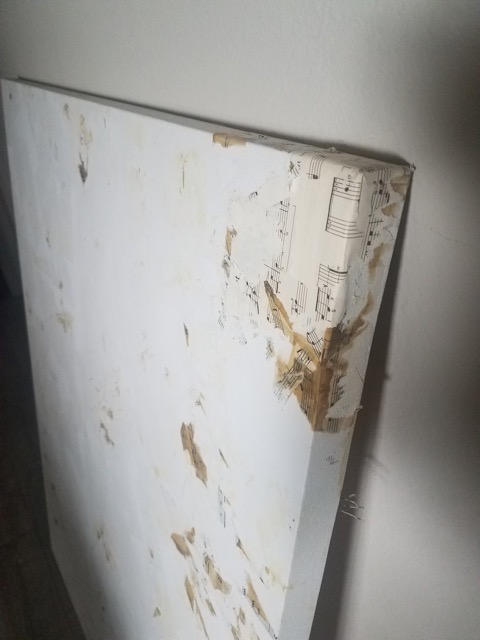 The canvas, almost as long as my arm span, leans casually against my living room wall. We stare at each other daily, just as we did when I was 12 and pouting at the piano in the living room of my childhood home. I don't remember when my mom originally bought the canvas, but it probably came from Hobby Lobby or Michaels; my mother's two favorite places for acquiring supplies for scrapbooks and other artistic endeavors. I only remember watching her sit on the floor one day surrounded by newspaper, old books of piano music, and a tub of modge podge.
"What's that?" I asked, pointing to the modge podge.
"It's like glue," she responded.
She methodically dipped sheet music in the glue and smoothed it out onto the canvas. I helped her, noticing how she would go back over the pieces I had laid down and smooth out the bubbles and creases I'd left. She was careful like that. When it was finished, it had to dry outside for two days before the masterpiece was hung up above our hand-me-down piano. She made me and my little brother practice piano every day after school for 30 minutes. For those 30 minutes, I would alternate between half-trying at some simplified version of "Canon in D" assigned to me by my music teacher and staring at the collage. I used to try to see if there were any songs I recognized in it.
I also don't remember when she took it down. I had stopped playing piano long before we left that house for good, which meant I had stopped noticing the collage. Hell, I had stopped thinking about it at all until two months ago, nine years later, when my mother showed up with it at the door to my new apartment. She had tried her best to strip away the sheet music and make it a blank canvas again, but she had only been partly successful. "Maybe you can turn it into something else now," she told me.
It has been in my living room ever since. Still blank. Waiting for me. For some reason, I can't seem to bring myself to paint over the remains. I look at it and am reminded of a time when my parents were still together. A time when my mother had room in her day for hobbies like crafting. Time at a piano that is now long gone. I wonder if I even remember my scales. That was a different life, and the little that have left of it is, much like this canvas, in pieces. But as I continue to inspect it, I do think that maybe I can turn it into something else.
*
FOSSILS: INTRODUCTION | Allegra Huston on SKATAWAY JACKET | Kevin Obsatz on HOMEMADE NUNCHUKS | Ian Bogost on DESKTOP TELEPHONE | Jeff Lewonczyk on CHA-CHA JACKET SCRAP | Kelly Horan on VOLVO KEY | Sarah Rich on WESTFEST EARRINGS | Cynthia Joyce on MELODICA | Kevin Brockmeier on SALADMOBILE | Adam Harrison Levy on PASSPORT HOLDER | Marissa Frayer on BABY BLANKET | Elizabeth Foy Larsen on RML BOOKEND | Jae Nichelle on SHEET MUSIC | Sean Patrick Walsh on TYPEWRITER | Andrew Innes on BUST OF DUCK | Carla Sinclair on FACTSHEET FIVE | Chapell Ellison on SLEIGH BELL | Malcolm Evans on "QUEEN MARY" FOB | Jason Gilbert on HAND CHAIR | Karl Taro Greenfeld on OPIUM KIT | Tony Leone on MODEL TANK | Dave Boerger on TEEN BIBLE | Chelsey Johnson on BREYER HORSES | Erin M. Routson on PAPER WALLET | Alissa Walker on JUKEBOX | Adrienne Crew on FISH SCALER.
FLAIR: INTRODUCTION | Cliff Kuang on ROLEX DATEJUST | Ethan Zuckerman on LAPTOP STICKERS | Ann Shoket on LEATHER JACKET | Kembrew McLeod on KEMBREW MERCH | Paola Antonelli on MERMAID TEARS | & 20 MORE.
LOST OBJECTS (vol. 1): INTRODUCTION | Kate Bernheimer on MULLET WIG (ill. Amy Evans) | Dan Piepenbring on COLOGNE (ill. Josh Neufeld) | Doug Dorst on STRATOCASTER (ill. John Holbo) | Paul Lukas on VANILLA BEAN (ill. Allison Bamcat) | Mimi Lipson on DODGE DART (ill. Mister Reusch) | & 20 MORE.
ILLICIT OBJECTS: INTRODUCTION | Kio Stark on PEEPSHOW TOKEN | Sari Wilson on TOMBSTONE PARTS | Annalee Newitz on CAR-BOMB REMNANT | Tito Bottitta on MOONINITE DEVICE | Eric Bennett on DIRTY MAGAZINE | & 20 MORE.
TALISMANIC OBJECTS: INTRODUCTION | Veda Hille on CROCHET SHEEP | Gary Panter on DINOSAUR BONES | Jami Attenberg on SELENITE CRYSTAL | Annie Nocenti on MINIATURE DICE | Wayne Curtis on CLOCK WINDING KEY | & 20 MORE.
POLITICAL OBJECTS: INTRODUCTION | Luc Sante on CAMPAIGN PAMPHLETS | Lydia Millet on PVC POLAR BEAR | Ben Greenman on MATCHBOX CAR | Rob Baedeker on PRESIDENTS PLACEMAT | L.A. Kauffman on WHEATPASTE POSTER | & 20 MORE.
SIGNIFICANT OBJECTS at HILOBROW: PROJECT:OBJECT homepage | PROJECT:OBJECT newsletter | PROJECT:OBJECT objects (Threadless shop — all profits donated to the ACLU) | POLITICAL OBJECTS series (1Q2017) | TALISMANIC OBJECTS series (2Q2017) | ILLICIT OBJECTS series (3Q2017) | LOST OBJECTS vol. 1 series (4Q2017) | FLAIR series (2Q2018) | FOSSIL series (4Q2018) | FETISHES series (2Q2019) | LOST OBJECTS vol. 2 series (4Q2019) | MOVIE OBJECTS series (2Q2020). ALSO SEE: SIGNIFICANT OBJECTS website | SIGNIFICANT OBJECTS collection, ed. Rob Walker and Josh Glenn (Fantagraphics, 2012) | TAKING THINGS SERIOUSLY, ed. Josh Glenn (Princeton Architectural Press, 2007) | TAKING THINGS SERIOUSLY excerpts.