FOSSILS (13)
By: Sean Patrick Walsh
November 10, 2018
The sixth PROJECT:OBJECT volume is a 25-part series of true stories about fossils — which is to say, objects that bear witness to a vanished way of life.
*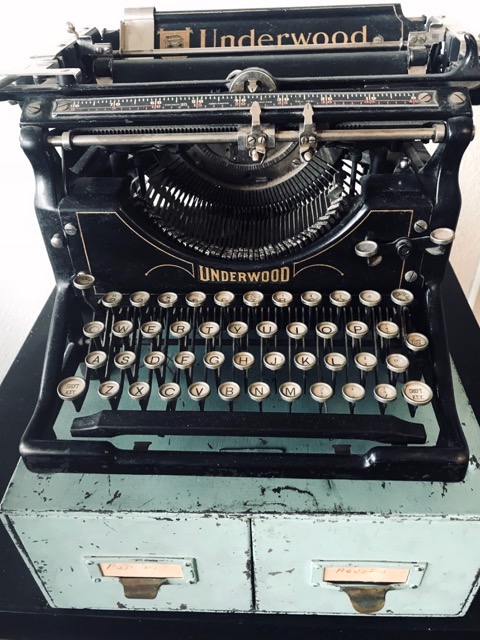 Over decades and numerous moves, I've lugged an iron-black Underwood typewriter from old abode to new, rarely making contact with it, except from time-to-time to pack it up in a nest of crumpled newspapers and then, perhaps months later, unpack and hoist it to some undistinguished landing. Atop a metal filing cabinet aside my desk where it takes current residence, the typewriter is itself a rest-home to yesteryear and a stubborn dust, its only utility now to serve as a reminder to the writer that I yearned, and still yearn, to be.
The Underwood wasn't just a trusty machine on which you typed but pounded, a portable blacksmith workshop for forging words. Although limited in capabilities compared to the least of lap-tops, it would never, say, mystically delete many-hours-worth of work (though if it could've it likely would've, as much of what was created in its carriage merited spontaneous deletion). Mercilessly unambiguous in solving that timeless riddle of user error, the Underwood excelled in blunt revelation. I wonder if there isn't some inverse correlation between capability and imagination; the more limited the former, the more unrestrained the latter.
I recall hammering-out prelaptoparian efforts, from Haiku to long-form fiction, on this heavyweight creature, how I'd have to press down on the keys with enough force to knead bread, hunting and pecking and foraging for things to say, but often ending-up with half-baked balderdash, although there was something about the ratatat-tapping that telegraphed a rough-hewn hope. Sometimes, though, a key would get hopelessly stuck on the page, like an ax in split-wood, and you'd have to finger-hook it back to position. Type too fast and the keys would logjam into a river of ink-ribbon, leaving behind a jumbled blotch on a white paper replete with smudged misspellings and misgivings, a sheet I would invariably crush to an orb then shot put towards a wastebasket. But there were survivors, better-tempered products that were packaged-up and mailed off to what I called literary rejection reviews, ones that habitually dispensed an ironic form of acceptance. A few poems managed to find their way into fine journals, the majority of which are now almost certainly as defunct as the typewriter industry itself.
Years ago, one writing mentor, who never strayed from his own old-school Underwood, once relayed while working in his tiny university office, window cracked open to allow a brume of pipe-smoke to escape, "Over the years, I've learned not to rush, so mistakes are fewer. Also, the potential for cumbersome error makes me choose my words more carefully before I commit them to ink, kind of like thinking before you speak." His wisdom was key-punched and often puffed through a pipe-clenched grimace, the lit-pipe working its way from one corner of his grin to the other, and back again, like the carriage of the Underwood at which he peered, typing slowly. He and other ghostly mentors are forever moored to my Underwood, this lifetime companion that admonishes and encourages, mutely, to keep writing.
*
FOSSILS: INTRODUCTION | Allegra Huston on SKATAWAY JACKET | Kevin Obsatz on HOMEMADE NUNCHUKS | Ian Bogost on DESKTOP TELEPHONE | Jeff Lewonczyk on CHA-CHA JACKET SCRAP | Kelly Horan on VOLVO KEY | Sarah Rich on WESTFEST EARRINGS | Cynthia Joyce on MELODICA | Kevin Brockmeier on SALADMOBILE | Adam Harrison Levy on PASSPORT HOLDER | Marissa Frayer on BABY BLANKET | Elizabeth Foy Larsen on RML BOOKEND | Jae Nichelle on SHEET MUSIC | Sean Patrick Walsh on TYPEWRITER | Andrew Innes on BUST OF DUCK | Carla Sinclair on FACTSHEET FIVE | Chapell Ellison on SLEIGH BELL | Malcolm Evans on "QUEEN MARY" FOB | Jason Gilbert on HAND CHAIR | Karl Taro Greenfeld on OPIUM KIT | Tony Leone on MODEL TANK | Dave Boerger on TEEN BIBLE | Chelsey Johnson on BREYER HORSES | Erin M. Routson on PAPER WALLET | Alissa Walker on JUKEBOX | Adrienne Crew on FISH SCALER.
FLAIR: INTRODUCTION | Cliff Kuang on ROLEX DATEJUST | Ethan Zuckerman on LAPTOP STICKERS | Ann Shoket on LEATHER JACKET | Kembrew McLeod on KEMBREW MERCH | Paola Antonelli on MERMAID TEARS | & 20 MORE.
LOST OBJECTS (vol. 1): INTRODUCTION | Kate Bernheimer on MULLET WIG (ill. Amy Evans) | Dan Piepenbring on COLOGNE (ill. Josh Neufeld) | Doug Dorst on STRATOCASTER (ill. John Holbo) | Paul Lukas on VANILLA BEAN (ill. Allison Bamcat) | Mimi Lipson on DODGE DART (ill. Mister Reusch) | & 20 MORE.
ILLICIT OBJECTS: INTRODUCTION | Kio Stark on PEEPSHOW TOKEN | Sari Wilson on TOMBSTONE PARTS | Annalee Newitz on CAR-BOMB REMNANT | Tito Bottitta on MOONINITE DEVICE | Eric Bennett on DIRTY MAGAZINE | & 20 MORE.
TALISMANIC OBJECTS: INTRODUCTION | Veda Hille on CROCHET SHEEP | Gary Panter on DINOSAUR BONES | Jami Attenberg on SELENITE CRYSTAL | Annie Nocenti on MINIATURE DICE | Wayne Curtis on CLOCK WINDING KEY | & 20 MORE.
POLITICAL OBJECTS: INTRODUCTION | Luc Sante on CAMPAIGN PAMPHLETS | Lydia Millet on PVC POLAR BEAR | Ben Greenman on MATCHBOX CAR | Rob Baedeker on PRESIDENTS PLACEMAT | L.A. Kauffman on WHEATPASTE POSTER | & 20 MORE.
SIGNIFICANT OBJECTS at HILOBROW: PROJECT:OBJECT homepage | PROJECT:OBJECT newsletter | PROJECT:OBJECT objects (Threadless shop — all profits donated to the ACLU) | POLITICAL OBJECTS series (1Q2017) | TALISMANIC OBJECTS series (2Q2017) | ILLICIT OBJECTS series (3Q2017) | LOST OBJECTS vol. 1 series (4Q2017) | FLAIR series (2Q2018) | FOSSIL series (4Q2018) | FETISHES series (2Q2019) | LOST OBJECTS vol. 2 series (4Q2019) | MOVIE OBJECTS series (2Q2020). ALSO SEE: SIGNIFICANT OBJECTS website | SIGNIFICANT OBJECTS collection, ed. Rob Walker and Josh Glenn (Fantagraphics, 2012) | TAKING THINGS SERIOUSLY, ed. Josh Glenn (Princeton Architectural Press, 2007) | TAKING THINGS SERIOUSLY excerpts.