FOSSILS (24)
By: Alissa Walker
December 13, 2018
The sixth PROJECT:OBJECT volume is a 25-part series of true stories about fossils — which is to say, objects that bear witness to a vanished way of life.
*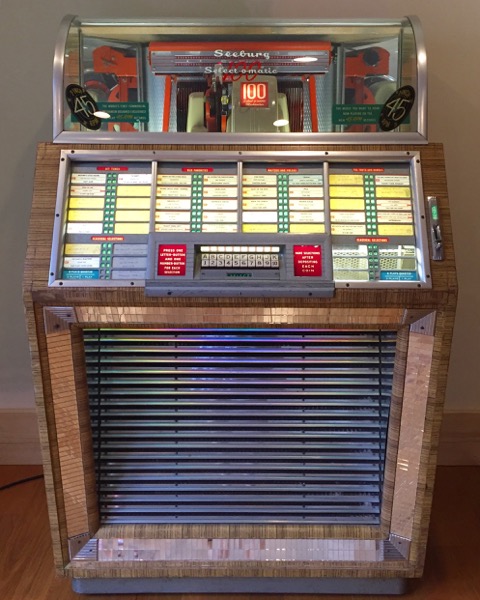 In a bright, south-facing room of my Los Angeles home, I have what I like to call an original iPod.
The Seeberg Select-o-Matic 100 is loaded up with songs just like the first-generation Apple product, but presented in a far more visually appealing package. And I have managed to make this music player, like an iPod, portable: dragging the wood-veneered, glowing interface along with me from residence to residence over the years.
Seeburg started manufacturing this model of jukebox in the early 1950s, around the same time an enterprising woman named Emmy Wilson opened the Glory Hole Tavern in the mining town of Central City, Colorado. She christened the bar after a legendary gold mine nearby whose popularity with prospectors was credited with urbanizing the then-sleepy frontier town of Denver. That's where my newlywed parents had driven up from when they bought the jukebox off the tavern few decades later. They brought it home and started to fill it with 45s — right around the same time they brought their oldest daughter home from the hospital.
Before speaker wire entwined the walls of our home like a root system, before I was old enough to buy my own portable pink Sony cassette tape player, there was the jukebox, providing the pre-selected soundtrack of my childhood.
To hear songs, we loaded the jukebox with quarters, which funneled through the machine and fell into a canvas bag behind a metal door that could only be opened with a tiny, often-misplaced key. Selections were made with a satisfying double-thwang of a letter key and number key pressed in quick succession, the whir of the record being plucked from its lineup, and, finally, the hiss and pop of anticipation.
About 80 percent of the selections I would later qualify as part of the dad rock genre, such a particular type of music from such a particular moment in time that I can envision exactly where I was standing in our house when I first heard each of them. When I recognized songs on the radio that I knew only from the jukebox, I remember being amazed that my parents knew so much about music that even the DJs on KSHE were playing their picks.
My favorite song in the lineup was Blondie's "Heart of Glass." However, I probably played John Williams' Star Wars theme — and its B side, "Cantina Band" — more, because they were perfect for dramatic re-enactments of the film performed on roller skates on the unfinished cement floor of the basement.
When my parents moved out of our childhood home — to a different Colorado mountain town — I took the jukebox with me to California, the then-dusty 45s stacked into a shoebox for the journey. The person who would become my husband adopted the machine as his own, supplementing the classics with his version of dad rock — more Clash, more Ramones — and faithfully restored the cracked, yellowed mirror tiles. There's even some new music in there — bands still make 45s; who knew? — although the paper jukebox labels don't come with the albums anymore. You have to design them in Photoshop.
Now my daughter, who is three, opts for my dad's originals — The Monkees — while my one-year-old son is just tall enough for his fingers to tap the ABCDEFGHJK (no I, which I suppose is too easy to confuse with a 1 in a smoky bar). Although we have the machine repaired from time to time, every few months it lapses and starts playing the same song over and over, insisting that we listen to something we may have forgotten, just one more time. Which, I suppose, is the real reason why I feel compelled to keep the thing around.
*
FOSSILS: INTRODUCTION | Allegra Huston on SKATAWAY JACKET | Kevin Obsatz on HOMEMADE NUNCHUKS | Ian Bogost on DESKTOP TELEPHONE | Jeff Lewonczyk on CHA-CHA JACKET SCRAP | Kelly Horan on VOLVO KEY | Sarah Rich on WESTFEST EARRINGS | Cynthia Joyce on MELODICA | Kevin Brockmeier on SALADMOBILE | Adam Harrison Levy on PASSPORT HOLDER | Marissa Frayer on BABY BLANKET | Elizabeth Foy Larsen on RML BOOKEND | Jae Nichelle on SHEET MUSIC | Sean Patrick Walsh on TYPEWRITER | Andrew Innes on BUST OF DUCK | Carla Sinclair on FACTSHEET FIVE | Chapell Ellison on SLEIGH BELL | Malcolm Evans on "QUEEN MARY" FOB | Jason Gilbert on HAND CHAIR | Karl Taro Greenfeld on OPIUM KIT | Tony Leone on MODEL TANK | Dave Boerger on TEEN BIBLE | Chelsey Johnson on BREYER HORSES | Erin M. Routson on PAPER WALLET | Alissa Walker on JUKEBOX | Adrienne Crew on FISH SCALER.
FLAIR: INTRODUCTION | Cliff Kuang on ROLEX DATEJUST | Ethan Zuckerman on LAPTOP STICKERS | Ann Shoket on LEATHER JACKET | Kembrew McLeod on KEMBREW MERCH | Paola Antonelli on MERMAID TEARS | & 20 MORE.
LOST OBJECTS (vol. 1): INTRODUCTION | Kate Bernheimer on MULLET WIG (ill. Amy Evans) | Dan Piepenbring on COLOGNE (ill. Josh Neufeld) | Doug Dorst on STRATOCASTER (ill. John Holbo) | Paul Lukas on VANILLA BEAN (ill. Allison Bamcat) | Mimi Lipson on DODGE DART (ill. Mister Reusch) | & 20 MORE.
ILLICIT OBJECTS: INTRODUCTION | Kio Stark on PEEPSHOW TOKEN | Sari Wilson on TOMBSTONE PARTS | Annalee Newitz on CAR-BOMB REMNANT | Tito Bottitta on MOONINITE DEVICE | Eric Bennett on DIRTY MAGAZINE | & 20 MORE.
TALISMANIC OBJECTS: INTRODUCTION | Veda Hille on CROCHET SHEEP | Gary Panter on DINOSAUR BONES | Jami Attenberg on SELENITE CRYSTAL | Annie Nocenti on MINIATURE DICE | Wayne Curtis on CLOCK WINDING KEY | & 20 MORE.
POLITICAL OBJECTS: INTRODUCTION | Luc Sante on CAMPAIGN PAMPHLETS | Lydia Millet on PVC POLAR BEAR | Ben Greenman on MATCHBOX CAR | Rob Baedeker on PRESIDENTS PLACEMAT | L.A. Kauffman on WHEATPASTE POSTER | & 20 MORE.
SIGNIFICANT OBJECTS at HILOBROW: PROJECT:OBJECT homepage | PROJECT:OBJECT newsletter | PROJECT:OBJECT objects (Threadless shop — all profits donated to the ACLU) | POLITICAL OBJECTS series (1Q2017) | TALISMANIC OBJECTS series (2Q2017) | ILLICIT OBJECTS series (3Q2017) | LOST OBJECTS vol. 1 series (4Q2017) | FLAIR series (2Q2018) | FOSSIL series (4Q2018) | FETISHES series (2Q2019) | LOST OBJECTS vol. 2 series (4Q2019) | MOVIE OBJECTS series (2Q2020). ALSO SEE: SIGNIFICANT OBJECTS website | SIGNIFICANT OBJECTS collection, ed. Rob Walker and Josh Glenn (Fantagraphics, 2012) | TAKING THINGS SERIOUSLY, ed. Josh Glenn (Princeton Architectural Press, 2007) | TAKING THINGS SERIOUSLY excerpts.