CONVOY YOUR ENTHUSIASM (7)
By: Devin McKinney
August 7, 2019
One of 25 installments in a series of enthusiastic posts analyzing and celebrating some of our favorite action movies from the Seventies (1974–1983).
*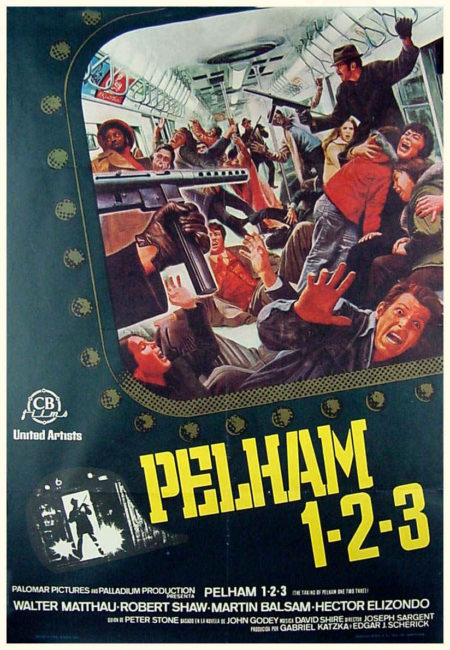 THE TAKING OF PELHAM ONE TWO THREE | d. JOSEPH SARGENT | 1974
The Taking of Pelham One Two Three — about the hijacking of a New York City subway train between the lunchtime and afternoon rushes, with Robert Shaw leading a crew of color-coded crooks and Walter Matthau as the Transit Authority cop who doggedly runs them all to ground — is the most lighthearted of urban disaster movies. It is extraordinary how dirty the picture is, and yet how clean; how gross, yet how subtle.
Based on a novel, quite a good one, by the pseudonymous John Godey, Peter Stone's screenplay invents a few of the cleverer strokes, such as the telltale sneeze that explodes the caper, and the consolidation of several characters into Matthau's lumpish, lovable form. Joseph Sargent directs as if he has seen it all, but still can't believe it. Shifting between cruddy streets and dank tunnel, TA control room (what Matthau calls "da noive center") and subway car full of shrieking women and babbling men, Pelham is unrelenting in its push, unsparing with its decibels. The respites of sound and sensibility are provided mostly by Shaw, who ices this cake of asphalt and steel with fine lines of gentlemanly contempt. (Matthau, the chauvinistic New Yorker, notes the head hijacker's "heavy English accent," suggesting this fact alone means "he could be a fruitcake.")
The remaining cast is a familiar democracy of irascibles (Dick O'Neill), unimpressibles (Jerry Stiller), slow burners (Julius Harris), and loose cannons (Hector Elizondo). As Hizzoner, Lee Wallace foreshadows Ed Koch (a similarity exploited post facto by Tim Burton, who cast Wallace as the mayor of Batman's Gotham City). The aggregate picture of civil service is uproarious, raw, and finally respectful: these cops and train-handlers would like to tell pretty much everyone to go to hell, but they overcome hemorrhoids, fear, and misanthropy to do their jobs with a quantum of professionalism and even concern. "Watch the third rail!" Tom Pedi's subway supervisor barks at civilian evacuees, before being shot to death on the very tracks to which he has given his chewed-up life.
What a movie! What a place! This is America's biggest, best, ugliest, loudest, freest, most unpredictable city in the full crotch-rot of its worst decade. Yet every shouting match has its witty twist, and a police car that flips over in one scene is delightfully righted in a later one, as another cop car goes speeding past. The Big Apple abides.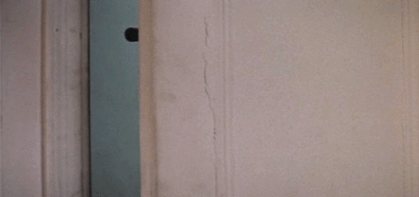 ***
CONVOY YOUR ENTHUSIASM: INTRODUCTION | Madeline Ashby on BLADE RUNNER | Erik Davis on BRING ME THE HEAD OF ALFREDO GARCIA | Mimi Lipson on CONVOY | Luc Sante on BLACK SUNDAY | Josh Glenn on THREE DAYS OF THE CONDOR | Lisa Jane Persky on SORCERER | Devin McKinney on THE TAKING OF PELHAM ONE TWO THREE | Adam McGovern on QUINTET | Mandy Keifetz on DEATH RACE 2000 | Peter Doyle on SOUTHERN COMFORT | Jonathan Lethem on STRAIGHT TIME | Heather Kapplow on THE KILLER ELITE | Tom Nealon on EVERY WHICH WAY BUT LOOSE | Mark Kingwell on THE EIGER SANCTION | Sherri Wasserman on ESCAPE FROM NEW YORK | Gordon Dahlquist on MARATHON MAN | David Levine on PARALLAX VIEW | Matthew Sharpe on ROLLERBALL | Ramona Lyons on ALIEN | Dan Piepenbring on WHITE LINE FEVER | Marc Weidenbaum on THIEF | Carolyn Kellogg on MAD MAX | Carlo Rotella on KUNG FU | Peggy Nelson on SMOKEY & THE BANDIT | Brian Berger on FRIDAY FOSTER.
MORE ENTHUSIASM at HILOBROW
NERD YOUR ENTHUSIASM (4Q2021): NERDING | ARDUIN | KLINGON CONFIDENTIAL | MAP INSERTS | TIME | & 20 other nerdy passions. SWERVE YOUR ENTHUSIASM (3Q2021): WARHOL'S WALT WHITMAN | 70, GIRLS, 70 | TYRAEL'S MIGHT | SHIRATO SANPEI | THE LEON SUITES | & 20 other never-realized cultural productions. FIVE-O YOUR ENTHUSIASM (2Q2021): DARK SHADOWS | MANNIX | GET SMART | THE ADDAMS FAMILY | I DREAM OF JEANNIE | & 20 other Sixties (1964–1973) TV shows. FERB YOUR ENTHUSIASM (1Q2021): STEVEN UNIVERSE | TOP CAT | REN & STIMPY | SHE-RA AND THE PRINCESSES OF POWER | DRAGON BALL Z | & 20 other animated series. CARBONA YOUR ENTHUSIASM (2020): "Sex Bomb" | "Going Underground" | "Soft South Africans" | "Typical Girls" | "Human Fly" | & 20 other Seventies (1974–1983) punk singles. KLAATU YOU (2020 weekly): ZARDOZ | METROPOLIS | DARK STAR | SINS OF THE FLESHAPOIDS | SOLARIS | & dozens of other pre-STAR WARS sci-fi movies. CONVOY YOUR ENTHUSIASM (2019): THE TAKING OF PELHAM ONE TWO THREE | ROLLERBALL | BLACK SUNDAY | SORCERER | STRAIGHT TIME | & 20 other Seventies (1974–1983) action movies. SERIOCOMIC (2019 weekly): LITTLE LULU | VIZ | MARSUPILAMI | ERNIE POOK'S COMEEK | HELLBOY | & dozens of other comics. TUBE YOUR ENTHUSIASM (2018): LOONEY TUNES | THREE STOOGES | THE AVENGERS | ROCKY & BULLWINKLE | THE TWILIGHT ZONE | & 20 other Fifties (1954–1963) TV shows. WOWEE ZOWEE (2018 weekly): UNISEX | UNDER THE PINK | DUMMY | AMOR PROHIBIDO | HIPS AND MAKERS | & dozens of other Nineties (1994–2003) albums. KLUTE YOUR ENTHUSIASM (2017): THE KILLERS | BANDE À PART (BAND OF OUTSIDERS) | ALPHAVILLE | HARPER | BLOW-UP | & 20 other Sixties (1964–1973) neo-noir movies. #SQUADGOALS (2017 weekly): THE WILD BUNCH | BOWIE'S BAND | THE BLOOMSBURY GROUP | THE HONG KONG CAVALIERS | VI ÄR BÄST! & dozens of other squads. GROK MY ENTHUSIASM (2016 weekly): THE THEORY AND PRACTICE OF LUNCH | WEEKEND | MILLION YEAR PICNIC | LA BARONNE EMILE D'ERLANGER | THE SURVIVAL SAMPLER | & dozens more one-off enthusiasms. QUIRK YOUR ENTHUSIASM (2016): "Tainted Love" | "Metal" | "Frankie Teardrop" | "Savoir Faire" | "Broken English" | & 20 other Seventies (1974–1983) new wave singles. CROM YOUR ENTHUSIASM (2015): DARKER THAN YOU THINK | THE SWORD IN THE STONE | OUT OF THE SILENT PLANET | THIEVES' HOUSE | QUEEN OF THE BLACK COAST | & 20 other Thirties (1934–1943) fantasy novels. KERN YOUR ENTHUSIASM (2014): ALDINE ITALIC | DATA 70 | TORONTO SUBWAY | JOHNSTON'S "HAMLET" | TODD KLONE | & 20 other typefaces. HERC YOUR ENTHUSIASM (2013): "Spoonin' Rap" | "Rapper's Delight" | "Rappin' Blow" | "The Incredible Fulk" | "The Adventures of Super Rhyme" | & 20 other Seventies (1974–1983) hip-hop songs. KIRK YOUR ENTHUSIASM (2012): Justice or vengeance? | Kirk teaches his drill thrall to kiss | "KHAAAAAN!" | "No kill I" | Kirk browbeats NOMAD | & 20 other Captain Kirk scenes. KIRB YOUR ENTHUSIASM (2011): THE ETERNALS | BLACK MAGIC | DEMON | OMAC | CAPTAIN AMERICA | & 20 other Jack Kirby panels.