TALISMANIC OBJECTS (10)
By: Gordon Dahlquist
April 23, 2017
One in a 25-part series of nonfiction stories about objects of talismanic significance. This is the second volume in the PROJECT:OBJECT series. Please subscribe to the P:O newsletter; and purchase P:O apparel and accessories — all profits will be donated to the ACLU!
*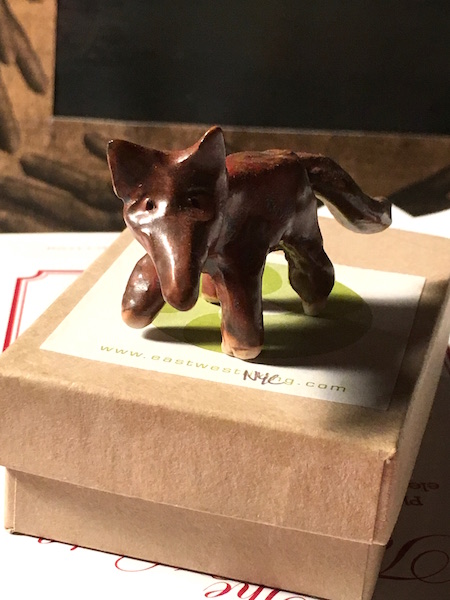 My wife was walking through the East Village and came across two very young children outside a ground floor storefront converted to an apartment. The kids had an array of clay animals they had obviously made laid out on a folding table for sale. My wife told me later that if she'd had more money she would have snapped up everything they had. Instead, she selected the fox, pinched together by little fingers and simply glazed, as a present for me.
I've had the very good luck to see foxes in the wild on a few occasions, and each time I have been amazed. Perhaps there's something about the wily determination of a predator small enough to itself become prey that draws me – that somehow connects to being human. The last time, I was in the winter woods of New Hampshire, working in a small cabin when, in the midst of a light snowfall, a pair of foxes padded nonchalantly across the front of my window. For the next three weeks I would find fresh tracks in each morning's new snow, but I never saw either fox again.
The clay fox sits on my very cluttered desk, amongst many, many other objects collected here and there. But when I leave home for any period, especially when I'm working, it's the fox I take with me. The fox is a token of my wife and our home. It's a reminder of kitsune, the familiars of the kami Inari. It's an echo of Seminole Sam, the huckster from Pogo. Of Reynard the vicious trickster. The fox is a fetish of resilience and cunning, qualities without which I can't imagine any writer survives.
I've had the fox for years. I am still struck by its unglazed paws. The pencil-poke dotted eyes. The thickness of the tail. The right front paw, just lifted, ready to move.
*
TALISMANIC OBJECTS series: INTRODUCTION | Veda Hille on CROCHET SHEEP | Gary Panter on DINOSAUR BONES | Jami Attenberg on SELENITE CRYSTAL | Annie Nocenti on MINIATURE DICE | Wayne Curtis on CLOCK WINDING KEY | Judith Zissman on SPINDLE WHORL | Amy Fusselman on BOX OF PENCILS | Josh Glenn on MONKEY WHIMSEY | Mike Watt on DASHBOARD TOTEMS | Gordon Dahlquist on CLAY FOX | Mark Kingwell on ZIPPO | Jennifer Schuessler on BEER-CAN CHAIR | Anne Gisleson on WISDOM TEETH | Ben Ehrenreich on CHROME LUMP | Matthew De Abaitua on HATCHET | Ty Burr on INFLATABLE KING KONG | Jacob Covey on ARGUS COIN | Jessica Helfand on PILL BOTTLE | Shelley Jackson on IMPUNITY JANE | Jennifer Krasinski on LEO'S LIGHTER | Molly Heintz on EVIL EYE | Mark Frauenfelder on MARTIAN FINK RING | Amanda Fortini on PRAYER CARD | Ed Skoog on MAMMOTH IVORY | CONTEST-WINNING STORY: Seth on PEANUTS PAPERBACK.
POLITICAL OBJECTS series: INTRODUCTION | Luc Sante on CAMPAIGN PAMPHLETS | Lydia Millet on PVC POLAR BEAR | Ben Greenman on MATCHBOX CAR | Rob Baedeker on PRESIDENTS PLACEMAT | L.A. Kauffman on WHEATPASTE POSTER | & 20 MORE.
SIGNIFICANT OBJECTS at HILOBROW: PROJECT:OBJECT homepage | PROJECT:OBJECT newsletter | PROJECT:OBJECT objects (Threadless shop — all profits donated to the ACLU) | POLITICAL OBJECTS series (1Q2017) | TALISMANIC OBJECTS series (2Q2017) | ILLICIT OBJECTS series (3Q2017) | LOST OBJECTS vol. 1 series (4Q2017) | FLAIR series (2Q2018) | FOSSIL series (4Q2018). 12 DAYS OF SIGNIFICANCE | 12 MORE DAYS OF SIGNIFICANCE | 12 DAYS OF SIGNIFICANCE (AGAIN) | ANOTHER 12 DAYS OF SIGNIFICANCE . ALSO SEE: SIGNIFICANT OBJECTS website | SIGNIFICANT OBJECTS collection, ed. Rob Walker and Josh Glenn (Fantagraphics, 2012) | TAKING THINGS SERIOUSLY, ed. Josh Glenn (Princeton Architectural Press, 2007) | TAKING THINGS SERIOUSLY excerpts.